CLICK HERE TO FOLLOW ME ON TWITTER!
Beyonce's Element of 4 is # 3
Beyonce's new concert DVD, "Live At Roseland: Elements Of 4" sold 17k copies sold in it's first week, earning the number 3 spot behind Lady Gaga's "Monster Ball Tour At Madison Square Garden" (28K) and Britney Spears' "Live: The Femme Fatale Tour" (19k).
Perhaps,I guess the queen losing her shine?
Sneak Peek At President Obama's Signature Shoe Due Out Next Year
By now, as most of you know, President Obama is a die-hard basketball fan. Athletic brand Under Armour had the opportunity to seal a deal to release a first-of-its-kind Presidential sneaker that will be out next year..
Do you like them?
Limited Edition Nicki Minaj Barbie Doll Sold For Charity
Toy makers Mattel have recently teamed up with rapper Nicki Minaj to sell the official "Nicki Minaj Barbie" for charity. The doll will come in a limited edition with all proceeds being auctioned off to Project Angel Food, which provides meals for families affected by the HIV/AIDS virus. The barbie will come equipped with Nicki's popular colorful wigs and even hug fitting clothing….definitely Minaj style. Check inside for more details about this one-of-a-kind doll.
The doll is supposedly going for a whopping $1,000!….yes you read that correctly. The bids will start on December 9 and although some may feel that is quite high for a barbie doll, I have a feeling it will not be hard to sell. Similar dolls were made for other pop icons such as the legendary Janet Jackson and even fashionista Rachel Zoe.
Mattel considers Minaj a cultural pop icon and barbie spokeperson Stefani Yocky had this to say about choosing Nicki Minaj for the limited edition doll, "Nicki is a big part of pop culture and also huge within the fashion industry, as well as a big Barbie fan … It's really exciting for us that she's been so generous to allow us to create this one-of-a-kind doll to support such an important cause."
Nicki recently revealed to fans via twitter that she will coming out with a new album that will be influenced by her alter ego "Roman Zolanski". The album, properly titled Romans Revenge, is scheduled to be released Valentines Day 2012. What do you think about the new Nicki Minaj Barbie Doll?


OOPS DRAKE CLEANS HOUSE?, OR NOT.
Something SHADY is going on in the house of Drake. He just fired all his agents and managers...
From Page Six
Drake is cleaning house. The 25-year-old Canadian-born rapper whose album "Take Care" debuted at No. 1 on the Billboard charts last week fired his managers Gee Roberson, Al Branch, Kyambo Joshua and Bryant Cortez of Hip Hop Since 1978, the firm that also manages Kanye West, Lil Wayne and Nicki Minaj. The "What's My Name" rapper also gave notice to his agents at International Creative Management including Dana Sims and Robert Gibbs, who were "panicked" yesterday about their outstanding deals with the chart topper. William Morris Endeavor agent Brent Smith's assistant confirmed that he has taken on the Cash Money artist. Smith also reps David Crosby, Snoop Dogg and Graham Nash.
"Drake just felt like there were too many hands in his pockets," a source said. "He was getting pulled in too many different directions." Our source added there was conflict between the rapper's original management team in Canada and the ones he picked up along the way. "His team from Canada is trying to wrestle back control," a source said. "He may go back to them to streamline things.".
Well there is a slight update:

Brent Smith did confirm that he left International Creative Management and that they will not represent Drake in all areas worldwide. Even though it had been reported by several news sources that he gave most of his team the boot, Cash Money CEO Birdman tweeted a link from Drake's October's Very Own (OVO) blog saying that the rumors are false.
"Some blog sites are starting to spread this rumor just for attention.
"The rumor states that Drizzy has fired managers Gee Roberson, Al Branch, Kyambo Joshua and Bryant Cortez of Hip Hop Since 1978. These four managers also manage Lil Wayne, Kanye West, Nicki Minaj. Firing management after getting a number 1 album and 650,000 record sales in a week? THIS IS NOT TRUE"
Well believe what you will!
Kris Humphries Felt Like Kim Kardashian's "Pawn"
After announcing his decision to file for an annulment of his 72-day marriage rather than going through a divorce from Kim Kardashian – sources are now saying that Kris Humphries feels like a "pawn" and that his marriage was fraudulent.
According to an insider, the NBA player believes the "Keeping Up With the Kardashians" star only used him as a groom to increase ratings for her show.
"Once they were finished taping, she just didn't need a groom anymore," a source revealed to TMZ.
"He is sensitive to marriage both emotionally and religiously," another source told The News. "He entered the marriage in good faith and genuinely loved her and is devastated that it turned out like this."
LEAVE MOMMA ALONE! HAVE YOU ANY SHAME? BANK TRIES TO EVICTS 103-YEAR-OLD WOMAN FROM HOME
A 103-year-old woman and her 83-year-old daughter were just moments from being evicted from their home Tuesday, when sheriff's deputies and the moving company hired by the bank decided not to go through with the action. Vita Lee has lived in her Northwest Atlanta home for 53 years — but after a second mortgage was taken out years ago by another family member, JP Morgan Chase has been attempting to evict 103-year-old Vita Lee and her daughter since 2009. Fulton County sheriff's deputies and movers showed up at Lee's home Tuesday after JP Morgan Chase planned to kick the two women out. The moving company and the deputies took one look at Vita Lee and decided that would not happen.
Vita Lee, whose 104th birthday is three weeks away, said that she was not worried about being kicked out of her Penelope Road home. "No, I knew that they know what they were doing. God don't let them do wrong," she said. The situation seemed to affect Lee's daughter differently, she had to be rushed to the hospital after the melee Tuesday.

For now, Vita Lee remains in the home. State Senator Vincent Fort told Young on Wednesday said that the loan is held by Deustche Bank but is being serviced locally by JP Morgan Chase. Family members said they had enough money to pay the loan, but were having a difficult time getting JP Morgan Chase to accept a payment.
TLC Is Getting A TV Movie On VH1!
VH1 is taking a little detour from their usual reality show and "wives" style programming. The network is kicking off a series of scripted made-for-tv music bio-pics. And first up is TLC!
The first film in the series of music based bio-pics for VH1 will be about the evolution of the influential girl group TLC. It will be penned by screenwriter Kate Lanier (Set It Off, What's Love Got To Do With It, Beauty Shop).
Surviving members of the group, Tionne "T-Boz" Watkins and Chilli, have both signed on to consult and produce the film. Hopefully T-Boz made sure she got a hefty paycheck seeing that she's got some things to take care of. And both ladies seem excited about the project and reviving the legacy of Lisa "Left Eye" Lopes.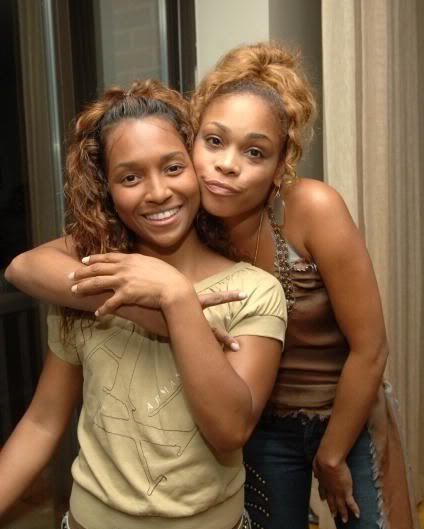 "The reality of this brings me to tears because I am seeing one of my dreams come to life. I always felt our story had to be told. What makes it even more amazing is having Kate Lanier on board. I remember watching 'What's Love Got To Do With It' with Lisa, and I knew then whoever wrote that story had to write ours. I will forever be thankful to Jeff Olde for believing in our story and going the extra mile to make it happen," said Chilli in the press release.
And T-Boz stated: "I'm just overjoyed. I appreciate Jeff Olde and everyone on staff at VH1 that took interest in us, thank you. Kate Lanier is amazing. I'm honored to work with her I love her art. Well here we go on another TLC ride and I can't wait. Like Biggie said 'Now if ya don't know, now ya knowwwww."
Here's some background on the upcoming film:
The gifted trio TLC, which was comprised of Chilli, Watkins and the late Lisa "Left Eye" Lopes, achieved instant commercial success with their first album, Ooooooohhh… On The TLC Tip in 1991 which sold over 6 million copies worldwide and spawned numerous Top Ten singles. But it was the release of their second album; CrazySexyCool in 1994 that elevated them to superstar status, that album sold over 22 million albums worldwide to date and propelled TLC to become the most successful female group in history. They went on to record Fanmail selling over 10 million albums and 8 Grammy nominations before Lopes' untimely death in 2002.
Unfortunately, fame and success are often shadowed by pain and heartache and TLC certainly experienced their share. Tionne suffered from sickle-cell disease, Lisa accidently burned down her then-boyfriend and football star Andre Rison's home in a moment of heated passion. The trio also suffered a very humiliating and public bankruptcy suit at the very height of their career success. This prompted them to hold a press conference about the ins and outs of accounting in the record industry to let the public know how this could happen to multiplatinum, Grammy-winning superstars when everyone assumed they must be extremely wealthy.

In the midst of what the ladies were experiencing as individuals, a public dispute between Lisa and her group-mates Tionne and Rozonda arose when she felt she had been all but cut out of their third album, FanMail. Fortunately, the ladies had patched things up and were working on their fourth album, 3D, when tragedy struck and Lisa was killed in a car accident while on a spiritual retreat down in Honduras. In a tribute to Lisa, TLC gave one final concert in June of 2003 at the Zootopia concert in New York's Giants Stadium where Tionne and Chilli performed on stage to 60,000 fans in front of a video screen playing videos of Lisa performing the same songs right along with them.
We're so ready for this. And VH1 BETTER not f*** it up.
CHECK OUT MISS JENNY HUDSON'S NEW PALACIAL ESTATE!
The 30-year-old singer and actress has just splashed out on a lavish six bedroom mansion in Chicago.
The 12,000 square foot plush pad was built in 2007 and boasts seven bathrooms, a heated garage, a theatre and two laundry rooms.
The palatial property is located in Chicago's southwestern suburb of Burr Ridge, Illinois and was last listed at $2,795,000, according to Zillow.com.
As well as a luxurious kitchen space the property also comes with a finished walk-out basement as well as cherry hardwood floors.
The 12,000 square foot plush pad was built in 2007 and boasts seven bathrooms , a heated garage, a theatre and two laundry rooms
There is plenty of entertaining areas including a large lounge, a music room with grand piano and a games room.

There is also a large dining area, the perfect setting for a dinner party with friends and family should Jennifer feel like being the hostess with the mostest.
Fab Home J-HUD You deserve it!
KIMORA LEE SIMMONS Does not like how you Reality Chicks Act!
Kimora Lee Simmons has a mouth full to say about the state of reality tv and it's depiction of women. The model/fashion designer/reality tv star recently spoke up with her opinion stating,
"I think the state of reality tv is going down the tubes. I'm not proud of it and I'm not proud of how women are depicted. I'm not proud of how when you turn on the tv, you are fighting and scratching and cursing at your mum and you are naked".
Well alright then. I won't say any names but she definitely called a few reality tv stars out. I'd venture to say that she doesn't like the majority of the reality tv shows out right now going by her statement. Nonetheless, she's on the track to change all of this.
Currently, she's in talks to start another reality tv show that will bring a different (more positive) light to the business. One of the first things that she wants to do is get a reality tv show going in the Southeast Asia region which should be interesting. My only worry would be how would the American public take to a show like that? We'll just have to sit back and see.
What is your opinion about Kimora's feelings on the state of reality tv today? Do you agree with her?
Vinny Guadignino news song has offensive rapey rap lyrics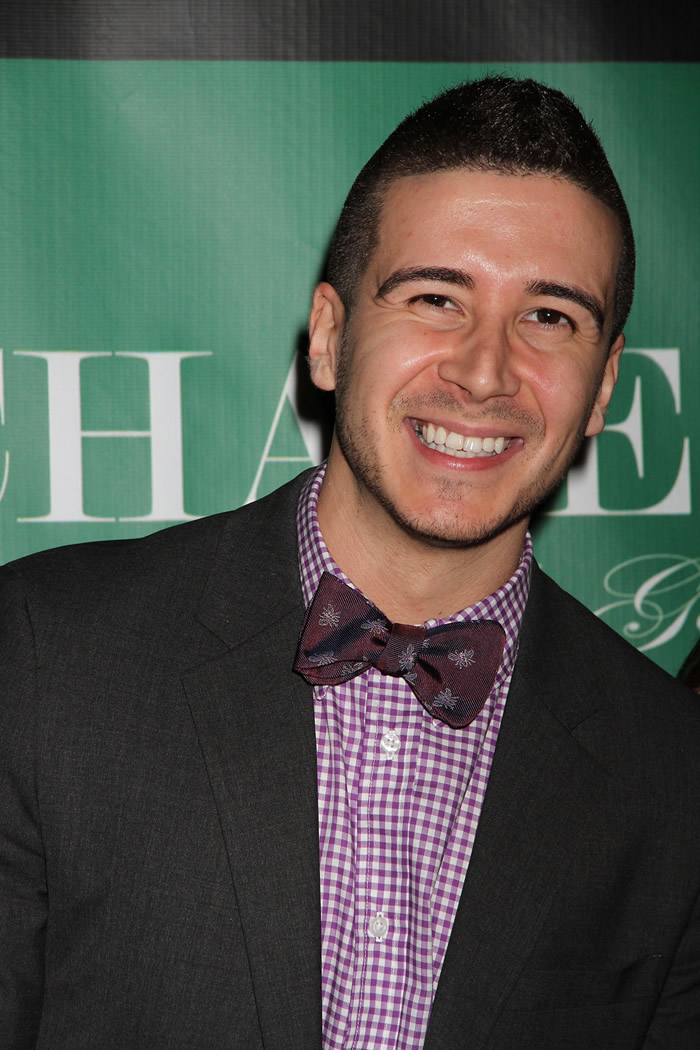 Well When Pauly D, & The Situation gets more press than you……What you do Say Offensive things!.
Honestly, I thought that Vinny was "normal" too. Then I caught up with Season 3 (I'd previously skipped it before viewing Season 4 in Italy) and realized just how many girls (a.k.a., "Grenades") that Vinny bedded during his Seaside exploits. Of course, he also "got it in" with Snooki during Season 4 as well and then hilariously went on to claim that what he really wanted to do was act, just so long as he could find projects that "[didn't] tarnish my image." And then he proceeded to write a rap song about rape:
The nation's largest anti-sexual assault organization is blasting Vinny from "Jersey Shore" — claiming the lyrics about rape in his new rap song are "ignorant" and "send a dangerous message to the public."
Vinny posted the new song on his YouTube page — in which he raps about having sex with a stripper and "actin' like I'm raping it."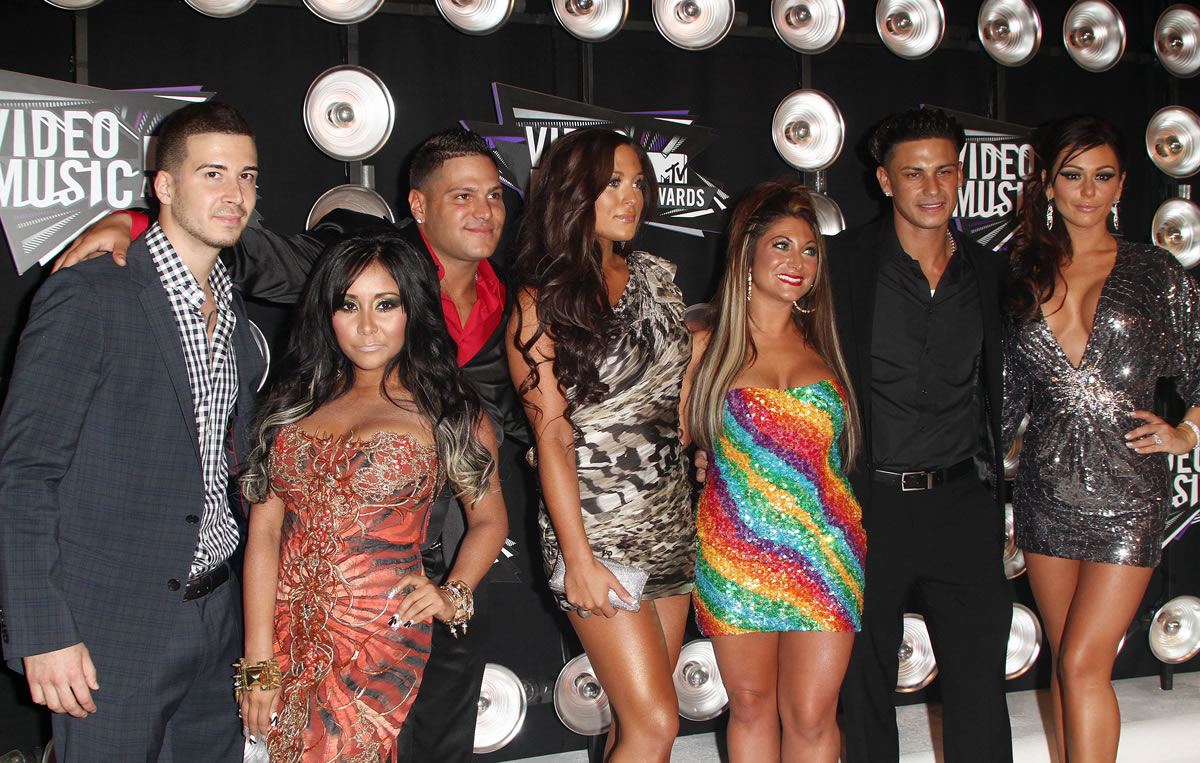 Now, a rep for the Rape, Abuse and Incest National Network (RAINN) — tells us,

"The lyrics in Vinny Guadagnino's new rap song that glorify rape are ignorant. Trivializing this violent crime sends a dangerous message to the public."


"Use of the term 'actin' like' doesn't mitigate the harm this crime has on survivors of sexual violence."
The rep adds, "We hope that Mr. Guadagnino will reconsider his stand on this issue and leverage his platform to reinforce a zero tolerance policy for sexual violence, as he has with bullying."
For what it's worth, Vinny has since pulled the video … and tweeted …

"Whoa! Some people really know how to take things out of context ! … It was fun though!"
[From TMZ]
Seriously, I cannot believe that Vinny has made a lame "out of context" claim in his defense. Exactly how does he consider rationalizing sex with a stripper "like [he's] rapin' it" in terms other than forced sex? After all, it isn't as if Vinny is even speaking in metaphorical terms, such as Kristen Stewart's remark about the paparazzi and Johnny Depp's description of photoshoots, about rape. Instead, he's speaking about actual forced sex. Real rape.
Vinny is no longer a nice guy, and I cannot believe that I ever before fell for his shtick. Although it's easy to poke fun at Mike "The Situation" Sorrentino, at least he doesn't pretend to be anything but a dirty dog. Vinny has tried to hide his true ways, and these efforts have been successful. Until now.
Gloria Govan On Jackie Christie: "She's KOOKY
"
She laughed. She cried. She succeeded in confusing the entire fuck out of everybody.
Jackie Christie was nothing short of a one-woman Tyler Perry sitcom on the second hour of the reunion special for 'Basketball Wives LA' last week But Girl Melanie tells VH1.com that she and the rest of the gurls were actually scared of Mrs. Doug Christie's delusions of grandeur during the taping of the show.
In the final episode, what did you guys do after you all left the restaurant after meeting with Jackie?


We stood outside the restaurant for like ten minutes and were just kinda like "What in the hell?" in the parking lot. We were all confused and they obviously didn't show everything, but we were like, this girl is crazy. She kept saying "Y'all need to be truthful! Y'all don't even know what you're talking about!" But we were like "We made a chart," we showed up an hour early at the restaurant to make sure we were all on the same page, and when she came in, you know, we were like "Oh my God," because honestly when we left Hawaii, we were afraid. We thought she was gonna pop out in the parking lot and attack. We were freaked out, seriously. It was to the point where we were asking for security. All of us were like, she's crazy! And all she kept saying was "Y'all gonna be sorry, you don't know who you're messing with, y'all gonna be sorry," and we were like, "This girl's got like eight personalities."
I think Malaysia was the one who joked that she was off her meds, did you actually think that too?


I was always like "Oh, Jackie's just sensitive, whatever, it's fine," but there was that one point where I was like "She needs to be checked out," dead serious, she needs medical attention. We were actually thinking about looking to get her into a psych ward and get tested

.
Was there a turning point that? Because up until right before Hawaii, everything seemed so fine with her.
It was just nuts because she was playing everybody, so she would go up to you and say one thing and when you left, she would go up to the next person, and a lot of times, what Jackie does is the way she feels about you, she'll tell you that's how someone else feels to make it seem like it's not coming from her.
She she would be like "Uh huh, girl, they're saying you're fat and that you and Matt are terrible together and y'all this and y'all that," and you ask that person like "You said that about me?" and then you find out "Jackie, that's how YOU really feel, you don't have to lie and say Imani said it," or whoever else said it.
But the turning point was Hawaii when Laura and Imani had that talk on the beach.
Jackie was so freaked out.
She was like "Uh oh." I'm not there to monitor or regulate or put my two cents in, and you can see that she was wigging out like "What are they saying? Why can't they just say it in front of the group?" and she was really worried that they were going to realize what she did. That's when the turning point really came. She was at people's rooms, she was calling people in the middle of the night, she was outside the door, it was some MacGyver type of stuff.
So the "kookiness" that we saw on the show was toned down from how it really was?


It wasn't that it was toned down so much, but no one pinpointed that it was her yet, no one ever brought it up, we just all thought "That's just Jackie," but when it started to spill over into creepiness, that's when everyone started talkin'. The thing about Jackie is that she likes to stir stuff up internally and then be the person that tries to fix it, so she's walking around like the big sister, and then she just talks and talks and talks and makes you think "Well maybe I AM crazy, did I really say that?" and you start to question yourself.
Do You Think this is Too Soon?
Jennifer Lopez is being criticized for introducing her children to her new lover too soon after her break-up with their father.
Over the holidays, Jennifer Lopez was spotted in Hawaii with her twins Max and Emme AND her new boy-toy, 24-year-old Casper Smart. Now that Casper is joining the whole family on trips, it has folks asking if she should have introduced her youngins to her new man so soon?
Kandi Coated Nights: Special Guest Frankie & The Infamous "Ridickulus"
Kandi has a popular late night radio show Kandi Coated Nights. The show was having some special guests they were Keyshia Cole's mother Frankie walked in as well as "Ridickulus", the famous stripper that appeared on the last episode of RHOA.
The show was just as hilarious and crazy .The Kandi Koated cast asked Frankie what was the craziest thing she ever done and to which she replied "Here is the video". The highlight of the show though was "Ridickulus" who was heavily questioned on the internet about his sexuality after showing he could give himself oral sex. To our surprise he informed viewers that he was previously married to a woman…….for 7 years!!
"Ridickulus" also discussed him currently being on a "strip tour" where he is performing around the world showing his "oral skills".He also wanted to make it clear that when he gives himself oral sex he only only puts whip cream on the tip and doesn't put the entire shaft in his mouth……..I heard Men that worked at the radio station were completely disgusted with this information and when asked if they felt that his "performance" was a homosexual thing they all replied YES.
Later on in the evening broke the exclusive that Mediatakeout was right "Ridickulus" strips for both men and women and that he's bisexual. Get this yall, he still works a 9 to 5 at Bank of America and they didn't even know he was going to be on the housewives show…
The entire show was wild and entertaining and Frankie made sure to show her new signature dance the "Frankie Leg" which would have you laughing for hours.
She had Kandi doing the dance with her. You can catch episodes of Kandi Koated Nights on KandiKoatedTv at 10:30Pm.
JOJO STOP EXPLAINING YOUR TEAS!
Last week Reverend Run's son JoJo got caught up in the urban gossip blog matrix after a transvestite hooker claimed JoJo tried to smash
Then it was reported that JoJo got kidnapped in a Houston strip club and was forced to pay a "hood tax" before he could leave.
Well according to JoJo he did have to pay a Houston hood tax but he wasn't kidnapped and the tranny thing was all just a big misunderstanding...
Watch:
Here's a word of advice. The more you keep explaning you keep bringing the attention to yourself.
Robin Thicke Announces 'Love After War' Tour
Robin Thicke is spreading Love to his fans across the country. The R&B crooner has announced dates for a 6-city underplay tour to promote his upcoming fifth album Love After War, due December 6. The intimate trek kicks off today in Washington, D.C., and stops in Atlanta, New York, Philadelphia, and Chicago, wrapping in Los Angeles on December 16. See the full itinerary below.
Robin Thicke Tour Dates
Nov. 30 – Washington, D.C. – 930 Club
Dec. 7 – Atlanta, GA – The Loft
Dec. 9 – New York, NY – Highline Ballroom
Dec. 10 – Philadelphia, PA – World Cafe Live
Dec. 12 – Chicago, IL – The Mid
Dec. 16- West Hollywood, CA – Key Club
Rihanna, Mary J. Blige Debut in Top 5 on Albums Chart
Rihanna and Mary J. Blige storm the albums chart this week. The ladies had shoppers rushing to scoop up their latest releases, putting them in the top 5.
The Barbados pop star's sixth album Talk That Talk enters at No. 3 on the Billboard 200 with 197,000 copies sold in its first week, according to Nielsen SoundScan. It marks her sixth top 10 debut and second biggest week since LOUD opened with 207,000 last November.

Seventeen years after releasing her breakthrough My Life, Mary J. Blige proves she's still a force to be reckoned with. My Life II… The Journey Continues (Act I), the sequel to the Queen of Hip-Hop Soul's 1994 album, lands at No. 5 with 156,000.
Michael Buble's Christmas album slightly edges out Nickelback for the top spot (227,000), while Drake's sophomore LP Take Care falls 1-4, selling 173,000 copies in its second week (down 73%).
Elsewhere, Yelawolf's Shady Records debut Radioactive creeps in at No. 27 (41,000) and the soundtrack to Michael Jackson's Cirque du Soleil show, Immortal, arrives at No. 24 (43,000).
Russell Simmons First Person In Hip-Hop Community to Be Featured On U.S. Postage Stamp
Russell Simmons is the first person from the hip-hop community to be featured on a U.S. postage stamp. The hip-hop mogul is part of a campaign for the People for the Ethical Treatment of Animals that will feature several famous vegetarians on a series of stamps. Other notable names included in PETA's campaign include Paul McCartney, Ellen DeGeneres, Gandhi and Woody Harrelson. According to AllHipHop.com, the stamps will be on sale all this month.
In Today's FOOLYWANG NEWS; Black College Student in South Carolina hangs Confederate Flag in his room.
Poor Soul Black college student sparks debate by hanging Confederate flag in dorm room, says 'I know it's kind of weird because I'm black' Byron Thomas says the flag's real meaning has been hijacked
A black college student who drew complaints for displaying a Confederate flag in his dorm room window said he sees the banner as a symbol of Southern pride and not racism.
The 19-year-old student at the University of South Carolina Beaufort took the flag down at the university's request, but he said he's considering putting it back up after the officials relented. Byron Thomas has drawn nearly 70,000 views since he posted a video online in which he acknowledges:

"I know it's kind of weird because I'm black."

In a telephone interview Thursday, Thomas said a class research project made him come to the belief that the flag's real meaning has been hijacked. He said he wants people to thoughtfully consider issues of race and not just knee-jerk reactions to such symbols.


"When I look at this flag, I don't see racism. I see respect, Southern pride," he said. "This flag was seen as a communication symbol"

during the Civil War.
He said university officials asked him to take the banner down just before Thanksgiving after students and parents complained when it was seen by them on campus tours, but have since told him he can put it back up.
The freshman from North Augusta said his generation can eliminate the flag's negative power by adopting the banner as a symbol of Southern pride.


"I've been getting a lot of support from people. My generation is interested in freedom of speech,"

Thomas said.
But Thomas says his parents don't like the flag and he's concerned about their point of view, particularly since they pay his bills.
"I don't want to make my parents mad," he said. "I may wait until Monday to put it up."


He said he's unhappy about such things as labels, and he doesn't like the term

"African-American,"

which makes him feel like

"a half-citizen,"

since he wasn't born in Africa.
Thomas' roommate Blane Reed, who is white, said in a separate telephone interview that he never heard any complaints after Thomas put the flag up shortly after Labor Day. Each student has a separate bedroom and share living space with three others, the 18-year-old from Walhalla, S.C., said.
Personally I'm not sure as to what he call "PRIDE" And he's in college????
The only PRIDE of this flag young man is that The Confederate Soldiers fought in a war against The North to keep your ancestors in slavery. aka THE CIVIL WAR! And this flag is flown only to allow you to remember if it was their way. You'd still be in slavery!


SHOCK! Patient's face caught FIRE during Sugery!
A hospital patient is recovering today after her face caught on fire during a routine surgery.
Kim Grice's face was badly burned in the 'flash fire' that sparked during an outpatient procedure to have biopsies performed on cysts on her head in Florida Tuesday.
Firefighters rushed to the North Okaloosa Medical Centre's Surgery ward and the 29-year-old mother of three was flown by helicopter to the University of South Alabama Burns unit.
Hospital officials have not yet revealed what caused the fire on Tuesday morning, although surgical flare-ups are usually caused by heat, often from tools like lasers and are fuelled by alcohol, oxygen and surgical drapes.
often from tools like lasers and are fuelled by alcohol, oxygen and surgical drapes
Ms Grice's mother, Ann, was said to be furious about the incident.
'I signed a release that they could do whatever they needed to do with a routine surgery – I did not sign a release that they could set her face on fire,' she told the Northwest Florida Daily News.
She said her daughter was in hospital to have three cysts removed during the 8am operation.

'Kim said to me, 'They woke me up and every one around me was hysterical. I don't know what happened to me.
'I still have not let her see or touch her face. She is a very beautiful girl, my only child, and I don't have an answer for her,' Mrs Grice said.
'Her eyes were too swollen for her to see me when I had visiting time this morning. She is just nauseated and I think, in shock. We all are.

'She had headaches and the doctor was going to remove three cysts and biopsy them but something went bad wrong and my daughter is now in a burn unit with burn specialists and I still do not know what happened. No one will tell me why or how this happened to her.'
Ms Grice suffered second-degree burns on her face and neck.
'A flash fire is basically a fire that flashes up and then goes out. The fire was already out when our staff arrived,' Crestview Fire Department Chief Joseph Traylor told ABC News.
'We are conducting a thorough review to fully understand what happened in a deliberate effort to prevent such an event from occurring again,' a hospital spokesperson said in a statement.
According to Mark Bruley, vice president for accident and forensic investigation at healthcare consultancy, the ECRI Institute, said there are between 550 and 650 surgical fires a year, although fewer than 30 result in patient injuries.

AND FINALLY FROM "THE CRAZY PEOPLE SHOPPING AT WALMART" FILES
"Num Nums"
I'm actually surprised Walmart hasn't started charging these infants for snacking while they shop.
EFREM