CLICK HERE TO FOLLOW ME ON TWITTER!
Tamar.com And her husband Vincent Herbert LAND Own Reality Show
Everyone agrees that Tamar Braxton was made for TV and now we will be see a lot more of her and husband Vincent Herbert on their own reality show. Get the deets inside and see Tracee Ellis Ross on "Wendy."
The folks at WEtv know they have a superstar in Tamar Braxton so it's only natural that she and her husband Vincent Herbert will be starring in their own reality show next year.
No word yet on an air date. But I will keep you posted!
Will and Jada Divorcing because of WILLOW & JADEN???
They were besieged by separation rumours earlier this year, but Will and Jada Pinkett Smith seem to be solid as a unit once again.
Men in Black star Smith, 43 , and his actress wife, 40 , never commented upon the rumours of a rift, other than to deny that they were splitting.
But at the time, it was said that the couple's 14 year marriage was heading to the divorce courts.
And now TMZ is reporting that it was their children's fame that nearly drove them apart for good.
The website quotes sources close to the powerhouse couple as saying that they are 'wonderful' now, but that earlier this year there was tension between the two over how best to manage the careers of Jaden, 13 , and 11-year-old Willow.
Will was determined to push his offspring towards greater stardom, according to the insider, while Jada wanted them to ease off.
Smith released a statement to the press via his publicist after a report in America's In Touch Weekly magazine first published the break-up claims.
It read: 'Although we are reluctant to respond to these types of press reports, the rumours circulating about our relationship are completely false. We are still together, and our marriage is intact.'

Will's statement came several hours after Jada denied having an affair with her Hawthorne co-star, Marc Anthony.
Jennifer Lopez's ex-husband joined her TV show as a love interest last year.
'All the rumours regarding Marc Anthony and Jada are false. Completely untrue,' Jada's spokesperson, Karynne Tencer, said. 'As for [the reports of a split between] Will and Jada, I'm not commenting on their personal life.'
A representative for Anthony also addressed the rumours, saying: 'We unequivocally deny this. Enough is enough. There are families involved, children involved, friendships involved. This is NOT true.'
Will's son was the first to defend the Hollywood power couple, who married in 1997.
Trey Smith, 18, who is the actor's child from his first marriage, tweeted today: 'Will and Jada getting a DIVORCE .. NOT TRUE AT ALL !!'
He later added: #Did #WillandJada split? No they did NOT split ! False information ..its not true RETWEET!!!'
The pair earned £20 million between them last year alone.
Will, has been divorced before. He split from Trey's mother - former fashion design student Sheree Zampino in 1995 - after three years together.
Will and Jada first met in 1990 when she auditioned for the his girlfriend on his hit TV show, The Fresh Prince.
She was rejected for the part because she was considered too short.
ANOTHER ONE BITES THE DUST: Deion Sanders Announces Divorce from Wife Pilar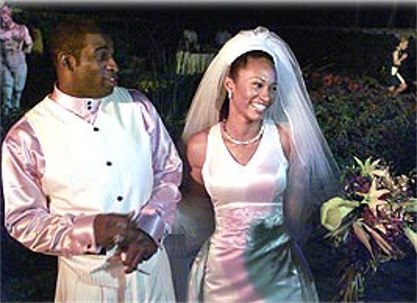 After denying divorce claims in September, Deion Sanders has made it known that he and his wife Pilar are calling it quits for real this time. TMZ,
The NFL Hall Of Farmer recently told TMZ
"Pilar and I have decided to end our marriage and move on to the next phase of our individual lives with mutual respect. We are friends and our top priority has and will continue to be the well-being of our children. We arrived at this decision prayerfully and carefully in order to be able to pursue what is in both of our best personal interests."
Mr. Sanders via his Facebook page:


"Pilar and I have decided to end our marriage and move on to the next phase of our individual lives with mutual respect. We are friends and our top priority has and will continue to be the well-being of our children."
He adds,

"We arrived at this decision prayerfully and carefully in order to be able to pursue what is in both of our best personal interests."
I wish the couple the best. They have three children together and were married in 1999
Mike Tyson Proposes 'Over 40' Boxing Tournament
Mike Tyson, in a WBC convention in Las Vegas this week, said that he's got a superb idea. An idea of a way for heavyweights aged 40 and over to make some money by battling in an elimination tournament. That leads us to imagine of a scene where Evander Holyfield, Oliver McCall, Cedric Boswell, Jameel McCline, Larry Donald, Andrew Golota and Riddick Bowe face off!
Tyson argued that fighters that are over 40 are not good to compete with the best. However, they are fine as long as the opponent is same as themselves.
That's why an over 40 tournament is a good idea. Tyson added,


"Just make them fight only eight rounds so they will be full of energy. I'm sure people would buy this. The fights would be entertaining. Everybody over 40 is very welcome except Vitali Klitschko – he is too good."
However, Tyson himself already took away of the tournament simply because he says he's afraid of fighting.
Wouldn't yall love to see a Tyson Vs Holyfield fight.
Timberland on Aaliyah: "I Was In Love With Her"
Super dope producer Timbaland will be featured on an upcoming episode of E!'s True Hollywood Story. This is an interview you don't want to miss out on. "This will be the last time I talk and I'm going back into hibernation," he says before spilling the tea on his suicidal thoughts and confessing he was actually in love with Aaliyah.
On Aaliyah
When I first met Aaliyah—it time for the world to hear this, I'm gonna give a little secret—I was in love with her. I said, But I'm not…She just a baby, I'm old. I said to myself, 'I'm just gonna be her brother.' Oh man, I was fightin', I was fightin' a lot—a big war. But I loved Aaliyah.
Timbaland also confesses that as he continued to gain weight throughout his career, he began having suicidal thoughts:
I was almost 400 pounds. Who wants to be a 400-pound black man? I'm looking in the mirror, my breast is bigger than a girl breast. And I was saying, 'That ain't cool.' So I got very depressed, like suicidal depressed.
In 2008, Timbaland married his long-time girlfriend Monique (who has a striking resemblance to Aaliyah) and the two are still going strong. He says of the relationship"
It's probably hard to be married to me. It's not easy. I'm a musical genius. I'm weird, I do crazy things, it's not like the average norm. But I'm a loving guy.
OOOPS She did it again! Britney's engaged!
Britney Spears and her former agent Jason Trawick partied into Saturday morning in Las Vegas to celebrate their engagement and her hubby-to-be's 40th birthday.
The beaming, pop diva didn't shy away from showing off her new, three carat, Neil Lane sparkler.
"Still glowing!" Spears, 30, tweeted Friday afternoon before the party.


"About to jump on a plane to Planet Hollywood in Vegas. Throwing a Bday Party for Jason at Chateau Night Club. So fun. Xxoo."
The duo began their night at Sugar Factory's Chocolate Lounge at the Paris Hotel before heading to the club.
Spears wore a skintight, tan, Herve Leger bandage dress and posed alongside her new fiancé who held a black and white birthday cake.
The lovebirds, who have been together since 2009, spent the evening at a private VIP table that overlooked the dance floor. They went home around 1 a.m., according to People magazine.
Spears, who has tied the knot twice before, later wrote "Tonight was one of the most magical nights of my life. Such an amazing time with my new fiancé and our closest friends and family. #Blessed."
Trawick popped the big question on Thursday in Los Angeles.
Britney Spears is no stranger to Sin City. In 2004, she got married there -- to her first husband and childhood friend, Jason Alexander.
That marriage was annulled after 55 hours….Good Luck Brit you deserve happiness finally!
So Kobe's Jumpoff is a friend of Kim Kardahsian?
Lakers superstar Kobe Bryant is being linked in unconfirmed reports to one of Kim Kardashian's best friends, Carla DiBello.
Several websites are claiming that DiBello, 27, has been on close terms with the millionaire athlete for the last couple of years, according to Radar Online.
Some note that she has been spotted courtside at Lakers games.

Carla is one of 31-year-old Kardashian's closest friends, and is also a producer on Keeping Up With The Kardashians and Kourtney & Kim Take New York.
She travels around the world with the reality behemoth, and most recently was by her side during Kim's trip to Dubai.
Carla was director of strategic relations for SBE Group which owns a number of exclusive hotels and clubs in Hollywood.
She was also Steve Wynn's assistant at his luxury hotel casino of the same name in Las Vegas.
Meanwhile, TMZ are reporting that Kobe is worth much less than the $400 million that was being suggested in some quarters, with his net worth instead being around $150 million.

Still a small fortune, but with a divorce settlement looming, every dollar will count as Kobe prepares to negotiate spousal and child support.
Vanessa filed for divorce from her NBA superstar husband citing 'irreconcilable differences.'
TMZ further claims that she has caught Kobe with 'multiple women' over the years - but the latest affair was the one that broke the camel's back.
Sources did not tell the website how she found out about his alleged fling with DiBello - but apparently it was through text messages.
Vanessa, 29 , who stuck by Kobe, 33, after he was charged with sexually assaulting a Colorado woman in 2003, has been married to the LA Lakers player for ten years.
The couple have no pre-nuptial agreement, according to TMZ, so Vanessa will be entitled to substantial monies and has requested spousal support.
It is said that Kobe has already moved out of the mansion in Orange County that the couple once shared.

According to TMZ, Kobe purchased the abode ten years ago, but Vanessa will get the home as part of the couple's divorce settlement.
The pair met when she was just 18, when she was working as a backing dancer in a studio where he was recording, though that material was never released to the public.
According to the legal documents obtained by TMZ, Vanessa is asking for joint custody of their two daughters - eight-year-old Natalia and five-year-old Gianna.
But Vanessa is asking that Kobe get visitation rights, which means she wants the kids in her care most of the time.
Vanessa is being represented by Laura Wasser and attorney Samantha Klein, whose clients include Britney Spears, Angelina Jolie, Maria Shriver and Kim Kardashian.
"Love & Hip Hop" Star Emily B SHOWS OFF Her Shoe Collection In "PYNK" Magazine
"Love & Hip Hop" star Emily B shows off her Christian Louboutin collection in the new issue of PYNK Magazine. It will make your jaws drop....
VH1's "Love and Hip Hop " cast member Emily B shows off her hot shoe collection in the new issue of PYNK Magazine and reveals deets about her shoe habit.
See the highlights:
What's the most you've spent on one pair of shoes?


$5000. And they were special edition – crystallized, but I would never do it again. It would have to be a very special occasion. Other than that, I don't want to spend over $3000. Never again.
Do you find that your passion for shoes influences you as a stylist?


It's just a part of being a stylist. I love to shop, I love fashion, and I love girly things. Shoes are definitely an inspiration for me. I start off with the shoes and work my way up and around it.
Tell us about some of your entrepreneurial pursuits.


I'm actually starting my own clothing line, called Emily B. It's going to be feminine, chic, trendy, and of course, affordable. I want to start a line that all women and young girls of all ages can wear and afford.
What's the perfect PYNK girl shoe?


Every girl should own a good black pump, even if it's just an open-toed pump. It's versatile — she can wear it with anything, she can wear it with jeans, she can dress it up and wear it out with a cocktail dress...
See the collection here: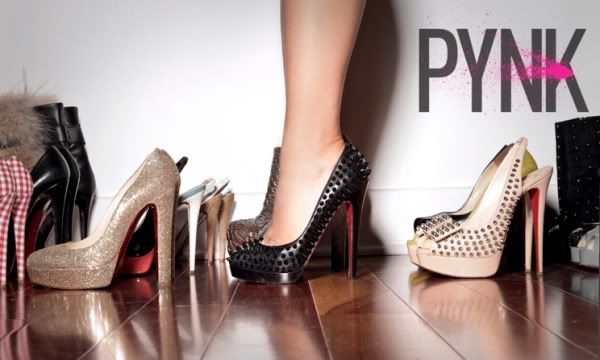 Are you mad Ladies?
Teyana Taylor Drops It Like It's Hot During Performance In Amsterdam
Teyana Taylor has taken her talents overseas and is currently performing as the opening act for The Game's 'The Red Album' Tour. She recently rocked the stage in Melkweg Amsterdam and showed off her rock hard body in boy shorts and a bra while warming the crowd up with snippets of Kanye West's 'Dark Fantasy', Beyonce's 'Who Run The World (Girls) and Ester Dean's 'Drop It Low' as well as her own material.
While in the middle of introducing herself to the audience she invited a young fella on stage to get a more personal introduction. Moments later, Teyana dropped it like it was hot and left the boy wide eyed and drooling.
Watch the performance:
LOL!!!
Kelly Rowland Snubs Mathew Knowles In JET…Oh?
On the latest issue of JET magazine, Kelly Rowland made it to the cover story and she snubbed her father, Mathew Knowles. Earlier this year, her estranged father Christopher Lovett reached out to her for forgiveness. That was after 20 years during when the two hadn't even talked.
After that, Kelly decided to reunite with her biological father and expressed her excitement in the magazine.
I think every little girl wants to be a darling in her father's eyes, and I'm going to get the opportunity to meet my biological father, so we'll see what happens. That's all I can say because I'm going to meet someone I haven't seen in more than 20 years. In my heart I have forgiven him.
On the other hand, she totally dismissed Mathe Knowles' role as a father in her life.
Details is available on JET which is available in print.
Another Church, Another alleged Racial incident! Church secretary says interracial marriage got her fired
In Fayetteville, Tenn. A white church secretary is suing her former employer, arguing that she was fired for marrying a black man.
Debra Dodd, the former secretary at the Cumberland Presbyterian Church in Fayetteville, Tenn., and the Rev. Tim Smith, pastor of the church, agree on one thing: Most of the members of that congregation are great people.
But from there, their stories diverge.
Dodd has filed a lawsuit for back wages and $500,000 in punitive damages against the church after she was fired for what she says is racial discrimination.
Dodd said the all-white church first embraced her during her two years as secretary — and then suddenly shunned and subsequently fired her on May 26 after they learned she had married a black man in April.

Smith said Dodd's marriage is unrelated to her firing, but also said his lawyer has directed him not to discuss particulars.
"In this congregation, I work with some of the most loving people in the city,"

Smith said.

"I can't comment on the lawsuit, but there is more to this story."

Dodd said the church initially

"treated me like family,"

but that changed after three church leaders saw Dodd and her then-fiance, Michael Hampton, eating together at a Fayetteville restaurant.
"Then suddenly it went downhill. All of the sudden my clothes were not appropriate, I was not doing my job right. People stopped looking at me. They would turn their faces away from me. When my husband and a friend of his visited one week when I sang, there were comments about the 'colored boys in the back.'"
I guess they forgot about "Love Thy Neighbor as thyself" and the Historical court case of Virginia VS Loving!?
Man Gets "Free Lil Boosie" Tattooed On His Face
Mingo Baby Gets "Free Lil Boosie" Tattooed On His Face
Now I've done seen it all know.
When being a fan just goes too damn far.
Earlier this week I reported of woman getting "DRAKE" tattooed on her forehead.
Well apparently Lil Boosie has a #1 fan as well who went all out for the jailed rapper
An independent rapper by the name of Mingo Baby…. (Who, that's what we said too) misses Lil Boosie so bad that he got "Free Lil Boosie" tattood on his forehead. We all thought Webbie was gone be doing that.
Mingo Baby says Boosie was 100 and that he rocked shows with him before.
Ok, well send the man the letter but this face tattoo. FAIL Miserably but as he states he don't give a KCUF.
Vivica A. Fox Throws A 'Dodged The Bullet' Party
Guess who threw a 'f*ck him girl' party recently to celebrate her decision to call off her engagement to her 27 year old fiance, Slimm 'Omar' White.
Last week, Viv and a few of her bridesmaids, celebrated her new singledom with a 'Thank God You Dodged a Bullet' bash at a private residence in Los Angeles. There was no crying over spilled milk at this party as the friends partied til the wee hours of the morning while throwing back drinks with signature names such as 'On to the Next' and 'F*ck The Ex'. There were also fab gifts, gift bags and 'Thank God You Dodged A Bullet' tees that were gifted to the guests.
I'm sure Beyonce's 'Best Thing I Never Had' was cued up at a few times during the celebration. Drink to that!
NeNe Leakes EXPLAINS What It Means To Be "Very Rich"
We all remember when NeNe Leakes coined "I'm very rich bi*ch," and now she is breaking down the meaning. And it's not all superficial.
During a recent interview with ESSENCE.com, NeNe Leakes broke down her "I'm very rich bi**h" statement.
She revealed that she's rich in many more ways than just financially.
"I think that everyone is saying all kinds of things about 'rich.' Not only am I rich from doing some of things I've been able to do, but I'm rich in spirit. I'm rich in health. I'm rich in every way possible,"
YEAH RIGHT Gurl..she's saying that's because The Trumps shut her down!
Chris Tucker Surprises Angie Stone at her 50th
A Very Sexy Angie Stone was surprised Big Time when her longtime boyfriend Ashanti Graves threw her a surprise 50th Birthday Bash at the Museum Bar.
Everybody knows the Epic R&B Soultry Singer, "baby-momma to DeAngelo" has been in the game for many many years. Last night there were a lot of tears of joy throughout the room as Angie surprised guest and friend "Chris Tucker", Jasmine Guy, Carol Blackmon (midday radio personality), Jovita Moore, and Jaquitta Williams (CBS Anchors), childhood friends and family from South Carolina, and a WHOLE LOT of Louisiana love was in the room. Angie Stone announced the drop of her new album in January and gave the audience a sneak listen of the new songs.
Angie's heartfelt thanks went out to everyone who pulled off the surprise.
Rihanna and the Belgian Waffle Racist
Rihanna had go Bajan to deal a with a racist guy she ran into in her hotel in Portugal...
ATTA GIRL!
MEANWHILE! Chris Brown's Mother Tweets Message To Rihanna: 'I Miss You & Love You!'
Chris Brown's mother has sent a message to Rihanna via Twitter, telling her how much she "loves and misses" her.
Check out the tweet below:
An hour later Rihanna tweeted a message of Love back to an unknown person.
Do you think will see Rihanna and Chris back together?
J.R Martinez's girlfriend pregnant with couple's first child
He just won Dancing With The Stars last month, cinching the mirror ball trophy in the nail-biting finale.
And now J.R Martinez has something else to celebrate.
The 28-year-old is going to become a father for the first time, after announcing that his girlfriend Diana Gonzalez-Jones is pregnant with their first child.
The former Iraqi War Veteran confirmed the happy news to People magazine.
'We found out just last week it's a girl and we are over the moon,' he told the American publication.
'Diana has a little baby bump now and it's the cutest thing ever. With the holidays coming up, this is the biggest and best gift we could get.'
The couple first met on the set of the hit soap All My Children, in which Marinez starred as a U.S Army soldier and Gonzalez-Jones worked as an assistant to the show's producer.
After a couple years, the pair's friendship blossomed into romance.
'We were so good as friends that romantically, we just clicked right away. There was no adjustment period,' Gonzalez-Jones told People.
Martinez says that this year has been one of the best of his life.
'2011 has been full of a lot of surprises and opportunities and ultimately, a lot of blessings,' he said.
'Diana and I were just asking ourselves, "How is 2012 going to top 2011?" Well, we have our answer!'
Diggy Simmons Gives Back For The Holidays
Diggy Simmons is not your average teenager. Not only is he a rapper but he's Rev Run's Son and his uncle is Russell Simmons. Both his father and uncle are big on philanthropy so it comes as no surprise that he has such a giving heart and a well rounded head on his shoulders.
The Scream Tour that Diggy headlined is now over and he's had some free time on his hands. A couple days ago Diggy participated in a few holiday charity events in New York City. His first appearance was at the New York Presbyterian Morgan Stanley Children's Hospital.
While there he visited beside patients, handed out holiday git bags, signed posters & took photos with the children. Im sure that made them feel good about themselves or at least helped make their situation a little better.


Later that day he visited St. Jude's Holiday party at Brooks Brothers Flagship store where he took part in their "Thanks and Giving" campaign. He decorated holiday cookies, ornaments and cards with the St. Jude Patients, which Im told brought lots of smiles to the children's faces.
Good for you Diggy!
And finally from "THE CRAZY PEOPLE SHOPPING AT WALMART" FILES
In life there are show-stoppers and show-watchers…I'll let you decide which she is
TAKE CARE!
EFREM