CLICK HERE TO FOLLOW ME ON TWITTER!
Chris Brown, Gabrielle Union, Megan Good, And Others To
Star in New Movie "Think Like A Man"
A few of your favorite stars such as Chris Brown, Megan Good, and Keri Hilson will be hitting the big screen soon in a new movie titled "Think Like A Man". The movie is based off of Stev Harvey's popular book "Act Like A Lady, Think Like A Man". In this movie things get interesting when all of the girlfriend's read the book and send the men on a run.
Other actors who will be featured in the film include Morris Chestnut, Taraji P. Henson, Kevin Hart, Gabrielle Union, and Michael Ealy. With a star studded cast of veteran actors like these, I know this movie is going to be GOOD! Check the trailer below!
Are you excited to see this movie? I am! Too bad we'll have to wait until March 9th to see it.
The Breakfast Club's 1 Year Anniversary Party
DJ Envy, Angela Yee, and Charlamagne Tha God celebrated their one-year anniversary at The Breakfast Club at Mike Kyser's (President of Atlantic Records) Bottles & Strikes edition at Frames Bowling Lounge.
The party was hosted by supermodel Jessica White who worked the pole.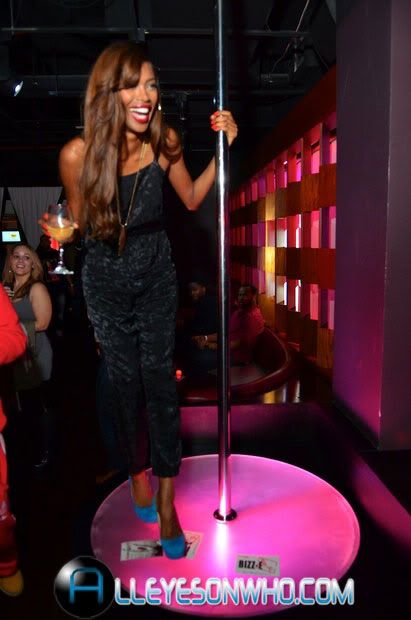 Jessica posed with The Breakfast Club's Angela Yee and stylist Ty Hunter.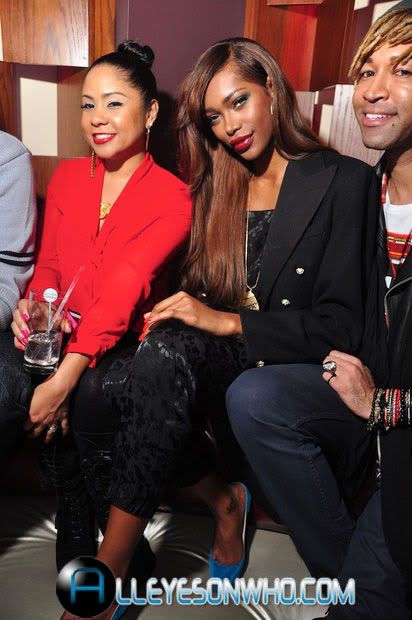 R&B star Tank was there and he posed with singer Knight.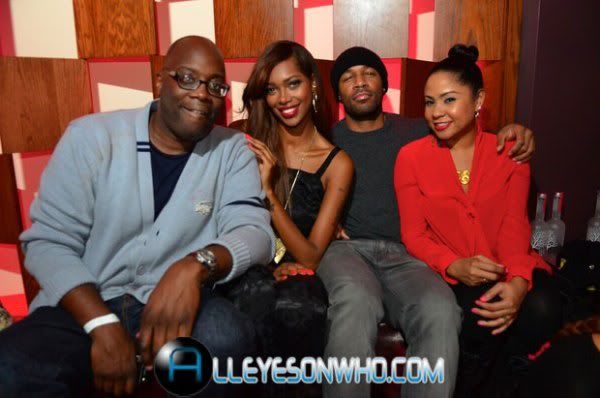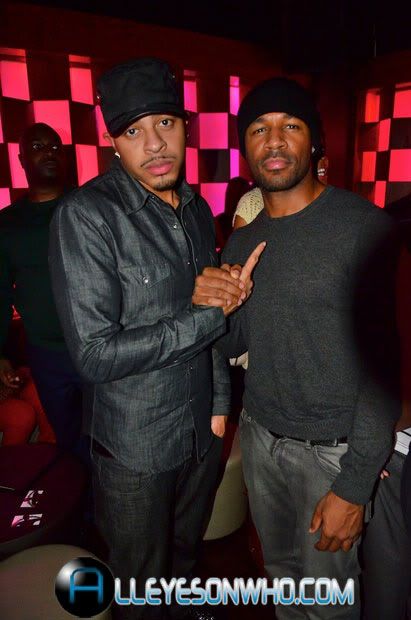 DJ Envy posed with radio partner Charlamagne Tha God.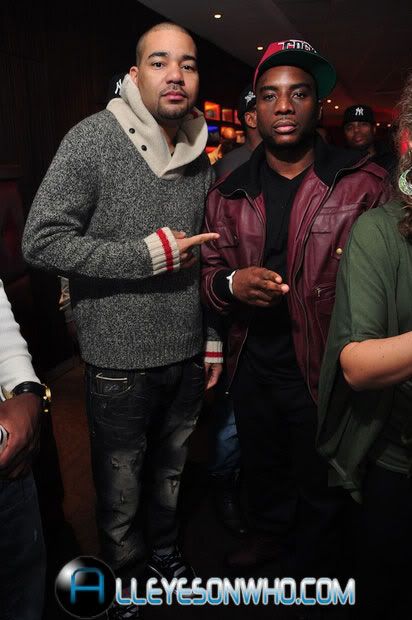 DJ Clue was also there to support and he chilled with Angela.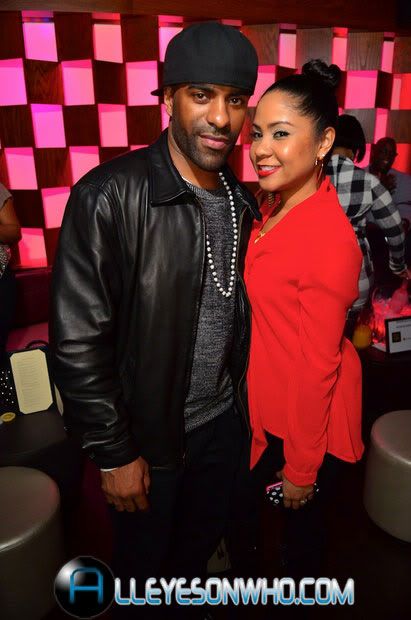 DJ Clue also caught up with DJ Envy.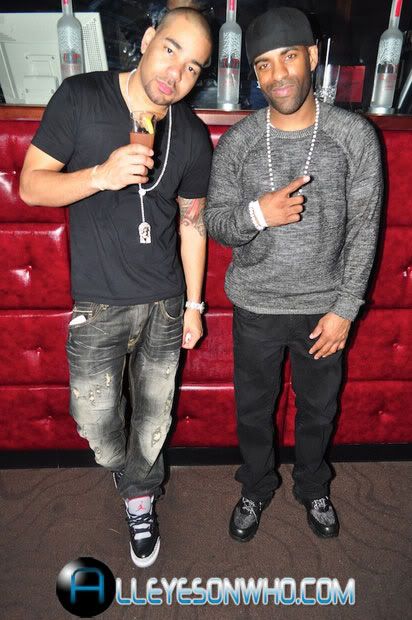 Shady's Joe Budden was in the house.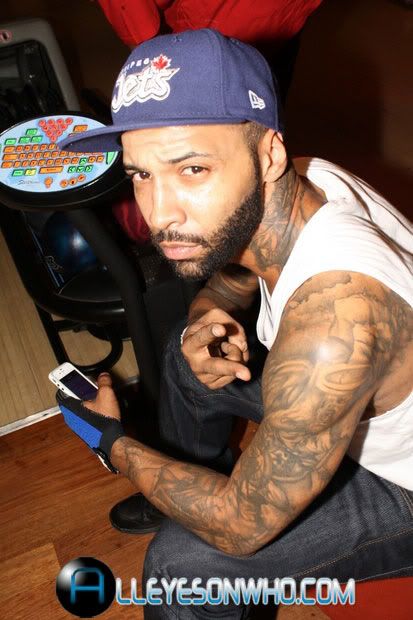 Melyssa Ford also came out to support. She was chillin with Rae Holliday
Fun times....
congrats to The Breakfast Club on 1 year in!
Now it's his turn; Slimm Clears The Air On Failed Engagement To Vivica Fox:

'I Refuse To Sell Myself Short For Fame'
Well, this looks like the real life version of 'Two Can Play That Game'; the 'He Said, She Said' edition.
Bothered by a few comments made by actress Vivica A. Fox on Access Hollywood the other day, her ex-boo piece Omar 'Slimm' White has written an open letter to clear the air about what went down in their relationship. The "six pack and a smile" that she fell in love with wants people to know that he never used her for her celebrity and would probably still be with her if she would let go of the negativity and "childish antics" [his words]. He also says that he was shocked when he saw that she continued with an interview for the December issue of Sister 2 Sister after they had already split up.
Here's what he had to say:
I totally understand that a person would rather save face and avoid admitting their fiancé ended the relationship. So I understood why Vivica didn't admit the reality of what really took place…. She would have come out better if she stated we went our separate ways if she wanted to avoid the "true" nature of the breakup. The main thing is don't lie… she and I know what happened so just be cordial and keep it moving. She knew from day one when I first met her I would joke and say "hey baby don't hit me with that 2 can play that game" lol those methods destroy relationships. I hate games and negativity
Further more if I was using her for fame then why wouldn't I play the game, put my pride aside and follow through on tying the knot? The reason being I'm not that type of man and I refuse to sell myself short for Fame.
Happiness is key in anything you do in life and people who settle for the wrong reasons never find True Love. I understand the illusion of life and what to avoid so I'm happy at the decision I made and one thing that was evident if she keeps it real or not is the fact I told her several times that "baby, no matter what we disagree about, let's keep peace and love in the house."
As you see in the month of December, her and I appeared on the cover of Sister 2 Sister, and when I saw the cover I was shocked because I walked away 2 months prior but I came to the realization that Vivica went ahead and did the interview as if nothing happened (At that time the public wasn't aware of our breakup) So I'm thinking like if you really wanted to get Married instead of getting caught up in all the glitz and glamour you wouldn't have continued to provoke stress in the relationship. If you were to ask Vivica right now, "Did Slimm try time and time again to keep the relationship strong" she would have no choice but to admit who I am and the good examples I set! I always told her toward the end that "baby, I will loose interest if we keep this up"… When you have a bond with a woman that fire can fade if both parties involve don't fight to preserve Chemistry…
But as I stated once before she has a great personality and a good spirit but you will never find true happiness if you cannot …overcome negativity and childish antics… I wish her the Best
All of this back and forth could have been prevented with a simple confidentiality agreement. Don't you think so?
Finally C-error gets to sing! Mama I Want to Sing Headed to DVD
Finally! After three long years Fox Home Entertainment announces the DVD release of "Mama I Want to Sing" starring Ciara...
Filmed in 2008 and starring Ciara and Lynn Whitfield, "Mama I Want to Sing" had not seen the light of day until its triumphant debut on Youtube earlier this year [click here if you missed that]. Ciara's portrayal of a talented but naïve young gospel singer with dreams of pop stardom was so dynamic, Youtube quickly removed the video from its servers, probably on orders from Beyonce. But as we all know, without Mathew Beyonce's muscle is weak and now "Mama I Want to Sing" shall be viewed by the masses.
"Mama I Want to Sing" will be available in stores February 14th 2012.
Young Jeezy Insulted By White House Snub
Young Jeezy feels insulted for not being invited to the White House on the strength of his hit single "My President is Black"...
Jeezy tells The Life Files,
"I did felt a little played because I made the song to uplift what was going on and Dennis Miller and Bill O'Reilly, I felt kind of disrespected because everybody has a right to have an opinion but I felt like they tried to play me out like I was just some type of n*gga," Jeezy explained in an interview. "I was bigger than that, I 'am' bigger than that. You couldn't get them to go anywhere and 20,000 people recite every word they say. Nobody gives a f*ck what Dennis Miller says. I actually liked his show by the way, but I don't watch it anymore. You know what I mean? And the whole thing with Obama, I've seen the Lady Gagas and everybody come to the White House and I sit back and I say, 'D*mn, I really put in a lot of work. I really took the time out of what I was doing to really be down with the movement.' I just felt like the hand wasn't extended."
Dude you need to clean it up a little and maybe he can meet you on the next campaign stop!
Britney Spears Celebrates 30th B-Day, Tour End In San Juan
While she rang in the big 3-0 on December 2nd, Britney Spears was doted with a belated bash in San Juan, Puerto Rico on Friday night (December 9).
The "Hold It Against Me" singer was presented with a celebratory cake while tweeting during the island soiree, "Having an amazing time at my end of tour / belated bday party!"
The Puerto Rican festivities were held as Miss Spears is set to close out her ambitious Femme Fatale tour at José Miguel Agrelot Coliseum tonight (December 10).
The concert trek took Britney around the globe after having been kicked off in Sacramento, California back on June 16th - with the tour being comprised of three legs and a whopping 79 shows in all.
GOOD AND BAD NEWS FOR THE SMITH'S
First up good news; Willow Smith the Elf Touches Down at Holiday Benefit
Willow Smith helped brighten up the holidays for 100 disadvantaged children by appearing at the "Holiday in the Hangar" event benefitting the Garden of Dreams Foundation.
The 11-year-old singer boarded a Delta plane and traveled down the runway to a hangar at John F. Kennedy Airport, which was magically transformed into the North Pole. Once the passengers arrived, they were welcomed by Santa Claus and even got a surprise visit from Will Smith.
Awwww how sweet! Good for you Willow!
AND NOW FOR THE BAD NEWS.Will And Jada Really Heading For A Divorce This Time?
It looks as though the media is really convinced that Will and Jada's marriage is officially over, even though they are still making public appearances together. Although, the two were spotted together at Miami's Club LIV on December 3rd for David Guetta's 'F*ck Me I'm Famous' party, there are still reports circulating that they no longer spend time together. As a matter of fact, they are said to be sleeping in separate bedrooms and living completely separate lives.
According to Star Magazine, the the power couple is separated and Will spends most of his time in Miami while Jada spends most of her time on the road with the kids.
According to their source:
"Will and Jada are finished after 14 years. They're still keeping up appearances because they worry divorce could hurt their careers, but there's no turning back now. It needs to end. They put up a good front in public, but behind doors they really fight like cats and dogs. They've always had issues in their relationship, and now they're bubbling to the surface."
The magazine also claims that the couple had reconciled at some point but things began to take a turn for the worst again last month when the two had a huge falling out.
"They've been trying to work through it, but things came to a head in early November, when they got into a huge knock-down, drag-out fight. Will feels like he's living a lie for everyone else, but he knows it needs to end
," explains a source.
"They can't keep pretending."
This isn't totally convincing considering that Jada seemed happy working that pole at LIV with Will watching close by a week ago. Meanwhile, if they were to divorce, there's $520 million estate that they'd have to battle over and of course joint custody of their superstar offsprings. However we must keep in mind also.
Where there is smoke there is fire
. JLO and Mark denied, Demi and Ashtin too and look what happened. I just hope this isn't true they are a power couple and hopefully they can work things out!
IN R.H.O.A DRAMA;
SHEREE WHITFIELD CLEARS UP RUMORS REGARDING THE BUILDING OF
"CHATEAU SHEREE"
In this season of "The Real Housewives of Atlanta" we find Sheree Whitfield building a new home, that she refers to as "Chateau Sheree". However, as soon as the show aired — the questions and rumors started. Recently, a report leaked that Sheree doesn't have ownership of the property where she is building her new home. Her mother, Thelma Ferguson actually purchased the property, and the property is still an empty lot. Also, Andrew Washington, the man shown on RHOA as Sheree Whitfield's "contractor," has "received a cease and desist order" — because he is working and practicing as an architect and builder without the proper licenses and papers in Atlanta. It looks like Sheree hired a fraud for her project.
With the internet abuzz with rumors about the current state of "Chateau Sheree," Sheree felt it necessary to clarify a few things. Sheree writes, "The home building process requires a huge amount patience, planning, meetings, and self-control. People warned me that building a new home would be not only a huge headache but a slow detailed process, because contractors like to move at their own pace.
WATCH The tomfoolery:
To clear things up, Andrew is not my builder. He is someone that did some work for me in my clothing boutique years ago. We ran into each other when I began this project. I hired him to oversee the day to day progress when I am out of reach. Another story that I will go into later!"
Another One! The 'fake doctor woman who killed man, 22, by injecting his penis with silicone during pumping party'
Kasia Rivera, 34, has been placed under arrest, for illegally performing a penis enhancement without a licence
A fake doctor injected a man's penis with silicone, killing him, police said Friday.
Justin Street visited Kasia Rivera, 34, at her home in New Jersey for the penis enhancement procedure on May 5, prosecutors say.
But just a day after attending the so-called 'pumping-party' the 22-year-old was dead.
Street suffered a clot to the lungs and died. A medical examiner determined he died of a silicone embolism.
His death was ruled a homicide following an investigation and Rivera has now been charged with manslaughter.
She also faces charges involving the unauthorised practice of medicine. She was arrested Friday and is being held on $75,000 bail.
Silicon injections are increasingly used to enlarge body parts, such as the buttocks.
The only cosmetic use for non-encapsulated medical silicone approved by the FDA is Botox, for use around the eyes.
But blackmarket illegal use by untrained practitioners continues as a quick-fix budget alternative to cosmetic surgery. Doctors say the slow economy has also fuelled the trade.
While side effects are thought to be relatively rare, in some cases silicone will migrate through the bloodstream, resulting in a potentially fatal clot in the heart or brain or lungs.
The silicone can also migrate through tissue leaving disfiguring lumps.
There is also no guarantee of medical grade silicon at so called 'pumping parties' cosmetic events held in homes, offices and even motel rooms.
Industrial-grade silicone purchased hardware stores is sometimes used as are toxic substitutes such as castor oil, mineral oil and petroleum jelly.

Deaths and injuries from illegal cosmetic procedures is no new thing: last year, a Queens spa owner was charged with second-degree assault and unlawfully practicing medicine for performing "butt enhancement" surgery. Last month, an unlicensed Bronx cosmetologist was convicted of criminally negligent homicide in the case of a client who came to her for silicone injections in her buttocks and died of a silicone embolism in her lungs.
Last year a New Jersey model was charged with providing toxic buttock boosting silicon calk injections to six women,leaving them needing surgery, the Star Ledger reported. A judge threw out the case because any law she had broken was not specified in the indictment.
A fake surgeon was last month accused of carrying out DIY surgery on at least five people in Florida. Oneal Ron Morris allegedly inserted deadly toxins including cement and tire sealants into her patients, before sealing the wounds with superglue.
B.G Pleads Guilty to Felony Gun Charge & Witness Tampering
An orginial member of the Hot Boyz finds himself in trouble with the law on gun charges and this time its not Lil Wayne. Rapper B.G has recently plead guilty on possession of an illegal firearm as well as tampering with evidence. It all started in 2009 when B.G was pulled over in his hometown of New Orleans riding with two other passengers when the police discovered 3 handguns inside the vehicle.
Unfortunately for B.G he already had a previous felony case pending so it doesn't look good for the rapper. Check inside for more deets on how much time in prison he may face.
In 2009 alone B.G has had four arrest on similar charges and when the judge asked him in court was he the owner of all three weapons B.G plead guilty and now can face up to 40 years in federal prison! When asked why he would take the charge for all three weapons when they werent obviously all his this is what the rapper had to say,
"I never snitch, never tell, if the laws come
and get me, I'm gonna sit my ass in jail," B.G. raps on his new track " I Aint Tellin" I dont talk on the phone, 'less I'm talkin' to bitches."
When speaking to MTV back in 2009 he also had this to say,
"I kn
ow the consequences and repercussions of what comes behind it. Where I'm from, it's just like, that first draw is a muthaf—a, the bullets raining out the sky. It's like that for real. It's a murder capital. They dropping like flies. I stay in the suburbs. All my neighbors are white and football players and doctors and dentists."
"I lay my head there, but when I get up in the morning, I gotta go to the projects and get some grits and cheese and sausage and toast," he continued. "It's just something about that 'hood. I wanna post up and sit on the porch and get my hair braided. I'm just 'hood."
This code of silence is becoming too much in the hip hop community but if he is willing to give up 40 years of his life for another man than more power to him, we wish nothing but the best for B.G. His sentencing will on March 12, 2012 and I will continue to keep you posted on news and updates concerning his pending case.
OH BOY "MAN DOWN" Frankie pens a Book!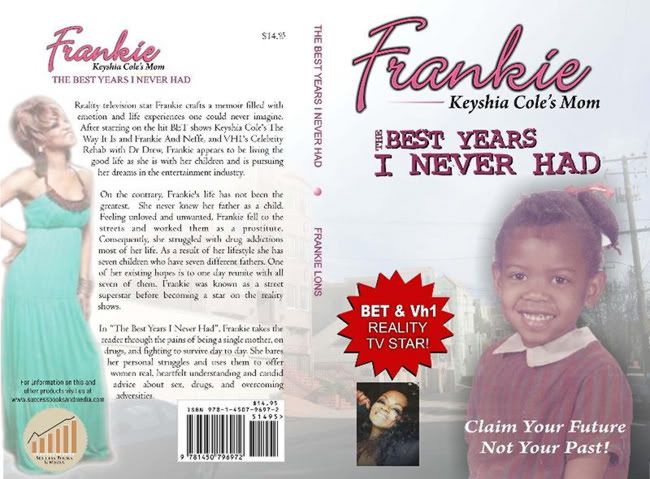 Ms. Frankie is not just about the foolywangery, she's also an authoress. She wrote (says the press release) a book about her life and hardships that she feels could help others through their own life trials. After turning to prostitution and drugs after falling on hard times, having to live without her biological daughter Keyshia Cole, and spending many years in jail, Frankie is trying to get her life back together.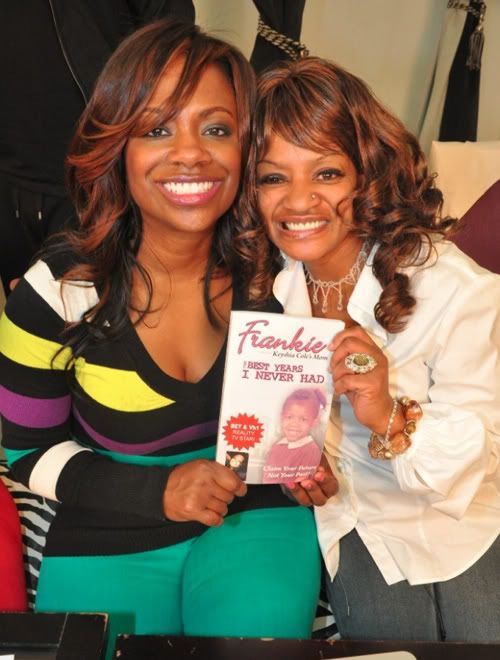 The release states:
If dancing isn't your thing, Frankie's newest page turner is sure to keep you engaged. Published through Success Books and Media; The Best Years I Never Had takes readers through the pains of being a single mother on drugs, and Frankie's fight to survive day to day. The petite powerhouse bares her personal struggles and uses them to offer women sincere, heartfelt understanding and candid advice about sex, drugs, and overcoming adversities.
"This book will inspire; it tells the story of a lady who's been through everything from battling with drugs to resorting to prostitution and everything in between....this is her journey to turn her life around and merge into society." Explains Frankie's Manager, acclaimed author and platinum producer Leroy McMath, "She's showing people that she has changed her life and they can do it too."
It comes out online Dec. 20th with the paperback in stores on Jan. 24th. Will you be copping this MESS?
Miami Beach, FL –Rarely does Miami attract an artist that brings as much hype, yet exceeds our expectations in a performance. And
World Red Eye
caught it all!
Method Man was one of those artists. Brought to South Beach by the Opium Group and The 400 Club, Member of the famed Wu-Tang Clan, and overall great Hip-hop artist, Method Man's performance at Cameo didn't disappoint.
THE WU IN DA BUILDING!
Ice Cube Confirms Another "Friday" Sequel Is In The Works
O'Shea Jackson is on board for another installment and that they're rounding up the cast.
It's been close to a decade since Friday After Next released, but the cast of the Friday series is ready to give it another go. According to TMZ, Ice Cube is confirmed to return to the fourth installment and that Chris Tucker is also on board to star.
"Absolutely yes the studio is in the process of getting the entire original cast to do another 'Friday,'" said a rep for Cube Vision Productions. "[Ice Cube] is very excited about this and has every intention to make it happen."
Friday hit theaters in 1995, becoming a cult hit and netting over $28 million worldwide. Next Friday followed in 2000, grossing almost $60 million worldwide, while its Christmas-themed threequel Friday After Next impacted in 2002.
Imani Showalter's Ex Stephen Jackson READS DOWN about Basketball Wives, And just simply GOES IN ON ALL OF IT!
NBA player and rapper Stephen Jackson aka Stak 5 had an interesting choice of words recently when asked about his thoughts on Basketball Wives LA, which his ex- Imani Showalter stars in. The Joy Daily Show recently caught up with Stephen and he dished on why he thinks the show is successful, commends Shaunie O'Neal for pimiping the women on the show and states that he wants Imani to move on with her life.
Here's a few excerpts:
On how he feels about the show
Well, I have two kids by a woman that's on the show and I really don't have a problem with it. If she can benefit from it and not put my kids to look bad in any light then I don't have a problem with it. It's not affecting me at all. They can on there and say what they want; it's not going to affect me. At the end of the day, we weren't really married so she's not really a housewife.
On Imani not dating since they broke up
That's weird ain't it? I'm married; it's been a long time. I don't won't no props for that. Move on with your life. I'm married and I'm fine; don't worry about me and do your thing. I don't want you.
On if the title of the show is misleading
It should be "Women That Slept With Guys In The NBA." What's the girl's name? Deadra? Deja? [Draya] should be the star if that's the case because half of them wasn't married. I thought if you look up the definition of 'housewife' it says you're married, you don't work and you live at home.
Do you watch the show?
Nah, I don't watch it. I've talked to her [Imani] about it couple times but I could care less as long as my kids are okay.
On his kids being on the show
They were on the show one time; they were drawing and it wasn't nothing. I wouldn't get offended anyway because my kids are young and anything they do is not intentional. They don't know what they're doing. I love my kids and it's nothing my kids can do to hurt me and it's really nothing she can do to hurt me.
On why he feels the show became successful
Reality TV sells. Drama sells. Controversy sells. If they're going to give you $40,000 to go on TV and make an ass out of yourself, people are going to watch it.
So you think they're making an ass of themselves?
What do you think? The only one making money is Shaunie. I give her her props because she's pimping them all. She hasn't looked bad in one show and I commend her for that. I commend all those women for getting money, being hungry and grinding. I'll never deny any woman from getting her money.
On if he thinks Shaunie is exploiting the women on the show
You can't say that she's exploiting them; she's making money! It's a business. You can't blame her for the way they look on the show because at the end of the day, they're all grown women. So any situation they are in, they put themselves in; they signed those contracts to go on the show, so you can't blame Shaunie for none of that. All those women on that show are over 25, over 30, and some of them over 40 and they're lying. At the end of the day, they know what they're doing and the blame is soley on them.
Listen:
Mariah Carey & Eva Longoria: Noble Gift Gala Gorgeous
Bringing their beauty to a worthwhile event, Mariah Carey and Eva Longoria turned up to The Dorchester in London, England
Adding a little brightness to the red carpet, the "We Belong Together" singer looked ravishing in red as she joined the "Desperate Housewives" star for the annual Noble Gift Gala festivities.
As for the cause, the Noble Gift Gala describes itself as "a tribute to those who help support and foster awareness for children and the empowerment of women around the world."
With proceeds directed to The Eva Longoria Fund, the night saw Miss Carey be doted with the 2011 Noble Gift Humanitarian Award while guests enjoyed performances by Leona Lewis and Jermaine Jackson.
NICKI MINAJ MAKES A FURRY FASHION STATEMENT
And I am sure PETA will be all over it!
After a long night of celebrating with her friends including Cassie and Diddy, birthday girl Nicki Minaj bundled up for the wintery weather while out and about in New York City. Wearing a long black wig with bangs, the "Super Bass" diva shielded herself from the paparazzi in round red glasses and a fur coat, flashing a diamond ring and as she exited her hotel with friend and abuser Safaree Samuels.
Earlier in the week, Nicki shot the video for Madonna's single "Give Me All Your Love" with M.I.A.
Barbra Streisand to ex-Real Housewives star Jill Zarin DON'T F*CK WITH ME!
Jill Zarin should knows that she shouldn't mess with Barbra Streisand.
The former Real Housewives of New York City star almost got herself into some legal hot water with the legendary actress recently.
The 48-year-old reality star managed to upset the veteran singer and actress after attending a private event in Los Angeles where the 69-year-old star was performing today.
Following the performance,the excited reality TV veteran posted on her Twitter page: 'Barbra Streisand about to come out and sing! I will post video on next newsletter.' related]
Within the hour, Streisand's attorneys demanded that Zarin take the video down immediately.
'Someone from Barbra Streisand's company just called my store to tell me to take down my YouTube video or they will sue me' the indignant star tweeted.
'Is that nuts? Sorry guys. I took it down!'
But it takes more than a little brewing catfight with one of the world's biggest diva's to scare Jill Zarin.
She posted cryptically: 'Heading out of beverly hills. Bye bye LA! I'll be back sooner than you think!'
Jill has been missing in action from reality television since getting the axe from her Bravo series earlier this year.
Cindy Barshop, Kelly Bensimon and season-one veteran Alex McCord was also chopped from the show.
Jacqueline Kennedy's distant cousin Carole Radziwell, designer Heather Thomson and 'Wall Street Wife' Aviva Drescher have since replaced the former stars.
AND FINALLY FROM "THE CRAZY PEOPLE SHOPPING AT WALMART" FILES
"SOULCRUSHER"
This guy sure does have the ability to take your breath away….No seriously, he can literally reach into your soul and take your last breath