CLICK HERE TO FOLLOW ME ON TWITTER!
Drops New "CoSign" Single Cover, Restarts Their Career
SWV has been making moves over the last couple years. And they're making it official with their first studio single and album in 15 years.
Check out their brand new "CoSign" single cover and what's up next....
As if I wasn't feeling old already. SWV hasn't had an official single or album in 15 freakin' years--their 1997 Release Some Tension and A Special Christmas albums were the last ones.
And after hopping on Chris Brown's "She Ain't You" official remix, their fans were craving more. Cheryl "Coko" Clemons, Tamara "Taj" Johnson-George, and Leanne "Lelee" Lyons just released their official "CoSign" single cover (above) and the track will be released this month. A new yet-to-be-titled album is on the way as well.
The group just performed in Toronto, Canada over the weekend at the KoolHaus Entertainment Complex. And in Lagos, Nigeria last week.
Take a Look:
"Right here"
"Weak"
"You'e The One For Me"
They're also in talks to do a new reality show and recently signed a record deal with Mass Appeal Entertainment and E1 Entertainment.
MY GIRLS ARE BACK! YES!
Report; Joe Budden's Sexuality has come into question AGAIN!
I'm not sure what's going on but sources have been questioning Joe Budden's sexuality. Apparently last year reality tv star Somaya Reece made statements on the show "Star & Buckwild" saying that she "inserted objects into his anus". Hmm….look inside to see what else has been being said. DRAMA!
In addition to these claims that suggest that he might be gay, sources are also claiming that he beat up his ex-girlfriend because he didn't want her to have their baby.
VIDEO: According to HSK!
Goodness this is getting messy. As sexuality shouldn't have any bearings on one's career. Well Joe if you're a freak. then say so and be done with it.
Spike Lee to Direct Eddie Murphy as former D.C. Mayor Marion Barry for HBO
According to The Holllywood Reporter Eddie Murphy is set to play former Washington, DC mayor Marion Barry
HBO Films is developing the as yet untitled television biopic.
Spike Lee will be at the helm while John Ridley is attached to write the script. Murphy, Lee and Ridley are also set as executive producers of the project, the Washington Post also reported.
Marion Barry served as the mayor of Washington from 1979 to 1991 and again from 1995 to 1999. he is currently a member of the City Council representing the city's eighth ward. In January 1990, Barry was caught smoking crack cocaine at the Vista International Hotel and was arrested on drug charges, serving six months in prison.
Pharrell Williams Tapped As Musical Consultant For 2012 Academy Awards
The Neptunes member joins Hans Zimmer as musical supervisors for the ceremony.
Pharrell Williams has been tapped to serve as musical consultant alongside Oscar-winning composer Hans Zimmer for the 2012 Academy Awards.
According to Deadline, both musicians will take on supervising duties for the first time. The producers chose the two because they were "looking for an opportunity to inject music into the program that touches on Zimmer's classical flair, and the hip hop, R&B and pop sensibilities that Williams is known for."
The 84th Academy Awards ceremony is set to take place on February 26, 2012 at the Kodak Theatre in Hollywood,


THE ROC CARES; Jay-Z Announces Carnegie Hall Charity Performances
Jay-Z made a huge announcement at his press conference at Carnegie Hall. His Shawn Carter Scholarship Foundation is teaming up with New York's United Way for a fab cause.
Jay announced he will be performing at the legendary Carnegie Hall for two nights of performances...all to benefit both his Shawn Carter Scholarship Fund and New York's United Way charities.
The performances will be on February 6 and 7th. With tix on sale privately December 12th and limited public tickets January 30th.
He was spotted hopping in his Maybach before heading uptown for the announcement:here's what Mr. Carter had to say about it all:
"It's every artists dream to play a venue as legendary as Carnegie Hall. The fact that I can use the arts and my talent to benefit the education of the next generation of artists, entrepreneurs, and great thinkers makes for a legendary night. I'm proud to be a part of the continuing work of United Way of New York City and expanding the Shawn Carter Scholarship Foundation."
Nice!
The New Slimmed down look of Miss Venus Williams
A newly slimmed-down Venus Williams arrived in Barbados sporting a tiny pair of shorts and colorful headscarf that accentuated her lighter frame
The former world No.1 looked fit and healthy and is plotting a comeback after swapping steak for salad.
She has recently completely changed her approach to food following diagnosis of an autoimmune disease that kept her out of this year's US Open.



'I changed my diet completely, so lots of vegetables,'

the 31-year-old grand-slam winner told a sports conference recently.


'I altered my mind set completely because I was the person who always ate their steak first and their salad second.'
Venus has Sjogren's Syndrome, a chronic disease where white blood cells attack moisture-producing glands and can cause dysfunction of organs and body systems.
The seven-times grand slam champion suffered with fatigue and swelling because of the illness and has slipped to 103rd in the rankings.
Venus is hoping the new approach will propel her back to the top of the women's tennis rankings.
The Wimbledon champion arrived in Barbados today to play in the Tennis Pon de Rock exhibition at the exclusive Sugar Hill Tennis Resort.
Venus flew in from Italy where she and sister Serena played in a tournament in Milan beating Italian Players Flavia Pennetta and Francesca Schiavone during a doubles match.
But Serena and Venus Williams showed off some other sublime skills when they descended on a karaoke bar to let loose after a busy weekend on the tennis court.
The two sisters showed that they certainly know how to party, as they expertly belted out a rendition of Madonna's hit Like A Prayer, while displaying crazy dance moves.

Venus and Serena are eager to go for their third Olympic gold together in London next year, after triumphing in Sydney and Beijing.
'We're the defending champion and we want to defend our title and I don't see why we wouldn't,' Serena said, ahead of the sisters' exhibition match in Milan.
'This is a good preview to the Olympics, we both want to play. So this is a great, great time for us, so exciting.'
Serena is playing in a tournament at the Grand Harbor Golf and Beach Club in Vero Beach Florida.
Paula Patton is FABULOUS For Harper's Bazaar Arabia!
Paula Patton is clearly one of the IT girls of 2011. She's on numerous magazine covers and spreads, a spokesmodel, and starring in one of the most anticipated blockbusters of the year opposite Tom Cruise, Mission Impossible 4.
Check out her gorgeous new pics as Harper's Bazaar Arabia's December 2011 golden cover girl...
The shoot, which actually took place in downtown L.A. (Paula's also originally from L.A.), features gorgeous clothes and jewels by Cavalli, YSL, Jason Wu, and more.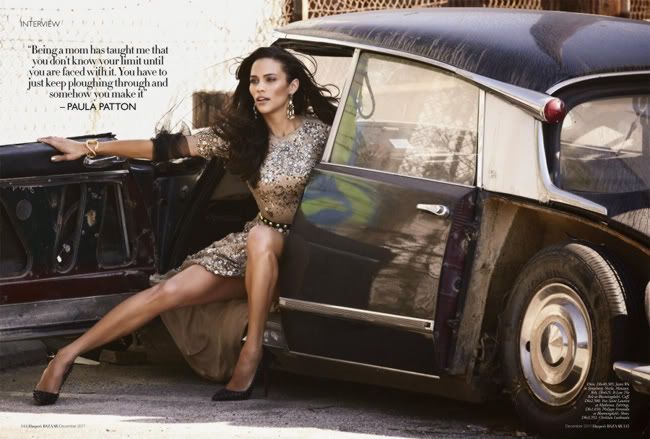 And chick looks stunning.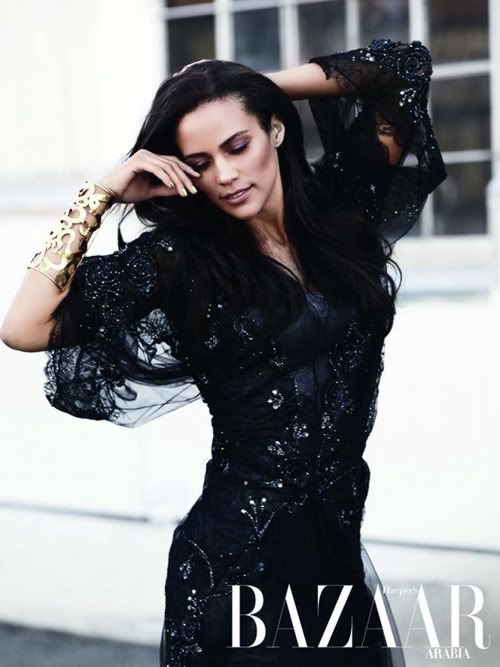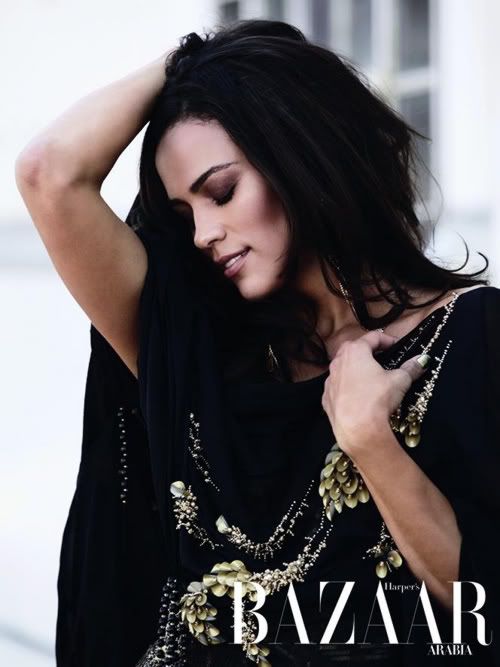 Here's the interview highlights.
On how her 1-year-old son Julian has changed her life
My son has been like a good luck charm, he brought great things with his birth and his live has given me strength to power through the difficult days.
On her fave designers


My favorite designers right now are probably Dolce & Gabbana first and foremost, I love the femininity of their clothes. They'll go a bit retro but give you enough modern elements that make it new and free. I'm a big fan of Lanvin, and for evening gowns, Carolina Herrera and I love McQueen

.
On keeping her body in a state of chiseled perfection
I'd be lying to say that as an actor it's not a difficult thing--especially as a woman--to maintain a weight that….You're always watching what you're eating. I'm not going to lie.Sometimes I do yoga, sometimes it's kickboxing, sometimes it's weight training, sometimes it's pilates. Basically still trying to keep the muscles there, so that when the next role comes it won't feel quite as difficult. I don't want to have to go through that first month again.
On her fascination with astrology


I don't know a lot but I feel like astrology gives you more compassion for everybody. Like I definitely suffer from putting my foot in my mouth, which is a very Sagittarian thing to do. So from that I was like, okay let me slow down, think before I talk.
On her fandom of President Obama

Of course….a huge supporter of Obama. He is doing a great job under much stress. I thin he will come to be known as one of the great American presidents.
Basketball Wives Of Miami Are Back!: Behind The Scenes Cast Photoshoot
Your favorite Basketball Wives are back with another season filled with all the drama you love but the ladies were able to set there differences to the side during a recent photoshoot of the cast for the upcoming season premiere. Rocking all white the ladies looked like angels..although we all know differently. In order to hype up the new season VH1 premiered the photoshoot live via U-Stream and fans saw that not only are the orginial cast back there is also two new members! Check inside for more of the behind the scenes shots as well as an introduction to the reality show's new faces.
The first new member is a woman by the name of Kesha who was once engaged to San Antonio Spurs Richard Jefferson. On the day the two were to wed Jefferson left her at the altar……Im sure if there is no contract of silence we will get some good tv from her. She seems more tame than the rest of the women which may be nice in the beginning as long as she doesn't run her mouth like Meeka Claxton, who by the way will not be returning this season. She told viewers that you wont be seeing any drama from her being that she doesn't get in anyone's mess unless they have an emotional connection…..we'll have to see about that one.
The second newcomer is Kenya Bell who is the only really married one on the show. Her husband is basketball star Charlie Bell from the Golden State Warriors. Kenya had this to say when asked about being on the new season, "I'm very excited. I was very humbled when they called me and told me they wanted me to be on the show,I couldn't believe (I was selected). There was like thousands of women that have been related in some way to basketball that wanted to be on the show." Kenya also happens to be a former Miss Michigan USA.
Evelyn and Shaunie spent most of their time at the shoot together between talking and tweeting. Surprisingly Evelyn's "BFF" Jen and her were not speaking and its obvious there is trouble between the two that we're sure will be aired during the season. Check out the photoshoot below.
Royce And Kesha
Shaunie and Evelyn
Royce during her solo shoot
Hey Tami!
The new season will premiere in February 2012….Are you excited about the new season of Basketball Wives Of Miami?
The Stars came out for The 2011 UNICEF Ball
Gathering together to raise money for quite the worthwhile cause, the stars were out at the Beverly Wilshire Hotel in Los Angeles, CA for the 2011 UNICEF Ball
Held annually as one of the most notable black-tie galas, the ritzy soiree was hosted by Entertainment Tonight's Mary Hart while drawing out lovely ladies including Nicole Richie, Brooklyn Decker, Diane Kruger and Kate Walsh.
Also in attendance at the fundraising fete - which has a mission to help create a healthier and safer life for children all over the globe - were Kristen Bell and husband Dax Shepard, as well as Rose McGowan, Matthew Morrison, Jenna Elfman and Jayma Mays.
As for the entertainment, guests were treated to special musical performances by L.P., Emily Bear, Melanie Fiona, Huter Perry and Lionel Richie while Her Majesty Queen Noor of Jordan was recognized as a Woman of Compassion and the Medavoy family was presented with the Danny Kaye Humanitarian Award.
Michael Jackson's daughter Paris is set to star in her first film
Paris Jackson is all set to follow in her superstar father's footsteps.The precocious 13-year-old has reportedly scored her first role in a feature film.
According to The Sun, Michael Jackson's only daughter will play the heroine in the fantasy picture Lundon's Bridge And The Three Keys.
The teenager's family wanted her to wait until she was 18 before launching any sort of career, but Paris was persuasive.
She told her grandmother, 81-year-old Kath, that the film had a message close to her father's heart.
A source told the newspaper: 'Her character's strong love for her father is central to the plot.'
Profits from the film will allegedly go towards funding the US public school system.
The fantasy film is based on a young adult series by Dennis H. Christen.
Ancient magic turns a dolphin into a human, an evil spell changes a teenage boy into a dragonfly and a good jellyfish queen morphs into an evil fairy godmother.
The themes of family love and the magic of belief are central to the tales.
Meanwhile, Paris has been making some rare public appearances.
She recently attended a taping of Fox's hit reality series, X Factor USA
She and the rest of the Jackson family sat front row on the anniversary of their father's Thriller release.
The family was out again in full force late last week at the premiere of Cirque de Soleil's Immortal tour in Las Vegas.
The show is based on Michael's music.
Qu
een Latifah on the cover of the January 2012 ESSENCE Magazine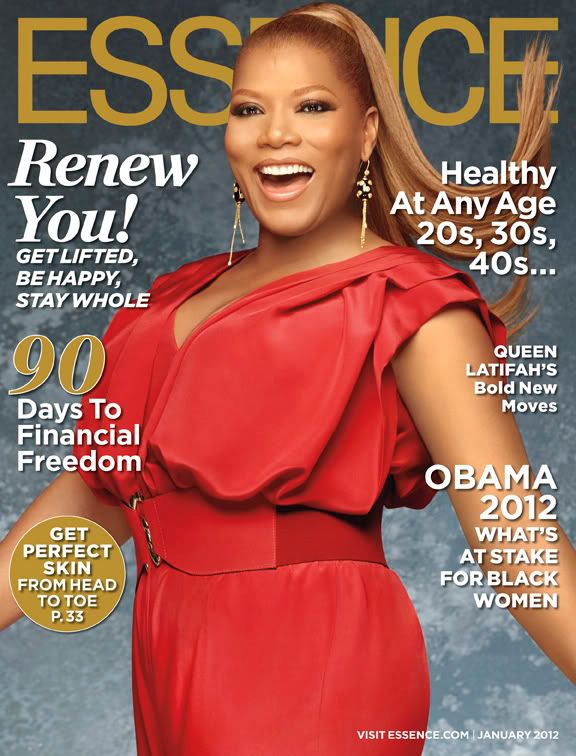 Queen Latifah is looking FAB in red on the January 2012 issue of ESSENCE magazine. The singer/rapper/actress/spokeswoman/Exec. Producer/businesswoman, etc. is the epitome of "doing the most."
As Latifah preps for her comeback to talk show hosting, she's rocking the upcoming cover and pages of ESSENCE mag. The Jersey gal is dishing on how she went from Newark girl to a 20-year career 7 albums, 30 films, and umpteen awards and accolades in.
But she says she's not Oprah, so don't compare her.
"

…People say I'm going to be the next Oprah. No. Oprah is still Oprah. I'll be the next me. I feel like there's always a lane for me as long as I'm true to myself…"

Well I personally would NOT say that!
Other than the fact they made her look off in the eyes, fab pic nonetheless. The issue is on stands Now!
Matthew 'Scar' Allen Murdered in Brooklyn
You may not know his name, but you definitely know who he is. Mathew 'Scar' Allen is the one who threw money in Diddy's face, setting off that infamous club shooting by Shyne Barrow back in 1999
According to news reports, Matthew "Scar" Allen, was shot once in the head by two unknown assailants this past Sunday in the East Flatbush section of Brooklyn, New York.
WATCH:
No stranger to trouble, Scar's rap sheet boasted more than twenty arrests on charges ranging from armed robbery to rape, and he famously refused to testify in the shooting case against Shyne Barrow and Diddy.
And look what Foxy Brown had to say
WOW!!!
TIME, Rolling Stone Announce Best Albums of 2011
It's that time of the year again when critics put out their best of the year lists. The editors at TIME and Rolling Stone have released their picks for the best albums of 2011. Adele's Grammy-nominated 21 scores top honors on both lists and Jay-Z and Kanye West's historic joint LP Watch the Throne also ranks in the top 3. Although it was never commercially released, Frank Ocean's debut Nostalgia, Ultra earns praise from TIME and Lady Gaga's hit-filled Born This Way lands at #6 on Rolling Stone's list.
See the familiar (and unfamiliar) names that made the cut.
TIME's Top 10 Albums of 2011
1. Adele, 21
2. Florence and the Machine, Ceremonials
3. Kanye West and Jay-Z, Watch the Throne
4. PJ Harvey, Let England Shake
5. Frank Ocean, Nostalgia, Ultra
6. tUnE-yArDs, W h o k i l l
7. Caitlin Rose, Own Side Now
8. The Beastie Boys, Hot Sauce Committee Part II
9. Civil Wars, Barton Hollow
10. Black Keys, El Camino
Rolling Stone's Best Albums of 2011
1. Adele, 21
2. Kanye West and Jay-Z, Watch the Throne
3. Paul Simon, So Beautiful or So What
4. Fleet Foxes, Helplessness Blues
5. Radiohead, The King of Limbs
6. Lady Gaga, Born This Way
7. The Decemberists, The King Is Dead
8. Wilco, The Whole Love
9. Wild Flag, Wild Flag
10. Robbie Robertson, How to Become Clairvoyant
Kelly Rowland Poses in Flowery and Metallic Couture for Marie Claire U.K.
The U.K. has embraced former Destiny's Child member Kelly Rowland as its own. She should apply for dual citizenship! Rowland is a megastar across the pond, serving as a judge on 'X Factor' and regularly gracing the covers of U.K. magazines like Cosmo. Next up? The January 2012 issue of Marie Claire.
Kel's sexy, skin-hugging style always comes into play when she poses for publications. She is wearing a short, silvery, metallic shift on the cover, with her hand perched on her hip. Her signature stick straight hair and bangs frame her pretty face, and the rest of the super sexy spread follows suit. It features the singer in a variety of come hither poses.
In the spread, Rowland is pictured kneeling on an antique and expensive looking marble-topped table in poofy-skirted, black, ballerina dress with killer heels. Rowland is also wrapped in a flowery, magenta confection that mimics rose petals. She likes things short, textured and made of atypical fabrics and materials. Who needs cotton or jersey when you can have metals and petals?
In her chat with Marie Claire, she talks about her friend Beyonce's pregnancy, saying that seeing Bey's baby bump isn't causing her own maternal clock to tick like a bomb. She can't envision that whole birthing process thing. "I will babysit and change a diaper or two, and then give it back. I do want kids, but every time I think about a little person growing inside of me and getting bigger and bigger and then having to come out…. a watermelon coming out of something the size of a lemon is insane to me," Rowland said.
Rowland also mused about her role on the oft controversial reality show 'X Factor,' saying the show is as real as it gets. She said, "What I like is that it's very organic. What you see is what you get. Nothing is fake. We'll agree, we'll disagree and sometimes we have to agree to disagree." She probably learned those interpersonal skills as a member of Destiny's Child.
Rowland also opened up a bit about reuniting with her estranged father, which is set to take place over the holidays. She said, "I'm nervous as hell. I don't want to think about it. We'll see what happens." Good luck with that, Kel!
Nicki Minaj and Madonna Share a Romantic Kiss
Nicki Minaj hit the headlines today after she tweeted about kissing pop icon Madonna. The incident happened on the set of Madonna's new video-'Give Me Your Love' which features the Young Money princess. Nicki had a lot to say about the kiss too.
WOW! Seems like Nicki really enjoyed the kiss. On the other hand, this collaboration looks to be interesting. Madonna coming out with a new song with Nicki Minja was one of the last things I expected to see. What do you think of the upcoming single? Is it something to look forward to? I'm sure because Nicki is on the record it will spike the anticipation.
Rar
e Hermès Birkin handbag sets world record after selling for over $200,000 at auction
A rare Hermès Birkin has set a world record for the highest price for a handbag sold at auction.
The red crocodile skin purse, with white gold and diamond hardware, was sold to an anonymous bidder for $203,150 at Heritage Auctions in Dallas, Texas.
The final price far exceeds expectations, given that it had been expected to fetch around $80,000.
Matt Rubinger, director of luxury accessories at Heritage Auctions called the bag 'extraordinary'.
He told WWD: 'This is an extraordinary example of one of the world's most exceptional handbags, and this was certainly an exceptional price, exceeding our highest expectations at every corner.'
'It was owned by a lady from Florida,' Mr Rubiner revealed.
'She bought it in 2006 and had it as the trophy of her collection but then Hermès offered her the same bag in black and she thought that she might actually use a black one.'
But it was not the only Hermès piece to have generated such attention.
A blue crocodile version with palladium hardware sold for $113,525, a shiny red crocodile Birkin with palladium hardware went for $95,600 and a Himalayan crocodile Birkin with palladium hardware fetched $80,663.
Explaining the demand, Mr Rubinger said: 'Most of the bags were bought by collectors who never used them, or only used them once.
'And many women simply don't have enough space in their closets for all their accessories.'
Indeed, these most exclusive of handbags actually increase in value over time.
'If you walked into Hermès today you couldn't get these bags - not even if you were Oprah Winfrey,' he told the Wall Street Journal.
He also notes that for many collectors the bags are more works of art than something to hold make-up and car keys.
'I remember one client who had a dinner party,' he revealed. 'Instead of flowers as her table centerpieces, she had Judith Leiber handbags.'
He added that the market for high-end accessories is very strong right now.
'It's a freak category of fashion that's been shown to hold and often increase in value,' he said.
'We're still seeing sophisticated shoppers investing in special pieces like these.'
Also in the sale were bags by vintage brands such as Jacomo, Charles Jourdan, Renaud Pellegrino, Dumas, and Celine.
Travel pieces and luggage trunks by Louis Vuitton, Hermès and Fendi were also available, as well as jewellery by Chanel and Lanvin.

And finally from "THE CRAZY PEOPLE SHOPPING AT WALMART" FILES
12 Days 'Til Christmas!
I bet some of you saw mommy doing more than just kissing Santa, and that Ho Ho Ho was screaming Oh Oh Oh!….Wow! Completely inappropriate for the holiday season! Ehhh, who am I kidding? I was already on the naughty list this year.
SEE YA'LL LATER!
EFREM.