CLICK HERE TO FOLLOW ME ON TWITTER!
YES!! Miss Stephanie Mills Returns To The
Birchmere In January!!!!
The Legendary Miss Stephanie Mills at the Birchmere. Stephanie may not be in the public eye as much these days as she was in her '80's/'90's heyday, but she sounds as good as she did back in the day and put on quite an impressive show that sold out days before the performance. For anyone living in the DMV who may have missed out on seeing her then, she's coming back for a two-night engagement at the Birchmere on January 16-17, 2012. If you are a Stephanie Mills fan from way back or just now discovering the sheer awesomeness of her catalog, then believe me when I say that this is a concert that you need to attend. Tickets for these shows just went on sale today, so get yours now (for yourself and for Christmas presents) at the Birchmere box office or via Ticketmaster.
Patrice O'Neal Dead: Comedian Dies At 41
Patrice O'Neal, a fixture in the New York comedy scene for two decades who was most recently seen in the Comedy Central Roast Of Charlie Sheen, has passed away according to sources close to the comedian.
Talk show host Opie of the Opie & Anthony Radio Show tweeted this morning, "Yes, it's true that our pal Patrice O'Neal has passed away. The funniest and best thinker I've ever known PERIOD."
O'Neal suffered a stroke in October after a long battle with diabetes. The announcement about his condition was made by a group of his comedian friends and peers on the popular Sirius radio show, but few details have been made known since then at the wishes of his family.
O'Neal's manager Matt Frost released this statement:
It is with terrible sadness we must report that Patrice O'Neal has passed away this morning at 7:00am due to the complications of the stroke he suffered on October 19. Many of us have lost a close and loved friend; all of us have lost a true comic genius. His mother, who was also his best friend, was at his side. Patrice is survived by his wife, Vondecarlo; his step daughter Aymilyon, sister Zinder, and his mother Georgia. The family wishes to thank all of the fans and friends who have expressed an outpouring of love and support for Patrice these past weeks. We ask that you please respect the family's request for privacy at this difficult time.
O'Neal was best known for his darkly playful sense of humor and for saying exactly what was on his mind. While O'Neal was a polarizing voice who was often as disliked as much as he was beloved, he was revered by peers and audiences alike for his fearlessness, a characteristic that was in bold relief during the Sheen Roast. May he rest In Peace!
CONRAD MURRAY gets Gets 4 Years In Jail for the Manslaughter of Michael Jackson
Michael Jackson's personal physician was sentenced to 4 years imprisonment in an L.A. County jail on Tuesday, capping a more than two-year legal journey investigating the King of Pop's death.
Conrad Murray, 58, stood stone-faced as Los Angeles Superior Court Judge Michael Pastor declared him an unfit candidate for probation and pronounced the sentence for involuntary manslaughter in Jackson's 2009 death, citing Murray's involvement in what the judge called a "cycle of horrible medicine."
"He has absolutely no sense of remorse," the judge said. "[Murray] is and remains dangerous. ... I think Dr. Murray is so reckless that I believe he is a danger to the community."
Pastor said the court will order Dr. Murray to pay restitution to Jackson's estate and children in an amount to be determined at a later restitution hearing when they can get more detailed information. Pastor also ordered $800 in restitution to the court, a $30 court security fee, and a $40 criminal conviction assessment.
"We know that Michael Jackson, as a direct result of the actions of Dr. Murray died on June 25, 2009, leaving his three children without their father," Los Angeles Deputy District Attorney David Walgren said during the proceedings. "It is the people's opinion that prison is warranted."
"As his brothers and sisters we will never be able to hold, laugh or perform with our brother Michael," said spokesman Brian Panish, delivering a collective statement from the Jackson family. "As his children we will grow up without a father, our best friend, our playmate and our dad. We are not here to seek revenge. There is nothing you can do today that will bring Michael back. But we will keep the love in our hearts that Michael embodied throughout his life. His passion was for unifying the world through the gift of his artistry. We respectfully request that you impose a sentence that reminds physicians that they cannot sell their services to the highest bidder and cast aside their Hippocratic Oath to do no harm. As we all know from this tragedy doing so can have devastating results."
Defense attorney Edward Chernoff told the court Murray grew up dirt poor in the Caribbean, made his way to U.S. and put himself through college and medical school, saying, "That's exactly what we want our neighbors and citizens to aspire to."
"For 14 years he prepared for a life as a doctor. All he is is a doctor and now that's gone. It's his fault. I'm not saying it's not but it is gone and if punishment is the point. If what you are really trying to determine is punishment as opposed to vengeance should that be taken into consideration at all? Dr. Murray, whether he is a barista for the rest of his life or a greeter at Walmart he still going to be the man that killed Michael Jackson. That's really who he is now. He's not a doctor. That's who he is," Chernoff said.
But Judge Pastor remained focused on the charges at hand and the doctor's "medicine madness" when handing down the sentencing decision. "Some may feel this was a medical malpractice case. It wasn't. It was and is a criminal homicide case," he said. "Michael Jackson died not because of an isolated, one-off occurrence or incident. He died because of a totality of circumstances which are directly attributable to Dr. Murray."
The California Department of Corrections will decide whether Murray will spend his time in a 23-hour lockdown cell or in the general jail population.
Jackson died at his home in the Holmby Hills neighborhood of Los Angeles on June 25, 2009. The legendary entertainer was preparing for a series of 50 shows in London for a career comeback tour entitled "This Is It" when he went into cardiac arrest.
During Murray's six-week trial, the prosecution insisted that Jackson's $150,000-a-month private doctor behaved recklessly by using a surgical anesthetic to treat Jackson's insomnia and was therefore criminally negligent in the performer's death.
Murray acknowledged giving the 50-year-old singer propofol as a sleep aid but denied any wrongdoing and pleaded not guilty to involuntary manslaughter.
Walgren told jurors that the pop star "literally put his life in the hands of Dr. Conrad Murray." Walgren added, "That misplaced trust in the hands of Conrad Murray cost Michael Jackson his life."
Murray's defense counsel contended Jackson was so desperate for sleep that he administered the fatal doses of propofol and sedatives to himself when Murray was not watching.
"When Dr. Murray left the room, Michael Jackson self-administered a dose of propofol that, with the lorazepam, created a perfect storm in his body that killed him instantly," Chernoff, said during the trial.
Prosecutors said it made no difference who administered the drugs since it was Murray who brought them into the bedroom and, in the defense's scenario, left Jackson alone with them.
The jury of seven men and five women sat through 22 days of testimony from Jackson's employees, paramedics, doctors, investigators, medical experts and a number of Murray's girlfriends and patients. The jury deliberated for more than eight hours over two days before concluding that the evidence was sufficient beyond any reasonable doubt that Murray caused the singer's death.
Murray declined to testify during his trial and showed no emotion when the guilty verdict was read.
Several of Jackson's family members routinely attended the trial. Following the verdict, his mother, Katherine Jackson, exited the courthouse and declared, "Justice is served."
Murray's mother, Milta Rush, sent a letter to Judge Pastor prior to today's sentencing, speaking of her son's fine qualities and begging for mercy.
"He has never been in trouble with the law before and I am barely standing, scared and worried sick about him being incarcerated ... He never drank alcohol, took drugs or smoked cigarettes in his life," Rush wrote in the letter -- a copy of which was obtained by TMZ.
Rush added, "I sympathize with Mrs. Jackson as a mother; I feel her pain for having lost her son. I sense she was very close to her son. I really wanted to approach her personally and tell her I am sorry for the loss of her son but I was unsure if she would be receptive, and I did not want to take the chance of violating the courts rules. I am sorry for her loss."
Murray's legal team plans to file an appeal.
NICKI MINAJ AND CHER SPARK FIRESTORM ON TWITTER
Nicki Minaj and Cher's legions of fans came out to defend their icons after a misconstrued tweet set the social-networking service on fire.
It all began with a single tweet that Cher received.
"@cher
did you know thatbitch @NICKIMINAJ dissed you in her song DIDITONEM," asked one fan.
The "diss" was in reference to Nicki's Pink Friday song "Did It On'em," where she raps, "If you could turn back time, Cher/ You used to be here, now you're gone, Nair."
The 65-year-old Oscar winner shot back, "Ive seen lots of people come & go! Nobiggie!"
That was enough to put Team Minaj on alert, including Nicki's friend and associate Scaff Beezy, who wrote, "yo @cher listen to the words b4 you say dumb shit on twitter… do you know what a rap metaphore is??? TM is a cult you dont want it with!!"
After being informed that the song was not a diss, Cher admitted fault. "U R right ! Someone said I was dissed..I've been dissed b4,but instead of finding out I just got defensive ! I should know better," she wrote before deleting the tweets.
Nicki eventually got wind of the incident, simply tweeting to Cher, "#stopit5."
A transcript of the Twitter dialogue can be seen below (courtesy of Karim).
How stupid!
THE WIFE KNEW HER HUSBAND WAS A CHILD MOLESTER????
Damning new evidence suggests the wife of Syracuse University associate head basketball coach Bernie Fine watched her husband molest a boy who was staying at their house.
Laruie Fine told one of her husband's three accusers in a recorded phone call that she suspected he had done the same to other boys -- but that she never did anything to stop it.
She also revealed that she she slept with one of the victims, as well, once he turned 18 -- as it emerged that the tapes had been in the hands of police and ESPN for nearly 10 years and no action was taken.
Bobby Davis, now 39, says he secretly taped the conversation in 2002 in an effort to collect proof that the longtime college basketball coach had abused him, starting when he was in seventh grade - 12 years old.
'I know everything that went on, you know,' she says on tapes played by ESPN's Outside the Line program.
'I know everything that went on with him. Bernie has issues, maybe that he's not aware of, but he has issues. And you trusted somebody you shouldn't have trusted.'

Mr Fine has denied the allegations as 'patently false.' However, the university has put the coach on leave. Authorities have said if any crimes were committed, they are likely beyond the statute of limitation and cannot be prosecuted.
The phone conversation was verified by a voice-recognition analyst hired by ESPN.
Mrs Fine talks about the alleged abuse against Mr Davis in a matter-of-fact tone and suggests she has known about it for many years.
'Why': Even as he questions whether there were other victims, Mr Davis wonders why he seemed to be the primary target
'But you never had any [sex act] with him?' she asks Mr Davis, who is an adult at the time of the phone call.
'No,' Mr Davis says. 'I think he wanted to, but...'
Mrs Fine: 'Oh, of course he would! Why wouldn't he?'
Mr Davis lived with the Fines in the basement of their house on and off throughout his childhood. He says Mr Fine began abusing him in 1984 when he was just 12 years old and in seventh grade.
He says Mrs Fine always knew something was going and even caught her husband touching him when she peered through the blinds one night as she pretended to take out the trash.
It wasn't until that incident, when Mr Davis was in high school but still a minor, that Mrs Fine approached him and told him to stand up for himself. However, she never called police.
In the conversation, Mrs Fine seems to accept that her husband has predilections for boys and that there is nothing she can do about it.
'You know what, "Go to a place where there's gay boys. Find yourself a gay boy,"' Mrs Fine says.
'"Get your rocks off, and have it be over with." He needs that male companionship that I can't give him.'
She explains that her husband is no longer interested in her sexually, instead preferring boys. And she isn't interested in him, either, she says.
Which could explain why she ALSO became sexually involved with Mr Davis. In the tape she confirms that she had sex with the former Syracuse University ball boy when he was 18 and a high school senior.
But Mrs Fine claims she couldn't help Mr Davis when he was younger.
'Because I care about you, and I didn't want to see you being treated that way,' she says.
'And, it's hard. If it was another girl... it would be easy to step in because you know what you're up against. If it's another guy, you can't compete with that. It's just wrong, and you were a kid. You're a man now, but you were a kid then.'
But she wasn't the only one who didn't step in to help Mr Davis. He reported the incident to Syracuse police in 2002 and turned over the tapes when the detective said he needed proof.
Listen to the shocking Audio:

But police apparently never investigated any farther.
In 2003, Mr Davis turned the tapes over to ESPN, but the sports network never did anything then because reporters couldn't find 'anyone else to corroborate the story.'
Mr Davis and his step-brother Mike Lang have both accused Mr Fine of abusing them when they were ball boys for the Syracuse University men's basketball team.
A third man, 24-year-old Zach Tomaselli, says Mr Fine molested him in a Pittsburgh, Pennsylvania, hotel room in 2002.
However, Mr Tomaselli is currently facing sex abuse charges of his own in Maine and his own father has told news media that he is lying.
But federal agents found Mr Tomaselli's statements compelling enough to raid Mr Fine's home in upstate New York Friday, carrying away his trash as well as filing cabinets.
Lil Kim Releasing Five-Track EP

Lil Kim is getting back onto the music scene and announcing an upcoming EP.
The Black Friday rapper announced Saturday that a five-song EP was on the way for her loyal fans.
Taking to Twitter she wrote,
"#TeamLilKim For the Holidays I'm releasing a 5 song EP for yall as a preview of what's to come in 2012 & so on 4rm Lil' Kim ."

As previously reported Kim is moving forward with plans to release a new book titled "'The Price of Loyalty'
Jennifer Lop
ez and toyboy lover Casper Smart on a romantic Hawaiian getaway!!
Jennifer Lopez and new toyboy lover Casper Smart are heating up, and they don't care who knows it.
The couple were pictured cuddling up together on a sun lounger as they enjoyed a romantic getaway in Hawaii over the holiday weekend.
At one point Jennifer laid her head against the dancer's toned chest and seemed very comfortable in his company.
The 42-year-old singer celebrated Thanksgiving on the island of Kauai with her twins, other family members and her young boyfriend.
But Friday it was all about one-on-one time for the millionaire superstar and her 24-year-old beau, as they got affectionate in a cabana.

Looking very muc
h the couple, the scantily-clad pair hugged and cavorted in the shade as the sun beat down outside.
Jenny from the Block was reportedly been seen frolicking on a beach with her three-year-old twins, Max and Emme.
Casper, whose real-name is Beau Paul Smart, has tried to remain in the shadows, until today.

Casper has had numerous run-ins with the law since 2004.
Most of the charges have been minor motoring misdemeanors relating to either speeding or driving without a valid license and failures to appear in court.
In one case he was pulled over by police for speeding on his motorbike at over 100mph.
But his most recent offence committed in February 2010 could potentially land him behind bars.
The charge relates to an 'exhibition of speed' a section of the law more commonly known as street or drag racing.
The dancer - who was rumoured to have met the 42-year-old mother of two in May - pleaded no contest to the charge in March after an initial not guilty plea.
His bail was set at $26,000 - and he is yet to be sentenced, according to the court records.
Smart is due in court to be sentenced by a judge in Los Angeles January 5, 2012 and could face jail time as well as a stiff fine.
While he awaits his fate, Casper has been busy with work commitments.Last Sunday he performed alongside Lopez at the American Music Awards.
Evely
n Lozada & Chad Ochocinco Make Spinoff Show Official...After She Threatens To Quit "BBW"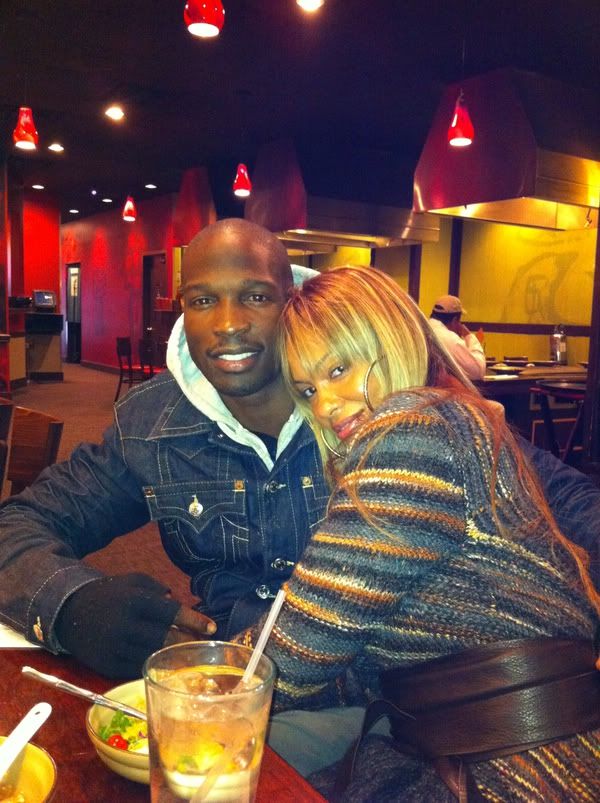 As previously reported, drink tossing reality star Evelyn Lozada has reportedly landed a VH1 spinoff show with fame-loving footballer fiance Chad Ochocinco. But folks are saying the offer wasn't given on a silver platter.
Supposedly, Evelyn threatened to leave "BBW" (AGAIN) after VH1 posted a blog insinuating she cheated on her "husband" (what TMZ called him) Chad. Ummmmm....did we miss the wedding?
So with producers in a bind (did they really take her "threats" seriously?), they offered her a few incentives outside of the spinoff. Sources say Evelyn got a big raise and her new setup with "BBW" allows her to shoot half as often and works around her daughter's school schedule. Umm....isn't her daughter over 18 and going to college in LA? Who schedules their life around their daughter's Biology credits?
Anywho, the show will supposedly document the months leading up to their wedding. Sigh........
In the meantime, fans of "BBW" will be happy to know the ladies are currently filming in NY/Miami and Evelyn recently tweeted,
Awwww we'll be back in Feb
BOW WOW EXPLAINS ALBUM PUSHBACK, DENIES FINANCIAL TROUBLE
Bow Wow's album Underrated quietly disappeared from the December release schedule. Now the 24-year-old rapper explains why he decided to push his Cash Money debut back, blaming himself and not his label. In an open letter to his fans, he says that touring and shooting his Ice Cube-produced sitcom have contributed to the delay. He wants to take more time to perfect things before releasing what he calls his best album yet.
"Underrated is a classic. This is my best work," writes Bow Wow, who is trying to get India.Arie to sing on the song "Boy or Girl." "Its taking so long because im putting my all into it."
He also shot down a report by TMZ saying that he owes the government over $91,000 in unpaid taxes from 2006. "TMZ saying they are about to runa story on me thats once again 'Not True' as im sitting in my beautiful condo as of RIGHT NOW that they said i dont have anymore," he says.
Read his full letter below.
Underrated Album "Whats The Hold Up"
Its two ten in the morning and im up watching Soul Train. Before i get into what i came here for, TMZ saying they are about to runa story on me that's once again "Not True" as im sitting in my beautiful condo as of RIGHT NOW that they said i dont have anymore. (Bow Wow with no home that's like a whore that doesn't like d**k) We all know not to believe anything the media writes or blogs its their job to entertain the minds of the simple minded. But on to whats important, "UNDERRATED" everyone wants to know why its delayed or why is it getting pushed back. I hear yall jokes "His shit aint never droppin" it is dropping. "When I Feel like its right tho" my album sounds nothing like what you've heard come out of the camp PERIOD so far. I know yall want this album just as much as i want to deliver it. The thing is tour just ended like 3 n half weeks ago. I left studio to tour which of course set me back. I have to mix all the records which i have just now kinda started. "Sweat" video will be out in a week or 2. Took a minute to finalize all the graphics and detail because of the CGI effects. Also dont forget im stil working on my tv sitcom with Ice Cube as well. I think people forget i got 2 jobs (Rapper/Ator) hahaha.. Record just went to radio as well. Not only that but im trying to get India Irie to sing on "Boy Or Girl" being that that sample you are hearing on that record is her. I figured it would be so meaningful and better with her apart of it live. Its taking so long because im putting my all into it. This is not just an album its my pain my life my story me in the now how im feeling. Things are different this time around ima father now to a beautiful baby girl i have so much poetry and new things to share with the world. Everything that pops up in the news that yall want to hear me touch on i talk about it. I bare it all on this album. This is my "Classic" Underrated is a classic. This is my best work. So i be damn i put it out and it aint right. Dont blame my label they have nothing to do with my decision. Birdman lets me be a boss and do what i want. He my manager so of course he wants the best for me. 2012 ull get it. In the mean time ill keep you all updated through youtube with my "Underrated" Webisodes. As for me ima jump back in the studio and get the working. Being that that's all i ever do is work. Love yall
and stay away from them damn blogs its bad for your health. Ima always keep it 100 with yall and let yall know the real on anything i got going on even if its bad if its the truth ill own up to it. 100 and get ready for UNDERRATED YMCMB
OK, Well you should be in charge of your own Finances!
Solange In Harper's Bazaar, New Album Dropping In 2012
Solange Knowles is featured along with actress Leelee Sobieski and others in the December/January issue of Harper's Bazaar.
The DJ/ singer was selected by the magazine as one of its favorite young up and comers and showed off her party style in a shoot by Alexi Lubomirski on a Manhattan rooftop.
Solange also revealed that she's releasing a new album next year.
The soon-to-be auntie achieved her glamorous look by rocking a Marc Jacobs top and skirt and jewelry by Eddie Borgo, Givenchy by Riccardo Tisci, CK Calvin Klein and Made Her Think.
Check her out along with the rest of the folks in Harper's Bazaar
Yo Gabba Gabba! Goes Hip Hop!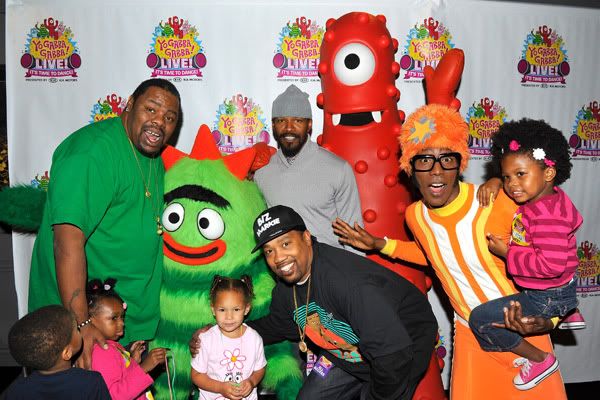 Tons of celebs turned out with their kiddes and friends for Yo Gabba Gabba Live! in Los Angeles at Nokia Theatre L.A. Jamie Foxx was there and he posed with DJ Lance Rock.
Travis Barker posed with his kids (and their friends), Atiana Cecilia de la Hoya (his ex-wife Shanna's daughter with Ocar de la Hoya), Landon Asher Barker, and Alabama Luella Barker.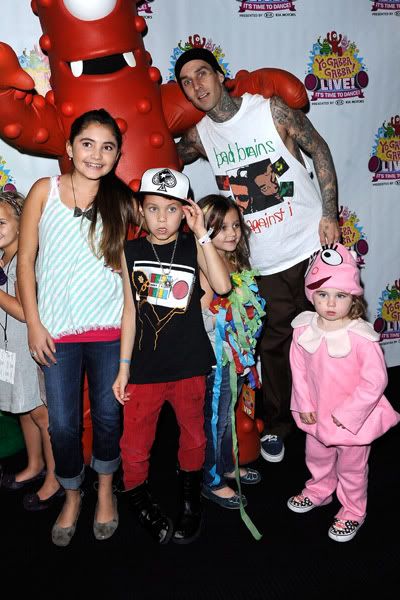 He later hit the stage and the drums during the show.
Meanwhile, Biz Markie hit the turntables and hyped the crowd.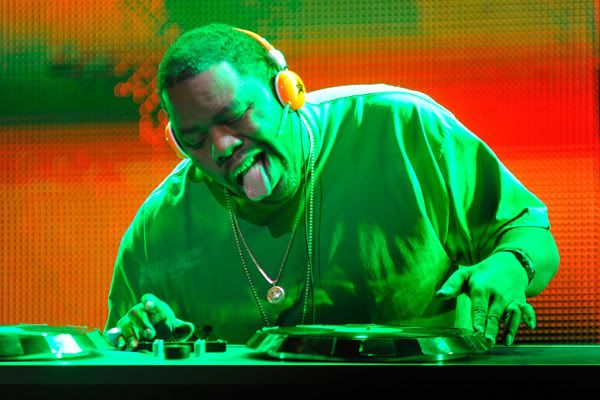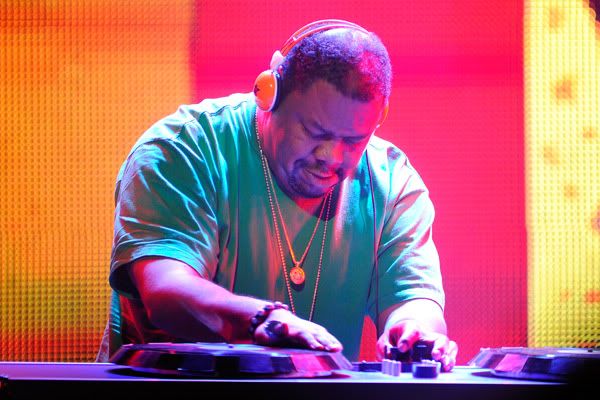 Biz is currently on tour with Yo Gabba Gabba bring the kiddies!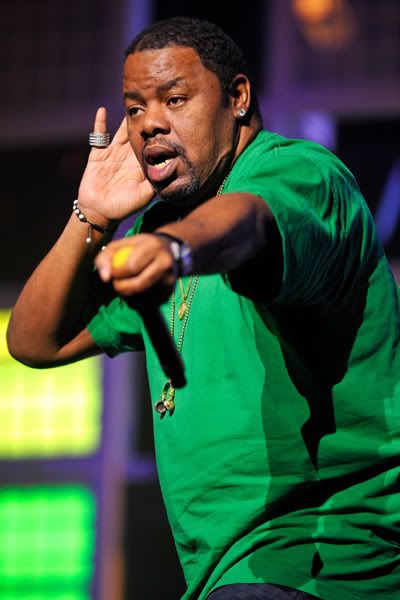 Is YELE HAITI…FAKEY FAKE?
The mayor of the city of North Miami may have thought Wyclef's do-gooder-ness was worthy of recognition last week, but people are stil giving him and his Yele Haiti foundation the side-eye.
Yele Haiti's coffers swelled to $16 million in 2010, the most the charity had ever received. But less than a third of that went to emergency efforts, and $1 million was paid to a Florida firm that doesn't seem to exist, The Post has learned.
Jean's charity, which he founded in 2005 with his cousin Jerry Duplessis, was already troubled when the earthquake struck Haiti on Jan. 12, 2010. The Post reported in 2008 that it had never filed a required tax form detailing its spending with the IRS.
The group lost $244,000 in 2009. But hours after the earthquake hit, Jean took to Twitter to beg for $5 donations. An avalanche of donations poured in.
Almost immediately, allegations surfaced that the former Fugees singer had used the charity's cash for his own benefit. Critics found that four years earlier Yele Haiti had steered $250,000 to a Haitian TV station controlled by Jean and Duplessis.
Jean held a Jan. 18, 2010, press conference to tearfully defend Yele Haiti's reputation.
"Have we made mistakes before? Yes," Jean said. "Did I ever use Yele money for personal benefits? Absolutely not. Yele's books are open and transparent."
The earthquake killed between 200,000 and 300,000 Haitians and left a million homeless. The country is still in the grip of a cholera epidemic.
For all the desperation, records show that Yele Haiti spent just $5.1 million for emergency relief efforts, including food and water delivery to makeshift survivor camps, according to a review of the charity's 2010 tax filings, which were obtained by The Post.
Yele Haiti paid five contractors to accomplish its goals, including P&A Construction — which received $353,983 and is run by Warnel Pierre, the brother of Jean's wife, Claudinette.
A purported Miami business called Amisphere Farm Labor Inc. received a whopping $1,008,000 as a "food distributor."
No trace of the company could be found last week in the Sunshine State, but records show the company's head, Amsterly Pierre, bought three properties in Florida last year, including a condo in an upscale waterfront community.
The firm incorporated in August 2008 but never filed any of the subsequent financial paperwork required to do business in Florida, according to the Florida Department of State.
The address listed for the business is an auto-repair shop in Miami's Little Haiti neighborhood, where a worker said he had never heard of Pierre or Amisphere. Pierre did not return a call for comment.
Yele Haiti also paid $577,185 to a company called Samosa SA, based in the Haitian capital of Port-au-Prince, as a "bulk water supplier." But some of that money went to rent a house for Yele Haiti volunteers on Samosa's property at the inflated price of $35,000 a month.
"Given the fact that Yele Haiti was involved in a swirl of controversy after the earthquake in Haiti, it's all the more reason to be more transparent to ensure donors that their funds are going to help people," said the Better Business Bureau's Bennett Weiner.
In Clef's defense, a lot of charities' hands have been tied by red tape and political BS in Haiti following the earthquake, due to the fact that the outbound government at the time wasn't necessarily all that interested in seeing the country move forward. Yele also wouldn't be the first American-based charity to partner with people who didn't necessarily have the best intentions when it came to actually helping Haiti.
But you would think, at this point, Wyclef would do a better job of covering his a$$ and making sure everything he and Yele did was on the money…
Versace for H&M Launch In London
Donatella Versace premiered the brand new and exclusive Versace for H&M line in London via Regent Street. There were thousands that came out to purchase the classic line.
Congrats to Donatella for her constant business efforts. Such an inspiration to all.
Also, check out Zara Martin as she spins while rocking one of the custom dresses.
Forgot your
Umbrella?! Rihanna in hot water after she 'floods luxury hotel room' in London
Good girl gone bad Rihanna is in hot water with one of London's swankiest hotel.
The 23-year-old pop star reportedly forgot to turn off the water in her ($3,100) £2,000 a night suite at The Savoy in central London, flooding her rooms and leaving the carpets a soggy mess.
The drama unfolded last Sunday night after The Barbadian beauty ­appeared on ITV1's X Factor.
A Hotel spokesman remained mum and would only say: 'We are unable to comment on the guests staying in our hotel.'
But hotel insiders were more than willing to speak out.
A source told People: 'The room where Rihanna was with her entourage flooded when the bath taps were left on.
Insiders at the Savoy Hotel say Rihanna and her entourage left behind a soggy mess
'They all left the room and when they came back the carpets were wet through. There was no lasting damage but it took a while to dry out. All of the party were hugely apologetic.
'They were told not to worry. People at the hotel were joking that those in the floor below would need umbrellas – just like Rihanna's song in 2007,' the source added.
The Savoy is popular with celebrities including Victoria Beckham and Elton John.
The situation at the Savoy isn't the only controversy surrounding Rihanna during her visit to London.
The singer was criticised for wearing shoes with 'f*** you" on them when she appeared on X Factor.
Although she did manage to set pulses racing in her naughty schoolgirl-style get-up, pairing the outfit with stockings with a metal-tipped collar and laddered stockings.
Sneaker Con Returns To New York City – December 10
Sneaker lovers, convene upon New York once again for another installment of Sneaker Con. The event has changed venue locations around the East Coast the last few times but has come back home to New York and a record number of participants are expected this year.
Sponsored by Adidas, Sneaker Con is the dream meet-up for rounding off your collections with limited edition pairs from fellow sneaker heads and top name vendors. The all out buying, trading and selling event for all ages starts Saturday, December 10 @ 151 Sullivan Street, NYC 10002.
Erik Walden Mug Shot: Green Bay Packer Assault Charge
Green Bay Packer linebacker Erik Walden was arrested on Friday morning for allegedly assaulting his girlfriend, the mother of their two children.
Hobart-Lawrence Police Chief Randy Bani stated that the woman sought medical treatment at St. Vincent Hospital in Green Bay for a cut and bump on her head, and an injury to her right hand.
The medical facility tipped off authorities, who arrested Walden at the couple's apartment. The athlete was booked at 8:00 a.m. and will remain in jail on suspicion of felony domestic violence-substantial battery until the Brown County Circuit Court opens on Monday.
The Green Bay Packer issued a statement indicating that they were aware of the situation but had no formal comment pending further developments. The arrested player could be subject to NFL personal conduct policy sanctions.
Television station NBC26 in Green Bay spoke to the injured woman, who said the arrest charge is due to a big misunderstanding. She admits that she and Walden argued and she tripped and hit her head on their bed.
The 11-0 Packers will take the field next on December 4 against the New York Giants at MetLife Stadium.
Chaz Bono and Jennifer Elia Engaged
Chaz Bono and Jennifer Elia are engaged. The former DWTS celeb presented his longtime girlfriend with an engagement sparkler while on a birthday trip to Seattle.
The big moment was captured on camera and will be televised on his show Being Chaz when the episode airs November 27 on the OWN network.
Elia and Bono were a couple long before he underwent transgender reassignment surgery. She admits the change in their status was difficult but she held out hope that they would eventually marry.
Chaz revealed, "We've been engaged for two years, and we've had to put things on hold. I wanted to pick a special place to give her a special birthday present."
Jennifer gushed, "Wow, it's gorgeous – thank you so much. It's stunning. It's huge. What he did was romantic. Who would have thought Seattle would be so special?"
Rick Ross & Wale Cover Billboard Magazine
Rick Ross and "Lotus Flower Bomb" emcee, Wale, take to the cover of Billboard magazine and discuss their partnership as boss and signee under Maybach Music Group. Ross also talks establishing MMG and taking inspiration from Jay-Z's business finesse,
"It wasn't about hype, and it wasn't about past success," Ross says. "It was about who Wale was as an MC – an incredible MC – that made me a fan. I felt we could make history together."
"I've most definitely been a fan of Hov and his whole movement," Ross says of Jay-Z. "He gave a blueprint to a lot of young entrepreneurs, as well as Wayne, with how active Wayne is with artists. There's a lot of different approaches, but at the end of the day, we've . . . just got to be hands-on and walk our own path."
On his health scare following two consecutive seizures,
"It could have been a lot worse. So I'm just thankful. I feel good and I'm back on my grind already."
Malcolm-Jamal Warner & Tracee Ellis Ross COVER The December 2011 Issue Of "UPSCALE"
Malcolm-Jamal Warner and Tracee Ellis Ross sat down with UPSCALE Magazine recently to talk about their new show "Reed Between The Lines." Find out what the duo said about their on-screen chemistry and how their new show compares to their old gigs inside....
In the latest issue of UPSCALE Magazine, veteran sitcom stars Malcolm-Jamal Warner and Tracee Ellis Ross dished about their new sitcom "Reed Between The Lines" and their hectic lives as stars AND producers of the show. Here are the highlights:
On their connection
TER: ...the first moment with him was so palpable. What I experienced was a side of myself, Tracee, that I had never experienced before...doing scenes with Malcolm does not feel like acting.


MW: if you're going to be joined at the hip, you want it to be with someone who shares the same vision and shares the same kind of integrity and values..it's probably one of the best non-physical love affairs that I've ever had

.
On their dual roles as leads and producers of Reed Between The Lines
MW: There's just so much energy we put into the show as actors and producers that it's hard to focus, at least this first season, on anything but the show.


TER: My life is moving at 100 miles an hour. My job is to take it one deep breath and slow step at a time...
On Girlfriends and her character, Joan
TER: I just loved that character. I'm so proud of what we did, and yet, I had such a peace when we were finished...
On Comparisons to Cosby


MJW: None of us is Bill Cosby, so we're not trying to recreate Cosby. What we are trying to recreate is the universality and the timelessness.
AND FINALLY FROM "THE CRAZY PEOPLE SHOPPING AT WALMART" FILES
"THE BOTTOM SHELF"
Wow that's a lot to take in. I don't even know how to process all that right now! At first I just assumed you were everybody's Grandma when they get ready for jazzercise at the local Y, but then you just threw me for a loop with those Frankenstein boots and to be honest I had way too much to strain my brain this early in the week.

HAVE A GREAT ONE!!!
EFREM