CLICK HERE TO FOLLOW ME ON TWITTER!
THE FABEST WOMAN IN THE WORLD! Michelle Obama Releasing "American Grown" Garden Book
Michelle Obama's penchant for gardening will be highlighted now that she's been confirmed to release a gardening book.
The book titled "American Grown: How the White House Kitchen Garden Inspires Families, Schools and Communities" and will tentatively be released in April.
It will focus on healthy eating habits and give tips on growing your own fruits and vegetables.
Mrs. Obama will not profit from the book, instead the money will be donated to charity. Personally she should do what she wants with the money!
Hillary Clinton's 92 YEAR OLD Mother Dorothy Rodham has passed Away!
Dorothy Rodham, mother of Secretary of State Hillary Rodham Clinton and former President Bill Clinton's mother-in-law, died Tuesday at age 92 after an illness.
Mrs Rodham died shortly after midnight, surrounded by her family at a Washington hospital.
The Secretary of State had cancelled a planned trip to London and Istanbul to be at her mother's side.
In a statement, the Clinton family hailed Mrs Rodham as a woman who 'overcame abandonment and hardship as a young girl to become the remarkable woman she was - a warm, generous and strong woman; an intellectual; a woman who told a great joke and always got the joke; an extraordinary friend and, most of all, a loving wife, mother and grandmother.'
Dorothy Rodham was a witness to her daughter's political victories and defeats.
She avoided the spotlight and rarely gave interviews about herself or her daughter and son-in-law, the former president, the Associated Press reports.
A notable exception was her daughter's 2008 bid for the Democratic nomination for president.
She appeared with her daughter in primary states, particularly at events focusing on women's issues.
Mrs Clinton cited her mother in at least one ad during the campaign, saying that her mother had taught her to stand up for herself and to stand up for those who needed help.
As Mrs Clinton battled Barack Obama for the nomination in April 2008, Mrs Rodham joined her daughter and granddaughter at a campaign event at Haverford College, Pennsylvania.
Then 88, Mrs Rodham didn't speak at the event, but Mrs Clinton noted that her mother lived with her and 'always has a lot of great ideas about what we need to be doing,' drawing chuckles from the audience.
Bill Clinton drew similar chuckles when, in his 1996 Presidential acceptance speech, he said: 'Everybody knows there is only one person in the world who can really tell the truth about a man, and that's his mother-in-law.'
During one debate in 2008, Mrs Clinton said: 'I owe it to my mother, who never got a chance to go to college, who had a very difficult childhood, but who gave me a belief that I could do whatever I set my mind.'
When Mrs Clinton ended her campaign during a speech in June 2008 at Washington's National Building Museum, her mother watched from off stage and wiped a tear as Mrs Clinton conceded the nomination to Mr Obama.
The following February, Mrs Rodham was on hand as her daughter was sworn in as President Obama's secretary of state.
The Secretary of State was due to attend international conferences on cyber-security and Afghanistan but rushed to be at her ailing mother's side.
She was due in London today where she would appear alongside the UK's foreign secretary, William Hague at London's Conference on Cyberspace and was due to speak this afternoon.

Later this week she was expected at a conference will take place in Istanbul on Wednesday focusing on creating a regional strategy for boosting security and economic development in Afghanistan.
Dorothy Howell Rodham was born in Chicago in 1919, the daughter of a city firefighter.
In her autobiography, Living History, Mrs Clinton described her mother's childhood as lonely and loveless.
The Howells shuttled Dorothy and her younger sister, Isabelle, among relatives and schools.
She was eight when her parents divorced in 1927 and she was sent with her sister to live with their paternal grandparents in Alhambra, California. She made the 2,000-mile train trip alone with her younger sister.
As a schoolgirl she was banished to her bedroom for a year by her grandparents after she was caught trick-or-treating.
Her grandmother could be cruel when not ignoring young Dorothy, Mrs Clinton wrote.

Rodham left her grandparents' home at 14 when she found room and board as a mother's helper to another family.
After graduating from high school, she returned to Chicago on her mother's promise of helping to pay for a college education if she lived with her and her new husband.
After that promise was unfulfilled, Rodham supported herself with a job in an office.
'I'm still amazed at how my mother emerged from her lonely early life as such an affectionate and levelheaded woman,' Mrs Clinton wrote.
She met Hugh E. Rodham, a native of Scranton, Pennsylvania, who had found work in Chicago as a traveling salesman.
They courted for several years before marrying in 1942.
Besides their daughter, they raised two sons, Hugh and Tony.
Dorothy Rodham was a homemaker in the Chicago suburb of Park Ridge but for years took a variety of college courses even though she never completed a degree.
A Democrat, she was a counter to the conservative Republicanism of her husband, who became a successful businessman.

The Rodhams moved to Little Rock, Arkansas, in 1987, to be near their daughter and her husband, then the state's governor, and their granddaughter, Chelsea.
Dorothy Rodham's husband died in 1993. A Washington Post profile in 2007 noted that she moved to Washington to live with her daughter's family after Hillary Clinton's election to the Senate in 2000.
Mrs Rodham was the last surviving parent of Hillary Clinton and Chelsea Clinton's last living grandparent.
The nature of her illness was not released



FULL STATEMENT ON DOROTHY RODHAM'S DEATH
Dorothy Howell Rodham was born in Chicago on June 4, 1919 and died shortly after midnight on November 1, 2011 in Washington, D.C., surrounded by her family. Her story was a quintessentially American one, largely because she wrote it herself. She overcame abandonment and hardship as a young girl to become the remarkable woman she was — a warm, generous and strong woman; an intellectual; a woman who told a great joke and always got the joke; an extraordinary friend and, most of all, a loving wife, mother and grandmother.
Dorothy is and always will be lovingly remembered by her daughter and son-in-law, Hillary Rodham Clinton and Bill Clinton; her sons and daughters-in-law, Hugh Rodham and Maria Rodham and Tony Rodham and Megan Rodham; her grandchildren, Chelsea Clinton and her husband Marc Mezvinsky, Zachary Rodham, Fiona Rodham and Simon Rodham. She leaves behind many friends from all stages and places in her life, friends from California she met in high school, friends from Little Rock and Washington with whom she explored the world, the people who were first her doctors and then became her friends at George Washington Hospital, to the people she met through her children and grandchildren who became as much her friend as theirs.
To honor Dorothy, her family will hold a private celebration of her life for family and friends. In lieu of flowers and in line with what Dorothy would have wanted, the family have asked that any one who would want to do so would make a donation in Dorothy's memory to George Washington Hospital (
http://www.gwhospital.com/Donations
) where she received excellent care and made terrific friends over many years; to the Heifer Project (
http://www.heifer.org/
), her Christmas gift of choice in 2010 and an organization dear to her heart; or to a local organization meaningful to the giver that helps neglected and mistreated children, a blight Dorothy was determined to remedy until her last day because she knew too well the pain too many children suffer. Her family is and will be forever grateful for the gift of Dorothy's life and for the memories they will treasure forever.
The Clinton family plans a private memorial service.
The family statement said any donations should be made to George Washington Hospital, where Mrs Rodham 'received excellent care and made terrific friends over many years'; or to the Heifer Project, her Christmas gift of choice in 2010.
Or, the statement said 'to a local organization that helps neglected and mistreated children, a blight Dorothy was determined to remedy until her last day because she knew too well the pain too many children suffer.'
WE WISH THE CLINTON-RODHAM FAMILY GOD'S SPEED!
Rape Crisis Centre Calls Rihanna's 'We Found Love' Video a Disgrace
*Again Rihanna is the topic of discussion this time among feminists and rape activists for her controversial music video, "We Found Love."
The explicit images include drugs, violence, and sex with a twisted message about love.


"Rihanna's new video is a disgrace,"

Eileen Kelly of the Rape Crisis Centre told British publication Daily Star.

"It sends the message that she is an object to be possessed by men, which is disturbingly what we see in real violence cases."

video:
Maybe she's referring to the part where Rihanna is getting a tattoo of the word

"MINE"

by her Chris Brown looking boyfriend. Or the constant scenes of schizophrenic love and hate between the pair. But in the end, it seems as if she makes up her mind to leave. Hmm…
Director Melina Matsoukas dismissed any claims that the video endorses violent, abusive relationships.

"We love, obviously, to do provocative imagery," she told MTV. "I think because, in the end, it's not really at all about domestic violence."
"It's really just about it being toxic, and they're on this drug trip and that definitely plays a part, but I think it's also about being triumphant over those weaknesses, and she leaves him. It's not trying to glorify that type of relationship. The bad parts of it, that's what you don't want. In the end, her leaving, it represents her getting that out of her life."
Mike Vick Covers UPTOWN Magazine
Mike Vick took over the Cover of UPTOWN Magazine and gave them a interview of all interviews check it out below.
The Michael Vick story has all the elements that makes an American Dream classic. With his new multi-million dollar contracts, Vick is successfully reinventing himself on and off the field. Will a Super Bowl win be his ultimate triumph?
"I never thought this day would come,"

Vick said.
"[Two years ago], I was happy just to be on a team. When I was in prison, I prayed for another opportunity. And when I signed with the Eagles, that opportunity had come. I was ecstatic at that point, and I'm even happier now."
"I play the game the way I know how to play it," Vick tells UPTOWN, after the magazine spent months trying to negotiate an interview. He's understandably cautious about whom he talks to and what he says.
"You have to take precautions, but this is what I love to do. I want to be there for my team and do what I have to do as a quarterback to be successful."
Despite the vocal detractors, Eagles fans wasted no time embracing their new quarterback, albeit third-string, showering him with cheers in his first preseason game. It seemed that no matter how anyone felt about dogs or out-of-control rich athletes, all of that ended—or was at least compartmentalized—as soon as Vick stepped onto the field.
"It was awesome. When I was running out onto the field I was listening to see what the reaction was going to be, I was very pleased," Vick said about his return. "I really didn't expect that reaction, but I was very thankful."
"I am determined to become a better student of the game and I knew I had to work at it,"

says Vick.

"I was young when I was in Atlanta. I'm older now. I've been through a lot and I think I've matured. I had some good years there, but I'm just so thankful to be in Philadelphia right now. I could not have landed in a better city. This is my home. This is where I want to be, and I take this opportunity seriously."
For the full story, pick up a copy of UPTOWN's October/November issue on newsstands now!....GO EAGLES!
Russell Simmons' show "Conversation" With The Cast of "Tower Heist"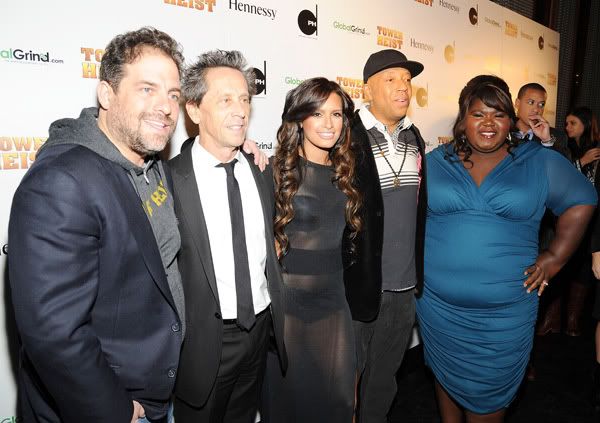 Rocsi Diaz, who served as MC for the event, showed off her moussy in a black totally sheer dress for Russell Simmons' "Conversation With 'Tower Heist' Director Brett Ratner & Cast" event at the Dream Hotel in NYC.
Well that's interesting. She wore this long black sheer dress with a cinched ribbed waist and high slit. And lacy boyshorts and a bra to cover up her girly bits.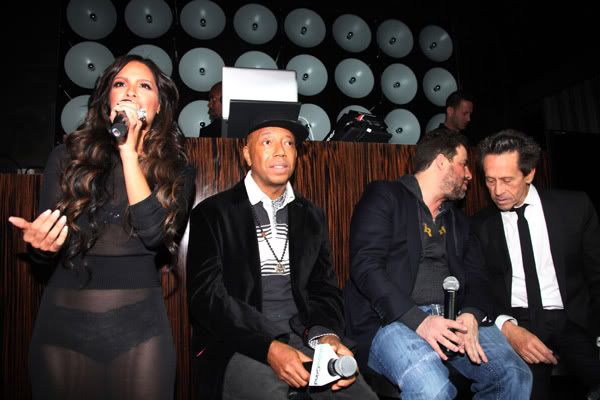 With rumors of her dating Bruno Mars floating around

(she tells us she's "single" though),

maybe she's trying to snag herself a new boo in this getup.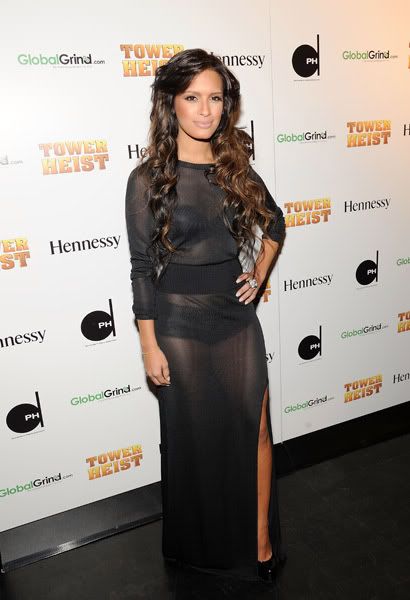 Nasir, who appears on the movie's soundtrack, was there.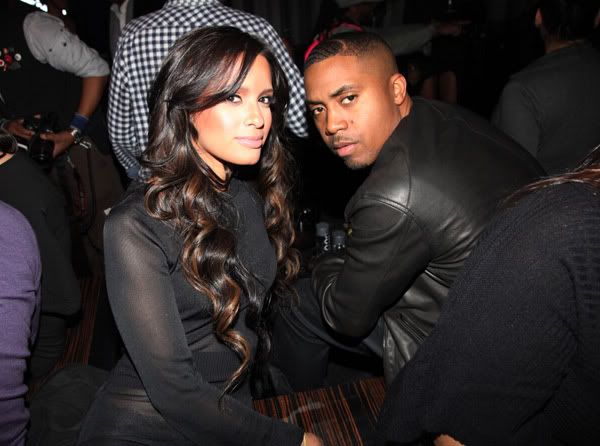 Speaking of black dresses with high slits, Teyana Taylor showed off her bod with her own.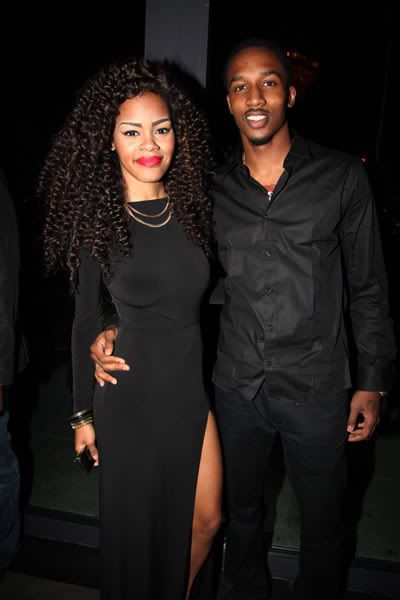 She clearly loves this look.
Russell Simmons brought model Petra Nemcova along. Are those white stockings?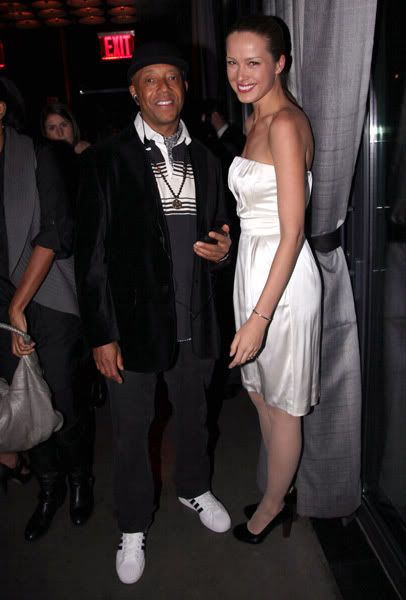 Nas kicked it with director Brett Ratner.
And Russell chilled with two of his fave Latinas--Rocsi and LaLa Anthony.
Is that a robe or a coat LaLa?
She posed inside with publicist Marvet Britto.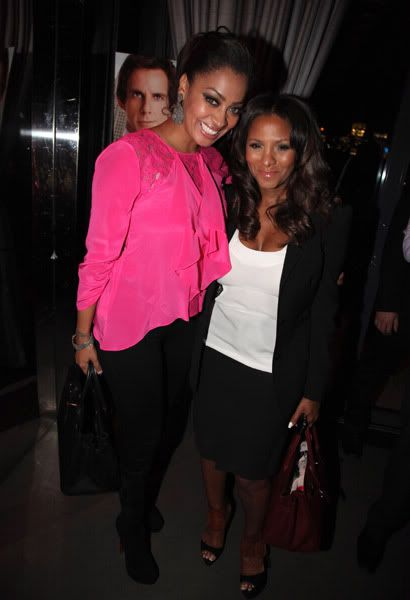 Where you been Sticky Fingaz?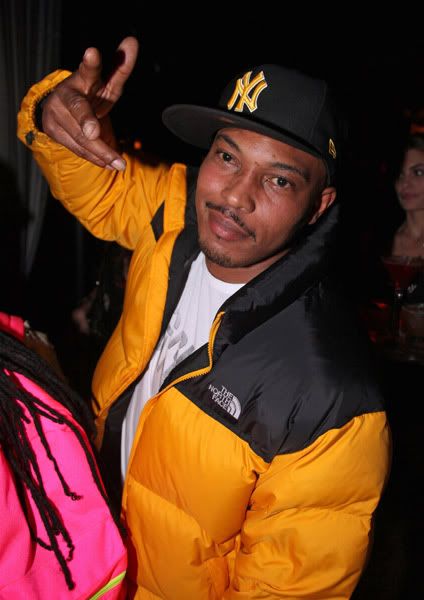 Ryan Leslie brushed off his latest million dollar lawsuit to attend the event.
Fab fitness trainer Jeanette Jenkins hit the carpet in this peachy dress and nude pumps.
And kicked it with Teyana and Janelle Snowden.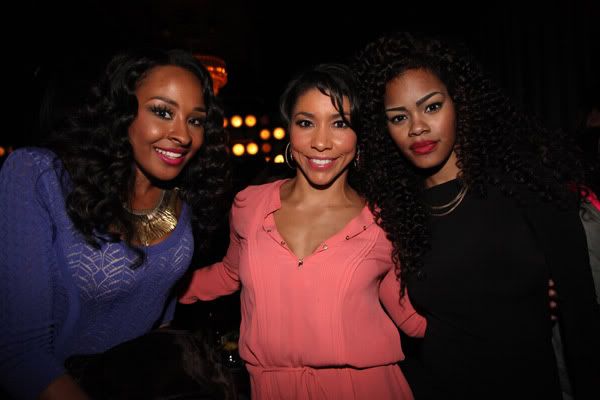 "Tower Heist" star Gabby Sidibe chilled with Jeanette and Dule Hill.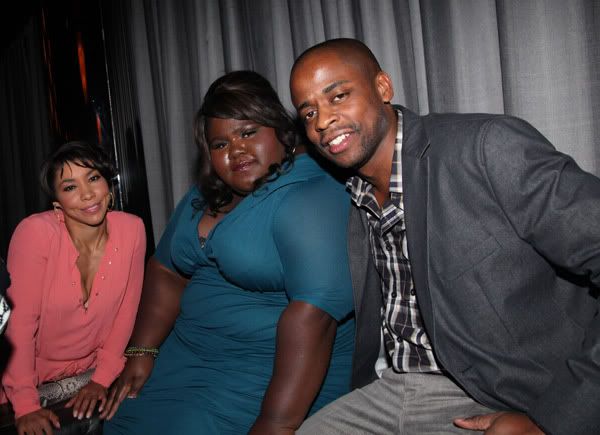 DJ D-Nice was on the 1's and 2's and kicked it with Cuba Gooding, Jr.
We see you Nas....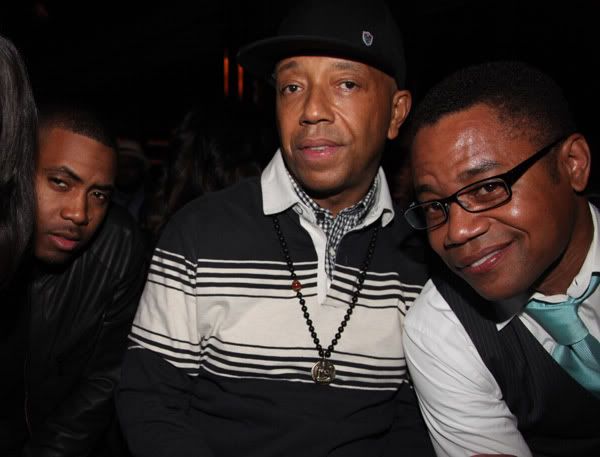 Tower Heist with Eddie Murphy, Ben Stiller, and Gabby Sidibe is out this coming Friday!
New Couple ALERT! Elisabetta Canalis & Mehcad Brooks Cozy Up in Berlin
Making the most of her time in Germany, Elisabetta Canalis was spotted out and about in Berlin
Joined by her rumored new boyfriend Mehcad Brooks, the Italian television personality/model hit up the Pergamon Museum at Museuminsel Island while paparazzi looked on.
Ms. Canalis split with George Clooney back in June, and subsequently told press her outlook on romance is a bit bleak.
"At the end of the day I have always seen the end of my relationships as a personal failure. I'm a bit of a tomboy, but when it comes to love I am a doormat. I'm looking for men who can give me security. You have to accept that Prince Charming who is coming to save you is not going to happen."
Well Lizzie Boo we hope this one last with your Chocolate prince Mechad!
WOW…..IT DON'T TO BE A RACIST AT THE JOB! Sears employee wins $5.2 MILLION jury award for racial harassment
At first, Medro Johnson tried to shrug it off.......But later didn't!
The African American employee of Sears Home Improvement Products in Natomas was at an August 2008 company barbecue with his family, court records say. A co-worker walked up and blurted a racial slur, issued with a "slave dialect."
"Medro calls me Masta,"

co-worker Paul St. Hilaire said, according to court records.
Medro Johnson, 49, says life has been a struggle since his 2008 firing by Sears Home Improvement. "We depleted all our savings, our retirement, our kids' college fund," he said. He added that he hopes the jury award "will send a message to Sears" and prompt change.
Then St. Hilaire started laughing.

Johnson, an Elk Grove resident and a descendant of slaves, would later testify in court that he was humiliated to be referred to as a slave in front of his wife, son and daughter.
Last Friday, after a one-month trial and more than eight hours of deliberation, a Sacramento Superior Court jury gave Johnson the last laugh.
The panel awarded him $5.2 million in damages, including $2.2 million to compensate for lost earnings, pain and suffering.
The other $3 million was for punitive damages, an award granted after the jury found that Sears' policymakers and managers conducted themselves "with malice, oppression or fraud" for failing to investigate or to act on Johnson's complaints about the slur and other racist acts.
The motivation for ignoring the problem?
Christopher Whelan, Johnson's attorney in the race harassment-retaliation case, said the evidence showed the company did not want to take action against St. Hilaire, one of its top sales producers nationally.

"The message for Sears is that it just can't ignore the law, no matter how much money the harasser earns for them," said Whelan. "They subjected Medro to very serious risks and fear of retaliation.
"And they stepped over the line," he said, "with subsequent acts by management to avoid being exposed for failing to follow the law."The verdict came more than two years after Whelan, of Gold River, and his nephew, co-counsel Brian Whelan of Fresno, filed suit in Sacramento Superior Court.
On Tuesday, attorneys for Sears Home Improvement, Sears Holdings Corp. and St. Hilaire referred questions to a company spokesman.


"We are very disappointed in the verdict, and we are exploring all of our post-trial options, including appeal," spokesman Chris Brathwaite said in an email on behalf of Sears. "We have no further comment at this time."
St. Hilaire, who later left the company, could not be reached for comment.
Johnson, 49, who calls himself a private person, said his life has been turned upside down. He lost his job and faces the prospect of losing his Elk Grove house because of the struggle to make ends meet. A foreclosure sale could occur as early as next month.
Two months after his December 2008 dismissal, Johnson received his real estate sales license in a down market. He now works for Coldwell Banker Elk Grove.
"I've been in a constant struggle since 2008," Johnson said in an interview. "Once we depleted all our savings, our retirement, our kids' college fund, then it got really tough.


"It's scary before you get down to the end. Then it's tough when you try to figure out how you're going to make ends meet and, at the same time, fight this battle against this huge corporation that doesn't really care about you."

The

"Medro calls me Masta"

remark wasn't the last racially charged encounter Johnson would have with St. Hilaire while working at the home improvement company, court records show.
Both Johnson and St. Hilaire would visit clients to sell home improvement products.
On one outing in October 2008, according to the lawsuit, matters would grow worse. The two exchanged angry words and St. Hilaire told Johnson, "I'm going to get you and you're not going to see it coming."
Johnson complained to supervisors about the threat and the

"Masta"

comment from two months earlier. The lawsuit notes that nothing came of the complaint.
Managers told Johnson that both he and St. Hilaire would be terminated if he took his complaint to human resources, documents say.
"That was a threat designed to intimidate him and shut him up," said Christopher Whelan.
In the final encounter, Whelan said, St. Hilaire repeatedly "bashed" Johnson with his shoulder during breaks in a company training session in December 2008.
At one point, St. Hilaire called Johnson the

"N"

word and, ultimately, bashed him again, knocking Johnson's hot coffee down the front of his shirt. Attorneys said St.
Hilaire muttered the epithet so that Johnson could hear it.
When St. Hilaire leaned in again for what appeared to be another bash, Johnson said, he hit the salesman in the lip with the back of his hand.
This time there were plenty of witnesses. The company fired Johnson two days later. But, his attorneys said, St. Hilaire faced no discipline and no corrective training.
On Tuesday, Johnson said he was pleased with the jury's decision.


"I feel like justice was served, and I would hope that the award will send a message to Sears and that they will change their behavior so no one has to suffer like I had to suffer over these years,"

he said.
This is a big issue. Racial conflicts go on everyday in the workplace. Do you think the former employee deserved $5.2 million? Do you shop at Sears and if so will you still shop at Sears after knowing how they treated their employees?
Chris Brown To Star In Break Dancing Film
2011 has definitely been Chris' year. He's made a tremendous comeback, from hit singles off of 'F.A.M.E.' to his tour and even his AMAs and Soul Train nominations. And now, Chris Brown can boost his movie discography with his latest role.
According to The Hollywood Reporter, the 22-year-old R&B singer has been tapped to star alongside Josh Holloway, Laz Alonso, Josh Peck and Caity Lotz in a new dance film entitled 'Planet B Boy.'
Directed by Benson Lee, the film focuses on an international break-dancing battle, which raises little questions about why Brown was recruited for the role. Brown has been known for his eclectic dance moves on stage and even on screen, a la 'Stomp The Yard.'
A released statement about 'Planet B Boy' reads that it is "about an all-star American b-boy crew training to compete in France at the Battle of the Year (BOTY) International Championships. After a decade of defeat, the crew and their coach must go up against the best and greatest b-boys in the world: the Koreans, the Russians and the French who have dominated the original American dance form for the last 10 years."
Aside from 'Stomp The Yard,' Brown has also starred in 'This Christmas' and 'Takers.'
Eva Longoria Urges Jessica Simpson to Cancel Wedding????
"Eva Longoria is urging her pal, Jessica Simpson, to change her wedding date!" begins a breathless story from In Touch.
The mag says Longoria, who knows Simpson through their mutual hairstylist Ken Paves, believes her friend is making a huge mistake marrying Eric Johnson on November 11, 2011 (11-11-11), because she and Tony Parker tied the knot on July 7, 2007 (7-7-7), and are now divorced.
I'm not making this up.
The tab says Simpson "feels it's a lucky day that will get the new marriage off to the perfect start," but Longoria "couldn't disagree more!"

A supposed "friend" of the "Desperate Housewives" actress claims, "Eva's superstitious and feels her friend chose the wrong date," noting, "She literally called Jessica and told her to pick another day to get married."
But Hold on there….
Simpson's alleged 11-11-11 wedding date is a rumor started by In Touch (which first wrongly claimed the nuptials were taking place on June 11, 2011), and the star's rep has repeatedly told the site Gossip Cop that no date has been set.
In any case, a rep for Longoria says the tab's tale is "completely untrue." Well we shall see!
BROKE AZZ PUNK! Ryan Leslie Flakes on $1 Million Reward for Stolen Laptop
Remember Ryan Leslie made a big to do over his lost or stolen laptop that contained millions of dollars worth of work and private files? He did put out there at one point that he was willing to reward anyone who returned the computer $1 million.
Well after it's been found and returned, it's about time the artist paid up.
A man named Armin Augstein said he returned the computer to the singer, but didn't get his due reward.
So the German hero has filed a lawsuit against the singer in the U.S. District Court in New York.



"It's unfortunate that my client has to go to such lengths to recover the reward,"

Michael Fischman, Augstein's U.S.-based lawyer, told the media.
With good reason, the German guy is going through all of this for that money. Who wouldn't?
Last year, after the laptop was stolen, Leslie posted on Skype:
"I lost my computer out here in Germany. I actually had my whole new album on there, which I had been working on in secret, and it got stolen. So right now, I got a million-dollar reward for anybody that can return my intellectual property to me."
Originally he offered $20,000, but after little to no responses, he upped the prize to an attractive $1 million. He even posted a YouTube video to announce the reward increase.
Like they say, be careful what you ask for.
Sandra, Estelle, Garcelle…wows em' at The 2011 amfAR Inspiration Gala!
Celebrating men's style while raising funds for AIDS research, the 2011 amfAR Inspiration Gala took place at the Chateau Marmont in Los Angeles, California .
The ritzy affair drew out a full slate of celebrity guests, with Oscar-winning actress Sandra Bullock leading the charge while attending to present a special tribute to Dame Elizabeth Taylor.
Meanwhile, Hollywood hunks such as Colin Farrell, Josh Duhamel, Sean Penn and Ryan Kwanten all turned up for the sold-out gathering - which included a cocktail reception, fashion presentation, gala dinner, live auction and performances by Sinead O'Connor and Deborah Harry.
Rounding out the guest list at the 2011 amfAR Inspiration Gala were lovely ladies including Rose McGowan, Selma Blair, Garcelle Beauvais and singer Estelle, who spent the evening alongside Reca Group President Paolo Diacci.
Newlyweds: Ameriie and Hubby Spotted in Beverly Hills!
Ameriie looked quite beautiful while strolling the streets of Beverly Hills with her new hubby Lenny Nicholson clutched by her side. These newlyweds have been low key since their intimate summer wedding and its good to see that they are in marital bliss and enjoying every moment so casually
Though she is enjoying quality time with the hubby, Ameriie is currently working on her next album Cymatika Vol. 1, which is scheduled to be released next year. And her first single "Firestarter (Private Dancer)" is scheduled to drop in a few weeks. Sounds interesting … So Stay Tuned.
Mr money-maker of Hollywood: Samuel L. Jackson named highest-grossing actor of all time, raking in $7.42billion
He has appeared in well over a 100 films and is one of the most iconic stars of our time.
And now Samuel L. Jackson has now been named the highest-grossing actor of all time according to the Guinness Book of World Records.
The 62 star, whose credits including a whole host of hit films including Jurassic Park and Pulp Fiction has grossed a whopping $7.42billion during his career.
While he enjoyed a number of small roles on films he found critical acclaim for his role in Jungle Fever in 1991.

Since then he has gone on to work on an average of three and four films a year and he doesn't look to be slowing down any time soon.
The actor is already cast for three films set to be released next year.
He is starring in The Avengers remake, The Samaritan and Django Unchained.
Jackson is portraying Nick Fury and joining Scarlett Johansson on the The Avengers cast and shots from the film have recently been released.
Fans have seen Jackson in this role before when he was first introduced in the two Iron Man films in 2008 and 2009, before reappearing in two of this year's biggest blockbusters, Thor and Captain America.
But that's hardly a surprise, as all four films criss-cross for the superheros to come together to make one big crime-fighting machine known as The Avengers.
The actor doesn't limit himself to film and he is currently starring in Broadway show The Mountaintop.

Speaking about his work ethic Jackson told CBS: 'I grew up in a working class family.When I was a kid, all the adults in my house got up and went to work every day. I assumed that's what grown people do. That's what I do. I just happen to have a very interesting job that's kind of cool.'
Cool, and as his new record has proved, extremely lucrative.

AND FINALLY FROM "THE CRAZY PEOPLE SHOPPING AT WALMART" FILES
"The Halftime Show"
What do Mariachi bands and the NFL have in common?….sorry that wasn't a set-up to a joke, seriously what the hell do they have in common?
SEE YA LATER!!
EFREM