CLICK HERE TO FOLLOW ME ON TWITTER!
R.I.P. - Family And Friends Come Out To Say Goodbye & Remember The Life Of Troy Anthony Davis

In a lot of people's eyes Troy Davis' ordeal will be a catalyst to abolish capital punishment in the U.S.
Back in 1991, despite much reasonable doubt, Davis was found guilty and sentenced to die by lethal injection for the killing of an off-duty Caucasian cop 2 years earlier.
Although his conviction eventually began to fall apart - 7 of 9 prosecution witnesses recanted testimonies, signing affidavits stating they were coerced by the pigs, and there was no physical evidence linking him to the murder – Troy was never granted a retrial.
"The struggle for justice doesn't end with me. This struggle is for all the Troy Davis's who came before me, and all the ones who will come after me!" determined the courageous Georgian last Wednesday night just prior to being injected with the lethal combination of toxic-tonics that concluded the premeditated, state-sponsored murder of a probably innocent man."
On Saturday, millions of compassionate supporters worldwide celebrated the life of Troy Anthony Davis as he was returned to the essence in his native Savannah, Georgia after a 'Celebration Of Life' service at Jonesville Baptist Church earlier in the morning.
"Stan
d with those who know in their hearts that what happened last week was wrong!!!" vented Solsista, an irate observer. "Justice is not always absolute, meaning not always right, in this 'great country', the U.S. of America… sometimes you have to take a stand for something, or die for nothing! It's called solidarity and unity!"
October 1st will from now on forever be known as the 'Day of Remembrance for Troy Davis' to millions of people worldwide, in recognition of the injustices committed against the former prisoner-of-war.
Troy's family and friends vowed to make sure his legacy continues to fulfill a great cause, and to not allow his unjust circumstance to get swept under the rug after the mainstream-media stops paying so close attention.
"We're going to keep moving forward,"

declared older sister Martina Correia-Davis.

"That's what my brother would have wanted us to do… not be angry and wallow and those kinds of things."

Jason Ewart – one of Davis' attorneys who witnessed the execution, shared:

"Many have spoken of Troy as a symbol. He was the soul of something profound."
Anti government sponsored murders advocates also added on.
"Those of us who stand opposed to the death-penalty and to the injustices of mass incarceration need to seize upon this moment to build the struggle for abolition, to rid the system of capital punishment and harsh sentencing for once and for all!" advocated Lee Wengraff, from Campaign to End the Death Penalty.
"We're going to keep on fighting until his name is finally cleared and Georgia admits what it has done," NAACP President Ben Jealous established. "We're going to keep on fighting until the death penalty is abolished and this can never be done to anyone else."
Even the popular Judge Greg Mathis added his perspective:
"Troy Davis was failed at every step of the judicial process. We need a nation-wide ban on the death-penalty. One innocent man put to death is one too many. If we can't be certain of the legitimacy of the convictions, the practice must be halted It was criminal that this man was executed with so much doubt surrounding his case, and Georgia has blood on its hands!"
Davis' relatives remained resilient…
"We told him we're not just fighting for your innocence. We're fighting the judicial system here," Troy's younger sister – Kim Davis explains.
"Me and my family - people ask us… 'Why aren't you crying? Why aren't you grieving?' My brother was at peace with God. He told us before… 'Even though the state of Georgia may execute me, they will only take my physical body, never my soul.'"
For more info about ending the death penalty.
National Breast Cancer Awareness Month
Did you know that breast cancer is the most common cancer in women in the United States, aside from skin cancer?According to the American Cancer Society (ACS), an estimated 192,370 new cases of invasive breast cancer are expected to be diagnosed among women in the United States this year. Today, there are about 2.5 million breast cancer survivors living in the United States.
If you're worried about developing breast cancer, or if you know someone who has been diagnosed with the disease, one way to deal with your concerns is to get as much information as possible, another way is to get tested. Breast Cancer can happen to any0ne, no matter how rich or how poor. These are some celebrities who have suffered from Breast Cancer.
Actress Ruby Dee is a 36-year breast cancer survivor. She has worked with various charities to create awareness.
Breast cancer is a tumor that grows in one or both of the breasts. Breast cancer usually develops in the ducts or lobules, also known as the milk-producing areas of the breast.
Comedian/Actress Wanda Sykes admits to having undergone a double mastectomy after being diagnosed with breast cancer in early 2011.
The world's first Black supermodel, Naomi Sims, died in 2009 after battling breast cancer.

Breast cancer is the second leading cause of cancer death in women (after lung cancer). However, African-American women are more likely to die from breast cancer at any age than any other race. Breast cancer is much less common in males, the disease is about 100 times more common among women.
Are you a survivor of Breast Cancer? Do you know anyone going through Breast Cancer? October is Breast Cancer Awareness Month. Wear pink, support the cause. It could be you or your loved one. What are you doing to support Breast Cancer Awareness Month?
Former NY Gov. David Paterson's Stepdaughter ARRESTED For Brutally Beating Her Boyfriend Unconscious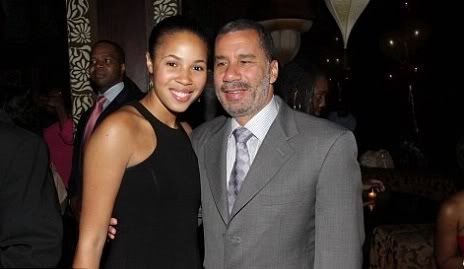 Former Gov. David Paterson's stepdaughter, Ashley Dennis, was arrested over the weekend for beating her boyfriend unconscious
Ashley Dennis, the 23-yr-old stepdaughter of former NY Governor David Paterson, was arraigned at Manhattan Criminal Court for brutally beating her boyfriend.
In an attack that happened Saturday morning around 4:30am, Ashley allegedly smashed a bottle and frying pan over the head of boyfriend Brian McGuinness. She is also accused of slamming his leg in a door until he lost consciousness.
When police arrived on the scene, they arrested BOTH Brian and Ashley.
The building superintendent, Pearl DiGeronimo, said:
'There was blood on the floor, on the door handle, all over the hallway. I thought it was a murder.'
And another neighbor reported hearing cries of 'help me' and 'fire' coming from the apartment. Adding,
'He wasn't moving. He had two shoes on top of him like she kicked him out of the apartment and threw the shoes.'
Ashley, an account executive at public relations firm Edelman, told the police that Brian attacked her first and tried to choke her. BUT.....it was Brian who ended up needing medical attention! Three stitches to be exact.
But the injuries didn't get Brian any sympathy....he was charged with criminal obstruction of breathing, a misdemeanor under the state's anti-choking law.
Ashley, the daughter of Gov. Paterson's wife Michelle Paige Paterson, has not commented about the incident.
SMH...it's real out here. For everybody.
I'll keep you posted....
SHOCKER!!! Bishop Eddie Long Wants His Hush Money Back….
As if we didn't see this one coming! Bishop Eddie Long wants his settlement money back from at least 3 of the 5 men he paid to keep their mouths closed about those sexual coercion charges.
Two accusers, Jamal Parris & Spencer LaGrande spoke up on Channel 2 news last month, stating that they just wanted closure from the Bishop in the form of an acknowledgement.

Centino Kemp, the 5th accuser, was able to quietly get in on a piece of the "hush money" action in late May, but was outed by I-Team news reporters as they dug deeper into the case.
Attorneys for New Birth Missionary Baptist church have now informed Parris, LeGrande and Kemp that they intend to recover nearly $1 million from their financial settlement.
[Sidebar: Are there still any people who attend that church, because I swear just when you think it can't get any worse... POW!! Right in the kisser!]
Details below:
A letter sent earlier this week by the Atlanta law firm Drew Eckl & Farnham, alleges that Parris, LeGrande and Kemp all violated the terms of their confidentiality agreement outlined in the settlement between them, Long and New Birth Missionary Baptist Church.
Because each of the three men spoke publicly about the case, the firm is seeking at least $900,000 already paid the three accusers.
According to the AJC, that figure is merely a portion of the total settlement between long and the three men.
Financial terms of that settlement have not been disclosed but, based on the letter and the fact each of the young men were paid equitably, the total comes to at least $1.5 million.
The letter outlines the plaintiffs' "demand for arbitration" though no legal documents have yet been filed.

The letter could simply be a threat, said Atlanta litigator Hayden Pace.

"No one's going to turn over the money just simply because you've asked for it," Pace said. "You're going to have to earn it back by establishing your right to it in the courts."
When Parris and LeGrande spoke about the case last month, they each acknowledged the risks involved but said that they didn't care about the dough, stating:
"I'm going to tell the world – money does not buy happiness," LeGrande said in August.
"When you sleep at night, the problems are still there. The money stuff, who cares about the number."
"I feel like burning [the money]."
Parris, LeGrande and Kemp have all declined to comment on the letters and word on the curb is that each of them have plans to write a book.
Parris and LeGrande even revealed back in August that they were collaborating on a tell-all that will reveal intimate details of their relationship with Long. (Yessssss!!! I can't wait!)
I say give back the dough and recoup it all in book sales. I'll even help them market that muthaflocka…. (for a small fee of course).
What's the word? Should these 3 accusers give Long back his hush money since they can't seem to hush?
Would you want your wife known as "SUPAHEAD"? Karrine Steffans Marries Mystery Man?
Karrine Steffans either got married or staged a fake wedding last week. It's hard to tell with her...
From Vibe
Online reports claimed that Karrine was due to marry her old flame Lil Wayne this weekend in Las Vegas.
However, the author, who divorced actor Darius McCrary last year, told VIBE.com exclusively that she's already donned her wedding gown in a private ceremony earlier this week... but to another dreadlocked bachelor. Check the photos below to see if you can identify the Karrine's mystery man.
YUK!!!
Taylor Swift More Gangsta Than You Think
Taylor Swift surprised her audience with a duet with rapper T.I. at her concert in Atlanta.
Rapper T.I. has joined country star Taylor Swift in a surprise duet at her concert in Atlanta.
Toward the end of Swift's set on Sunday night, she introduced T.I. by singing the opening chorus of his hit song "Live Your Life." The packed house at Philips Arena screamed once he stepped onstage for the unannounced appearance and started to rap.
VIDEO:
The two Grammy winners stood side-by-side as he rapped and she sang a vocal part originally handled by Rihanna. Swift has featured guests ranging from Justin Bieber to Nicki Minaj onstage during her tour. The Sunday show was a makeup performance for a postponed July show.
Hey Taylor Steve Stout Has A Message For Ya
T.I. has made several appearances since his release from a halfway house last month following 10 months in federal prison on a probation violation.
Celebs show up at The Paris Givenchy Fashion Show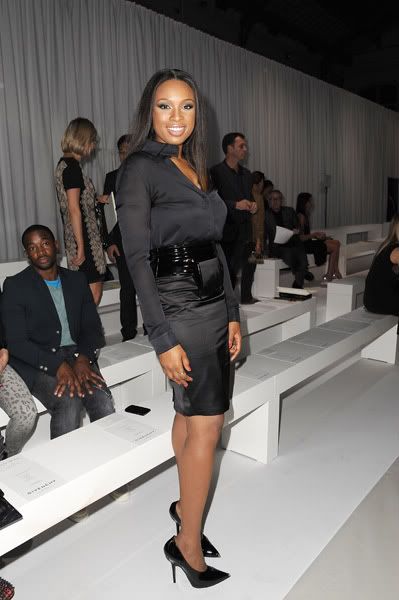 Fresh from debuting his first womenswear collection in Paris, Kanye West along with Ciara, Jennifer Hudson, and many others were spotted at the Givenchy Ready to Wear Spring / Summer 2012 show during Paris Fashion Week. Check out the pics from the show...
R&B singers Ciara and Jennifer Hudson opted for sexy all black looks and both looked amazing.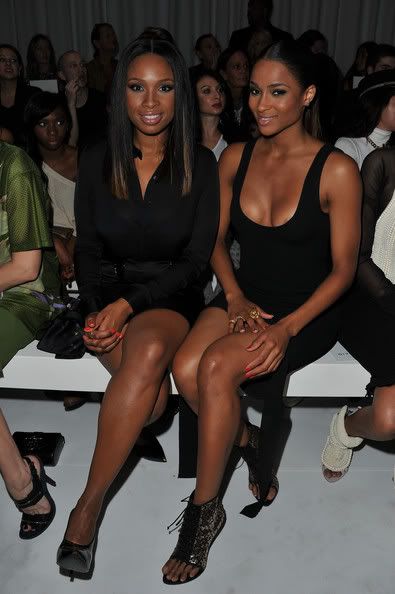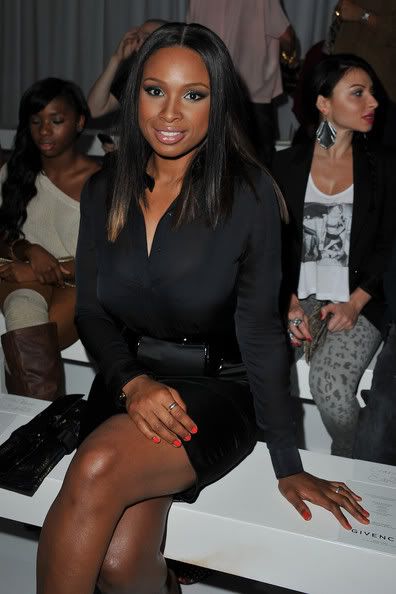 The Weight Watchers spokeswoman looked stunning in a Givenchy slender black ensemble.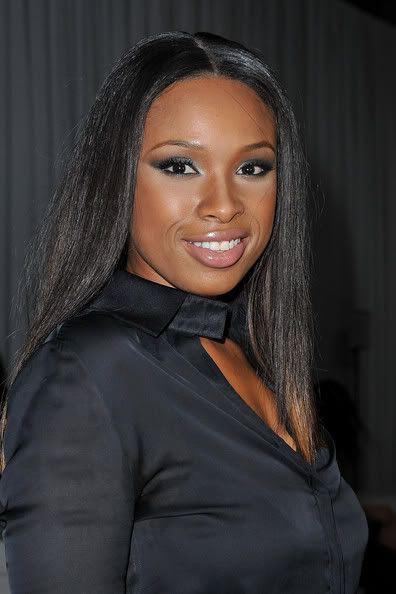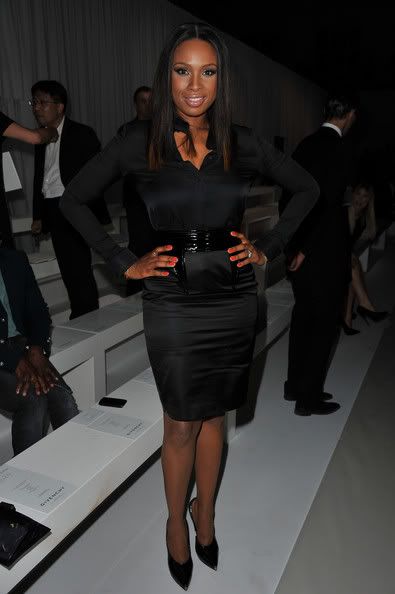 Loving the look and her new straight hair with the highlights.
Ciara continued to wow Parisian photogs in a black form fitting jersey dress with a plunging neckline.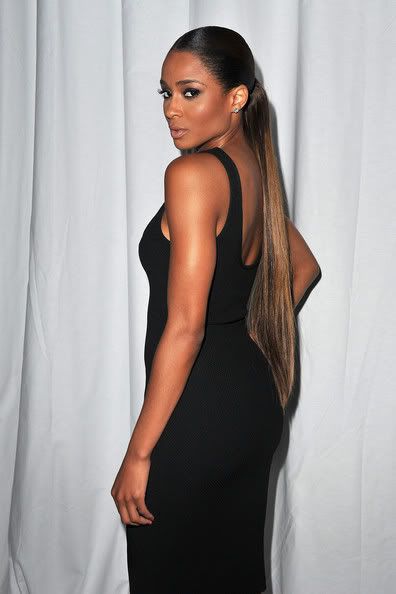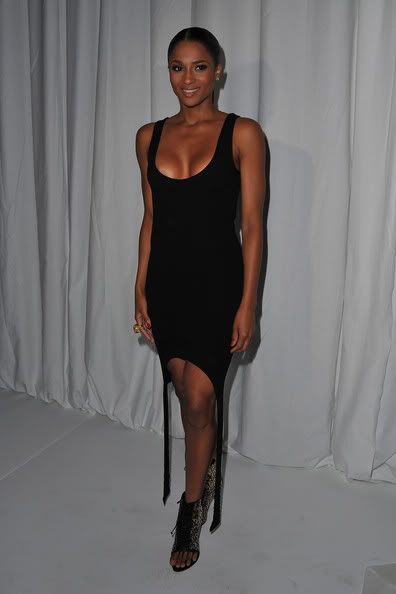 Her makeup and pulled back ponyytail complimented the look. I'm convinced this girl should be a model. And simply stick with that.
Model Chanel Iman kicked it front with rapper/designer Kanye West. She also rocked some shoes from his collection.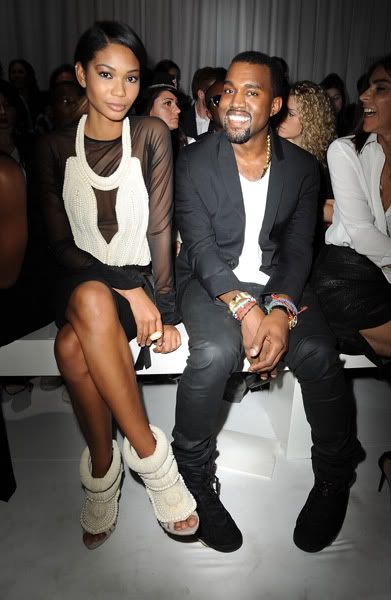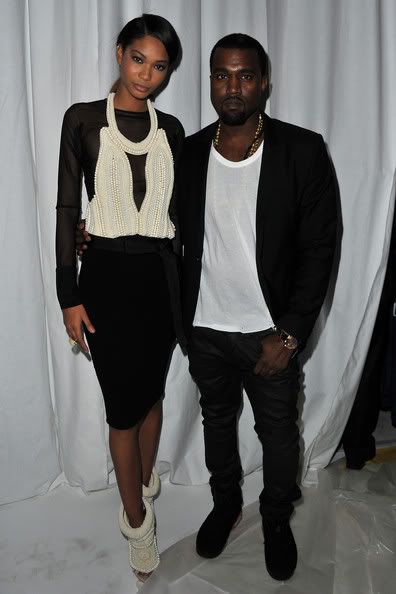 Kanye greeted supermodel Naomi Campbell with a kiss.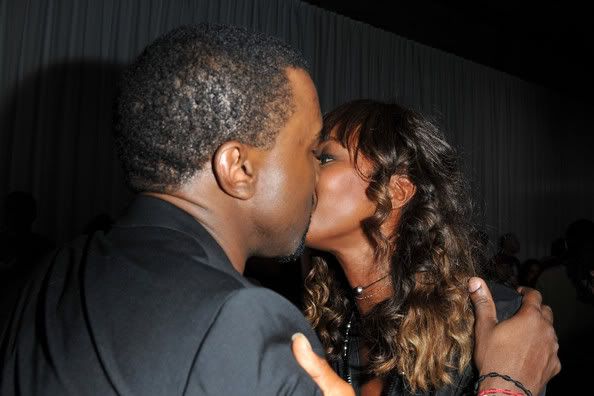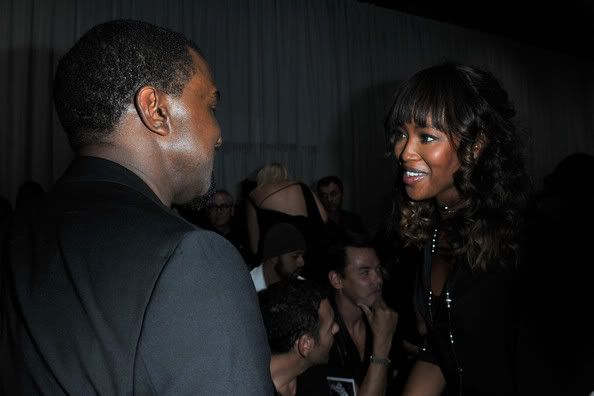 And the icon model was spotted front row as designer Riccardo Tisci unveiled his latest collection.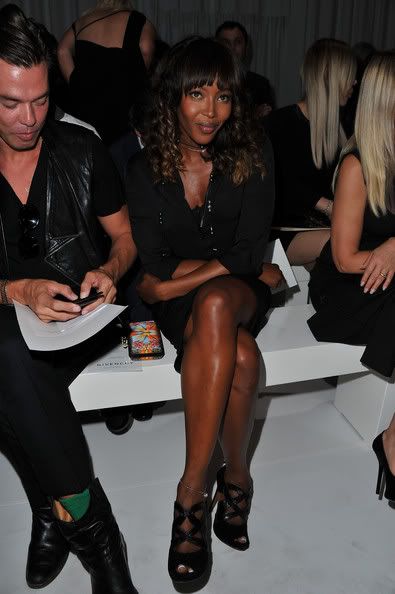 Nice!

WERK IT OUT EDDIE: Eddie Murphy
Has the $200K Drive to Host the Oscars
Eddie Murphy has something better than a limo to get him to his upcoming gig hosting the Academy Awards ... a brand new $200K Mercedes-Benz SLS AMG similar to the one Taylor Lautner recently purchased.
The 50-year-old was spotted getting out of his luxury ride's gullwing doors in L.A. this week.
Kim Zolicak Fires Sweetie
Kim Zolciak daughter Brielle let it slip that her mom's assistant / slave Sweetie was fired / set free.
After Kim Zolciak and Sweetie Hughes abruptly stopped tweeting each other over the summer, rumors began circulating that the two were on the outs.
Now Kim's daughter, Brielle, has revealed on her Formspring — a question-and-answer website — that Sweetie (who worked as Kim's assistant) was fired!
When a fan asked if Sweetie lived with Brielle and her family in their new house, Brielle wrote back, "umm shes firedd."
When another user asked if Sweetie did anything wrong, Brielle responded with, "I dont really wanna talk about it and yeah her whole familys been close for 13 years."
Kim has kept mum on the Sweetie issue, but it sounds like something definitely went down. Sweetie was dragged into a bunch of drama on Season 3 of Real Housewives of Atlanta after NeNe Leakes accused Kim of being racist based on her poor treatment of Sweetie, a claim that Kim vehemently denied.
Did Sweetie grow tired of Kim's demands?
OH THE NERVE! Conrad Murray takes time out from Michael Jackson trial to get a pedicure
He faces up to four years in prison and the loss of his medical license if found guilty of involuntary manslaughter in relation to the death of Michael Jackson.
And Dr Conrad Murray clearly felt the need to take his mind off things this weekend by indulging in a pampering pedicure at a Los Angeles nail salon.
It was a somewhat unexpected sight to see the infamous doctor getting a foot and leg treatment in a break from his trial.
Wearing a black T-shirt and white shorts, the 58-year-old doctor sat back on a leather chair where he was seen having some kind of blue exfoliating scrub applied to his feet.

Michael Jackson's mother skips Conrad Murray hearing to rally around singer's children at Cirque du Soleil tribute show
However, Dr Murray's moment of relaxation on Saturday didn't last long.
He was back in court to hear prosecutors further examine emergency room physician Richelle Cooper, who gave paramedics permission to pronounce Jackson dead in the bedroom of his home on June 25 2009.
Prosecutors have been largely laying out their case against Dr Murray in chronological fashion, with witnesses during the first week of trial recounting the singer's final performances, his interactions with fans on his last day and frantic efforts to revive the King of Pop.

They allege that Dr Murray, who has pleaded not guilty, gave Jackson a lethal dose of the anesthetic propofol and other sedatives in the singer's bedroom in 2009.
Dr Murray's lawyers are presenting jurors with an alternate theory - that Jackson gave himself the lethal dose when the Houston-based cardiologist left the room.
The first day of the trial saw Deputy District Attorney David Walgren showing jurors a photograph of a lifeless Jackson on a gurney and playing clips of his final performances from the film This Is It.
Jurors also heard during opening statements a never-before-heard recording of Jackson, rambling and slurring his words, which Walgren said was extracted from Dr Murray's cell phone.
Dr Murray's phone records are a central part of the prosecution case.
At some point during the trial, prosecutors are expected to detail the other phone calls and emails Murray fielded the day of Jackson's death, including one to his girlfriend that was apparently made in the back of the ambulance on the way to the hospital.
The trial, held at Los Angeles Superior Court in the downtown area of the city, has been attended by Jackson's family, including his parents Katherine and Joseph and sisters Janet and LaToya.
Stacey Dash's Divorce Finalized
Stacey Dash is no longer married to her allegedly abusive husband. L.A. County Superior Court judge finalized the actresses' divorce from Emmanuel Xuereb last month. Dash had filed for divorce back in January of 2010. The same day she moved to end her marriage, Dash also filed for a restraining order against Xuereb. She claimed that Xuereb had hit her in the head, face, and body during their two plus years as a married couple.
Stacey Dash was staring in VH1′s series "Single Ladies" but left the show which is taped in Atlanta to be this her kid's back in LA. The show was picked up for a second season this summer, and will be back with new episodes next year.
Stacey Dash seen with her kids 21 year son Austin (Father is Actor Christopher Williams) and 7 year old daughter Lola (Dad is Dash's Husband Brian Lovell). Stacey is 45 and she looks great I am quite sure she wont have a problem finding a date!!!
Kenan Thompson Gets ENAGAGED
Kenan Thompson is 33 now. And he just popped the question, according to Us Weekly, to his model girlfriend Christina Evangeline (pictured above). And they're getting married in less than a month--November 11th! From "All That" to all this. Damn time flies.
Christine says she doesn't call herself a model though, according to her twitter, because she only posed for 2 Maxim magazine layouts. She says she's got a degree and ambition. Alrighty then. She tweeted about Kenan: "He's my best friend. I could only be so lucky."
Deion Sanders Says He & Pilar DISCUSSED A Split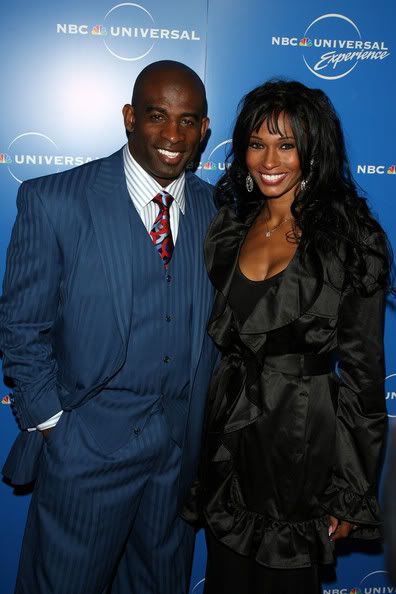 Deion Sanders is still speaking out about his non-divorce from wife Pilar. Rumors flew a couple weeks ago that the Hall of Famer turned NFL Network Analyst was filing for divorce. He shot down the rumors last week. But now, he tells TMZ he and Pilar were indeed discussing a separation, but he never filed the legal paperwork:
Prime Time says that he and Pilar are currently still together -- but in the process of figuring out "what's best for our future, our lives, and our kids."
Reports are circulating the two split after allegations Deion was unfaithful -- but Sanders tells us the infidelity rumors were nothing more than a failed extortion attempt.
As for why the marriage is rocky ... Deion explained, "it's not one isolated incident," adding, "sometimes you just grow apart."
Pilar previously appeared on the short lived "Football Wives" show on VH1.
Jay-Z Responds To Lil Wayne's Diss, "That's Sport, That's Rap Music"
Jay-Z has blown off any negativity between him and Lil Wayne after the Young Money head released a diss track bashing him and his wife Beyonce.
As previously reported in Wayne's"It's Good" he raps,
"Talkin bout baby money? I got your baby money...kidnap your b*tch get that how much you love your lady, money."
According to Jay-Z however it's no big deal and it's all just part of the game.
He tells MTV,
"That's sport, that's rap music. Nothing is going to change but the participants. I don't even see why that's news."
That's right Jay…You have BIGGER things to tend to!
T.I. & Akoo Host "A King of Oneself" Brunch
T.I. hosted his "A King of Oneself" brunch in Atlanta, GA. The event was sponsored by Ciroc, Beats By Dre, Akoo and MusicBusinessPolitics.
Attendees (150 guests) were treated to a bottle of Ciroc, an AKOO clothing gift, and selected guests received Beats By Dre headphones. Some in attendance was his wife Tiny, Nelly, Jeezy, Toya Wright, Jazze Pha, Heavy D, Sheree Whitfield, Kevin Lyles, Phaedra Parks, and amongst others. The guests consisted of family and close friends of the Harris' to this private event.
Jeezy is getting ready for that new album!!!!
Phaedra Parks and Apollo were in the building!!!
And NELLY!
During the brunch, guests were treated to a teaser of "Salute the King," a documentary, filled with videos submitted from T.I. fans around the globe. Aside from music, T.I. will be adding novelist to his credits. T.I., along with writer David Ritz, will release the book "Power & Beauty: A Love Story of Life on the Streets." The romance novel will be a fictional love story between Tanya "Beauty" Long and Paul "Power" Clay. The book will be released October 18th.
Looks like it was fun!
Woman Charged with Battery After Throwing a Bible at Her Son's Girlfriend Over Missing Jewelry
FORT WALTON BEACH — A Fort Walton Beach woman accused of throwing a Bible at her son's girlfriend was charged Sept. 25 with battery causing bodily harm, according to an Okaloosa County Sheriff's Office arrest report.
The younger woman told deputies she had been arguing with her boyfriend's mother when the woman "picked up a Bible and threw it at her." She said the Bible struck her in the right eye, which was swollen and bleeding when deputies arrived, the report said.

The older woman said the argument was over some of her jewelry that was missing. She told deputies she wanted her son's girlfriend "out of her house because she was a thief." She said she struck the younger woman in the eye "accidentally" when she swung the book behind her, saying, "Get out of my face." The woman said her son's girlfriend was "in her face with a cell phone taking pictures" and recording her, the report said.
The woman's son told deputies that he saw his mother throw a Bible at his girlfriend during the argument from 10 to 15 feet away, striking her in the face. He said that he and his girlfriend and their children have been staying at his mother's house for the past month because they have no where else to go.
Is The Bible sacred anymore?

AND FINALLY FROM "THE CRAZY PEOPLE SHOPPING AT WALMART" FILES
"Breast In Show"
If not you, then who? Am I right people? – The answer to the question is likely a prison pen-pal boyfriend, but that really didn't rhyme so I ignored it.
MAY YOU AND YOURS HAVE A GREAT WEEKEND!!!
EFREM