OH IRENE, IRENE…MASSIVE STORM HITS EASTERN SEABOARD!
The destructive power of Hurricane Irene was revealed this morning with at least 12 people, including two children, reported dead as the storm lashed North Carolina and Virginia and barrelled its way toward New York, where it was downgraded to a tropical storm.
More than four million people from South Carolina to Connecticut were without power as the giant 580-mile-wide storm brought widespread flooding and high winds that knocked down power lines.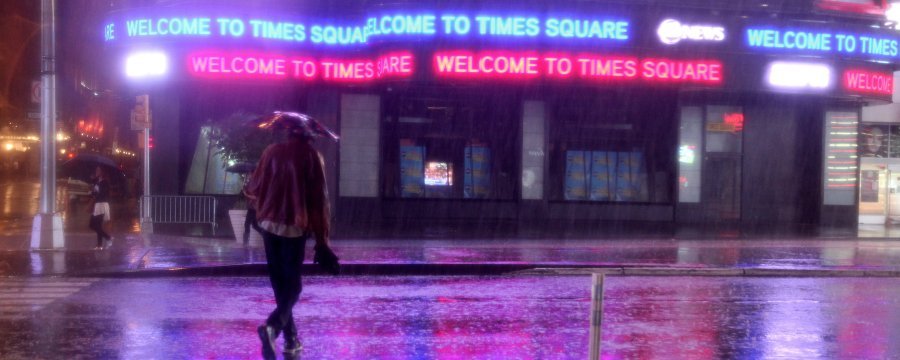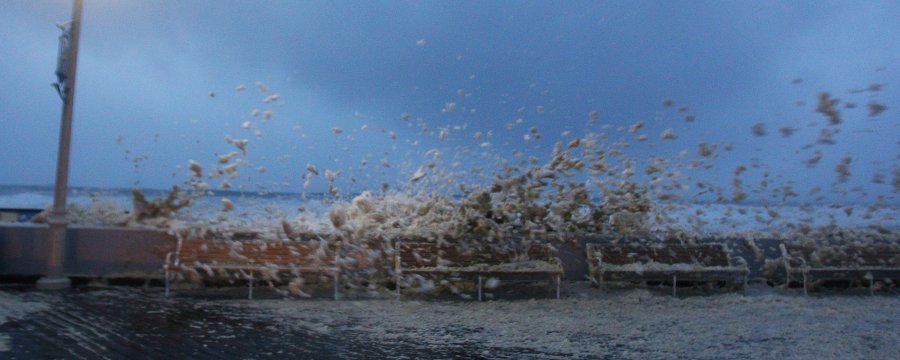 Irene was downgraded as it made landfall on Coney Island with wind gusts clocking in at 65mph while streets in lower Manhattan briefly flooded. But while fearful New Yorkers avoided the worst, forecasters warn rivers could see record flood stages as Irene heads into New England.
Deaths were reported in Connecticut, Maryland and Florida, five in North Carolina and three in Virginia, according to emergency officials.
Connecticut Governor Dan Malloy said state police were reporting one fatality that appeared to be related to the storm.
He told reporters: 'It does appear, through the initial report, that it is related to downed wires.'
In Florida, two men died in the rough surf as thrill-seekers braved hurricane force winds to take advantage of 10ft waves.
In Flagler County, 55-year-old tourist James Palmer of New Jersey died yesterday after family lost sight of him as he waded into the surf in North Florida. Mr Palmer was pulled to shore and his wife attempted CPR, but he was pronounced dead at the hospital.
Victim: Frederick Fernandez, 55, died yesterday off New Smyrna Beach, Florida after he was tossed off his board by massive waves caused by Irene
In Volusia County, 55-year-old Frederick Fernandez died yesterday off New Smyrna Beach after he was tossed off his board by massive waves caused by Irene. The Orlando Sentinel reports the high school teacher had a large cut on his head, apparently from hitting the sea floor. He was pronounced dead shortly after being pulled from the water.
'It appears he went over a wave and might have gone head first into the ground,' Tammy Marris, a spokesman for the Volusia County Beach Patrol, told the Daytona Beach News-Journal.
Ms Marris said the man was non-responsive and had a large cut on his head when emergency personnel examined him. He was transferred to the hospital and later pronounced dead.
A woman in Queenstown, Maryland died last night after a large tree knocked a chimney through the roof of her home, crushing her, according to Kevin Aftung, the chief of emergency Services for Queen Anne's County.
In North Carolina, one person was killed when a tree fell on a car driving down a highway in Sampson County.
A child died in a car crash at an intersection in Goldsboro, where the hurricane had knocked out power to the traffic light, Goldsboro Police Captain Anthony Carmon said. The crash occurred when a car carrying a family drove through the intersection and struck another vehicle, Carmon said. Several people inside the car sustained injuries.
A motorist died after he lost control of his vehicle and struck a tree in Pitt County.
A man in Nash County was killed outside his house after he was struck by a tree limb picked up by the strong winds.
And a man in Onslow County suffered a heart attack and died while boarding up his windows, according to the Charlotte Observer.
A man in Chesterfield County, Virginia died after a tree fell on his home, emergency officials said.
In Brunswick County, a tree fell across a car yesterday afternoon, killing 67-year-old James Blackwell of Brodnax. The driver was taken to the hospital with minor injuries.
And in Newport News, 11-year-old Zahir Robinson died after a tree crashed on an apartment complex. The boy and his mother were lying in bed just after noon when the tree pinned him, WVEC reported. Rescuers brought in a crane to remove the tree, WVEC said, but the boy was pronounced dead at the scene.
Governor Bob McDonnell called the boy's death 'tragic. Tornadoes were reported touching down in Delaware and Maryland. In Lewes, Delaware, governor Jack Markell said at least 17 homes had been damaged by a twister. In total, up to 40 houses were damaged in the town because of the storm.

The National Weather Service reported a tornado touching down in Nassau Station, Delaware, and Maryland State Police said there was an apparent tornado on the lower Eastern Shore of the state.
More than four million homes and businesses were without power on Sunday morning as Hurricane Irene continued to roar up the East Coast and took aim at the New York City area and New England.
Winds of up to 115 miles per hour whipped across the Eastern Seaboard, ripping power lines from poles and snapping trees in half. Hospitals, emergency call centres and other crucial facilities were holding up, but officials said it could get much worse as Irene churns north.
More than 1.3million of the homes and businesses without power were in Virginia and North Carolina, which bore the brunt of Irene's initial march. Maryland, Delaware and Washington, DC had about three-quarters of a million outages combined.
New Jersey and Pennsylvania each had about three-quarters of a million without power, and hundreds of thousands of other customers were in the dark in New York and Connecticut.
Officials in southern and mid-Atlantic states had warned of mass power outages, with some recalling the destructive Hurricane Isabel in 2003, and their predictions were confirmed after Irene moved over North Carolina as a Category 1 storm early Saturday.
New York's biggest utility, Consolidated Edison, said it could cut power to the city's most vulnerable areas if the storm causes serious flooding. Salt water and rain can damage electrical equipment.
ConEd operations chief John Miksad said the utility did not expect to cut power before the storm hits, but flooding on Sunday could bring a shutdown to areas including the southern tip of Manhattan. That would cut off power to major Wall Street institutions through parts of next week.The New York Stock Exchange has backup generators and can run on its own, a spokesman said. The exchange expects to open as usual on Monday morning, though it may change plans depending on the severity of the storm.
New York is regularly blasted by winter storms, but Miksad said this hurricane will be different. Irene's wind will pack a stronger punch than a nor'easter last March that knocked out power to 175,000 customers, he said.
ConEd has called in crews from as far as Colorado to help repair damage from the storm.
Spokesmen for the utilities yesterday Saturday that hundreds more crews from as far away as Alabama, Michigan and Quebec are ready to help out in Connecticut.
Officials noted that crews would not begin restoring power until conditions are safe. Hurricane-force winds are expected to hit the state later on Sunday morning.
Winds have already caused flooding and damage to many areas. North Carolina, Virginia, Maryland, New Jersey, New York, Connecticut and Rhode Island have declared emergencies. For the first time, New York City ordered people in low-lying areas to evacuate.
Power companies have called in several hundred workers from surrounding states to help. Crews were rushing out between bands in the hurricane, when the wind and rain ease. They're looking for damage first at towering transmission lines, where an outage could put an entire county in the dark.
Gasoline supplies fell as drivers filled up before leaving town or just topped off their tanks as a precaution before the storm hit. Pump prices rose about 3 cents per gallon overnight in New Jersey and Pennsylvania.

Refuelling barges waited out the storm off the coast, also causing gasoline supplies to fall. Widespread power outages could lead to fuel shortages as gas stations are no longer able to pump gas or have trouble replenishing their own gas supplies.
Ben Brockwell of the Oil Price Information Service, which tracks gasoline shipments around the country, said: 'Power is the lifeblood of oil supply on the East Coast.'
Some gas stations in New Jersey reported that they would run out of fuel. Those shortages could become more widespread.
Retail gas prices were mostly unchanged in many cities that are expected to be hit this weekend. Rules against price gouging at gas stations took effect throughout Middle Atlantic states. Authorities will be looking for stations that try to take advantage of panicked drivers.
Pump prices were up slightly overnight, as much as 3 cents per gallon, to $3.44 in Philadelphia and $3.49 in New Jersey's Atlantic-Cape May metro area. They seemed to hold in other areas, rising a penny or so on average in Maryland, Virginia and the Carolinas.

The Colonial Pipeline, which transports gasoline and other fuels from the Gulf Coast to the Northeast, stopped fuel deliveries to Selma, North Carolina, and to Virginia's Tidewater area as the storm knocked out power. Pipeline spokesman Steve Baker said the pipeline may cut off deliveries further in Virginia and Maryland as the storm moves north.
Refineries, which make fuel from oil, have started to slow operations as Irene approaches.
OPIS says East Coast refineries will cut operating rates 10 to 25 percent in the next few days. Refineries in the Gulf Coast and the West should be able to keep supplies flowing to the rest of the country.
Refineries along the Louisiana Coast produce more than three times the gasoline and fuel of their East Coast counterparts, according to the Energy Information Administration. East Coast demand is going to fall as businesses close and people hunker down at home.
Irene came ashore near North Carolina's Cape Lookout around 7:30am EDT, and then chugged up the coast on a north-northeast track.
The hurricane stirred up seven-foot waves, and forecasters warned of storm-surge danger on the coasts of Virginia and Delaware, along the Jersey Shore and in New York Harbor and Long Island Sound.
Across the Northeast, drenched by rain this summer, the ground is already saturated, raising the risk of flooding as well as the danger of trees falling onto homes and power lines.
Eastern North Carolina got 10 to 14 inches of rain, according to the National Weather Service. Virginia's Hampton Roads area was drenched with at least nine inches, with 16 reported in some spots.

By late Saturday night, the storm had sustained winds of 80 mph, down from 100 mph on Friday.
That made it a category 1, the least threatening on a 1-to-5 scale, and barely stronger than a tropical storm.
New York governor Andrew Cuomo doubled the number of National Guard soldiers deployed to New York City to 1,900 on Saturday night before Irene made landfall on Coney Island before it was downgraded to a tropical storm mid-morning on Sunday.
surge, high tides and 6 to 12 inches of rain.
Troops, who have been mobilised from across the state, will assist with traffic control on bridges and tunnels, sandbagging operations at the World Trade Center site, evacuation shelter operations in New York, the construction of barriers for railway yards and train tunnels, and other hurricane emergency efforts. The city's public transportation system - the nation's larges - was shut down for the first time in history at noon on Saturday, leaving many of 370,000 New Yorkers ordered to evacuate their low-lying homes questioning how to get out of the commuter city.
Pennsylvania governor Tom Corbett warned that the state would not necessarily be out of danger once the storm has passed: 'The rivers may not crest until Tuesday or Wednesday. This isn't just a 24-hour event.'
Irene was the first hurricane to make landfall in the continental United States since 2008, and came almost six years to the day after Katrina ravaged New Orleans on August 29 2005.
Experts guessed that no other hurricane in American history had threatened as many people.
North Carolina governor Beverly Perdue said Irene inflicted significant damage along her state's coast, but that some areas were unreachable because of high water or downed power lines.
'Folks are cut off in parts of North Carolina, and obviously we're not going to get anybody to do an assessment until it's safe,' she said.
At least 2.3million people were under orders to move to somewhere safer, though it was unclear how many obeyed or, in some cases, how they could.
Defense Secretary Leon Panetta told 6,500 troops from all branches of the military to get ready to pitch in on relief work, and President Barack Obama visited the Federal Emergency Management Agency's command centre in Washington and offered moral support.
'It's going to be a long 72 hours,' he said, 'and obviously a lot of families are going to be affected.'
In Philadelphia, Mayor Michael Nutter declared a state of emergency, the first for the city since 1986, when racial tensions were running high.

'We are trying to save lives and don't have time for silliness,' he said.
The storm arrived in Washington just days after an earthquake damaged some of the capital's most famous structures, including the Washington Monument.
Irene could test Washington's ability to protect its national treasures and its poor.
In New Jersey, the Oyster Creek nuclear plant, just a few miles from the coast, shut down as a precaution as Irene closed in. And Boston's transit authority said all bus, subway and commuter rail service would be suspended all day Sunday.