Halle Berry's Bikini Beach 45th Birthday Celebration

Certainly still fabulous at forty-five, Halle Berry celebrated her birthday at the beach in Malibu, California on Sunday afternoon (August 14).

The Oscar-winning actress was joined by boyfriend Olivier Martinez, daughter Nahla Aubry and a few close friends during the shoreside festivities.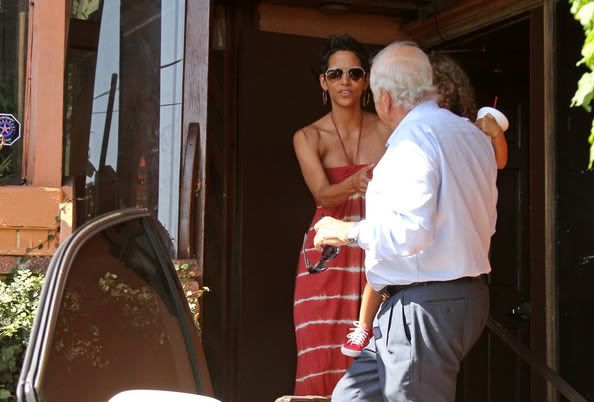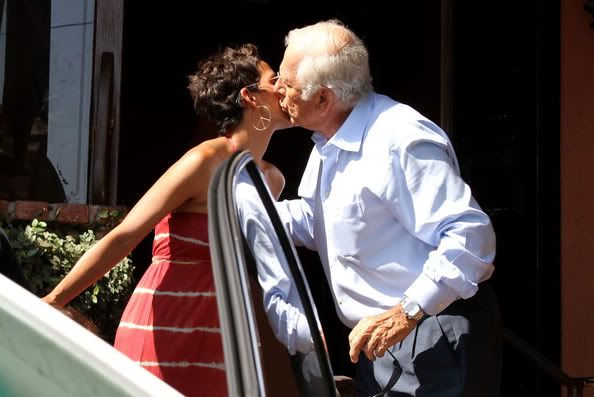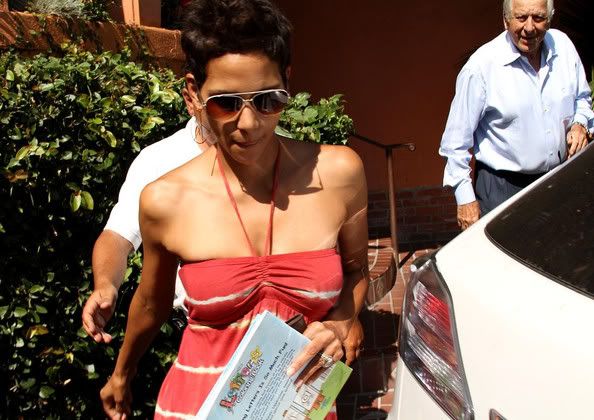 Clad in a peach two-piece swimsuit, Miss Berry seemed to be having a marvelous time as she spent some one on one time with Nahla in between sipping on cocktails and frolicking about the sandy beach with her loved ones.

Adding a little excitement to the gathering, one of Halle's gal pals got a little bit frisky while grabbing ahold of the gorgeous actress and tossing her into the cool waters.
Cee Lo Blasted by Twitter Groupie
Cee Lo's Twitter jump-off exposes his freaky sex life...
Taylor Jackson, a 25-year-old dancer, tells The National Enquirer
"I was in love with Cee Lo and I would have done anything for him. I met him through Twitter, and I realized later that's how he meets all his girlfriends. As for the romance, "it was great in the beginning, but it got to be too much very quickly," Taylor claims. "Cee Lo loved to drink Patron tequila and take the drug Ectasy. He'd get so wasted that he'd get physically ill. One time he threw up all over hiself, the bed and the nightstand. It was nasty, but I cleaned up the bedroom mess -- and him too!" When he got high...[he] wanted weird sex, she said. "Cee Lo also asked me to have group sex with him and other girls a number of times, but I always said no," Taylor claimed. And according to Taylor, the 5-foot-7, 217-pound singer's appetite for food was even bigger than his sex drive. "Cee Lo would devour whatever you put in front of him," she noted. "He was constantly gobbling lamb chops, cheeseburgers and fried chicken."
MMMM Enough said!
The Game Says It Wasn't Him that Punked the Sheriff
*Jayceon Terrell Taylor a/k/a The Game says it's unbelievable that authorities want to charge him for allegedly inciting people on Twitter to harass the L.A. County Sheriff's Department. He's claiming he never sent the tweets in question.
But it looks like it's gonna take a lot more than that to calm down Sheriff Dept. officials who are crazy livid after a tweet went out from the rapper's twitter account urging people to call the Sheriff's substation in Compton to get an internship, reports TMZ.
But The Game says he didn't write the tweet in question. Game says he was in the middle of a photo shoot Friday night when a childhood friend of his — whose Twitter handle is @wackstar — began going to town on The Game's phone … typing in five phone numbers and calling people to action.
The Game insists his friend had no idea one of the numbers went to the Sheriff's Department. The Sheriff's claim that once their office was flooded with phone calls they asked The Game to call people off — but Game says he never received the message. As he put it, "They don't have (my) number and I'm not following the police."
As for the police wanting to have The Game charged with a crime, he says, "Casey Anthony can get away with murder and The Game goes to jail for tweeting. God bless America."
Update …
Capt. Mike Parker from the L.A. County Sheriff's Dept. tells TMZ that Game's explanation doesn't close this case just yet:
"We find the rapper's alleged comments in news media reports and on Twitter interesting and relevant, including who he says is actually responsible."Capt. Parker wants Game to contact the Sheriff's Department so they can sort things out. Until then, Capt. Parker says, "The investigation continues."
Tami Roman Tells Rolling Out Magazine Who She Really Is
One of the realest basketball wives known to date, Tami Roman, has recently covered Rolling Out Magazine. In the magazine we see a new side of Tami with a different hair color as well as longer straight tresses opposed to the normal curly black hair we see her with. We also see another side of her in the interview she gives the popular magazine. She makes it clear to readers that while she may come off as the chick that's always ready to pop off on somebody, there's more to her.
She mentions her charity, her mother, and her dude (I wonder who that is???). All of these things are true because the only mention we got about Tami's charity was when she went off on Evelyn for insinuating that money from the non-factor shirts could go to her charity.
Other than that, we don't see Tami with her family, her boo, or her charity. Glad Ms. Roman got to clear things up a bit. In the interview she also mentioned that she is about to become an author. Hopefully the book will bring light to who the REAL Tami Roman is and not what the producers of Basketball Wives have us to believe.
It's great to hear Tami finally get to reveal her perspective on things. Not to mention, she looked great in her photoshoot with the magazine. What's your take on the REAL Tami?
Miss Rihanna is off to Europe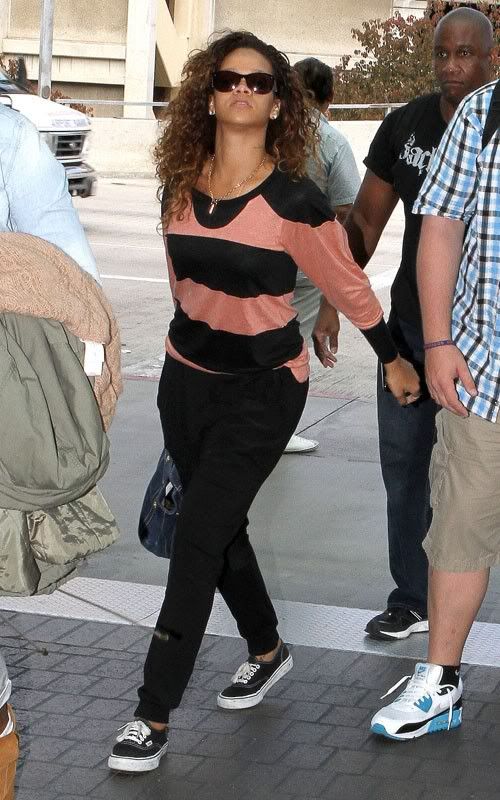 Jet-setter Rihanna was spotted arriving at the airport yesterday for a flight to Europe.
She wore some comfy slacks, a peach and black striped sweater, and a pair of sneakers for the international flight. Rih Rih's on her way to perform at the On The Beach festival in Helsinki on Monday.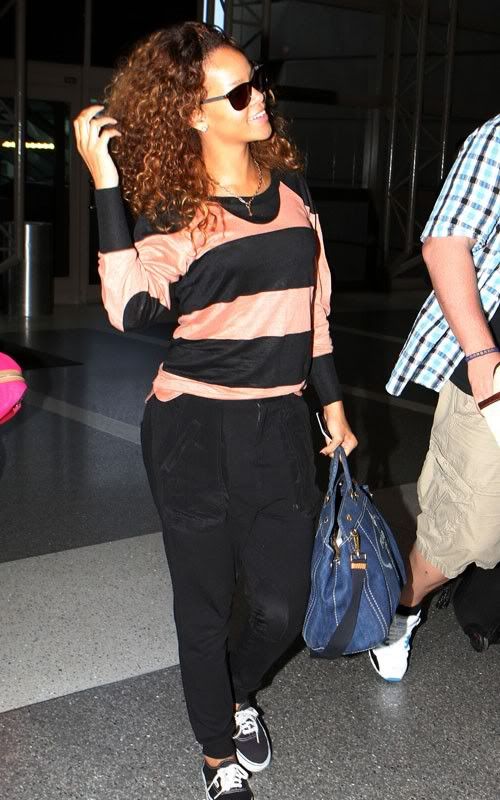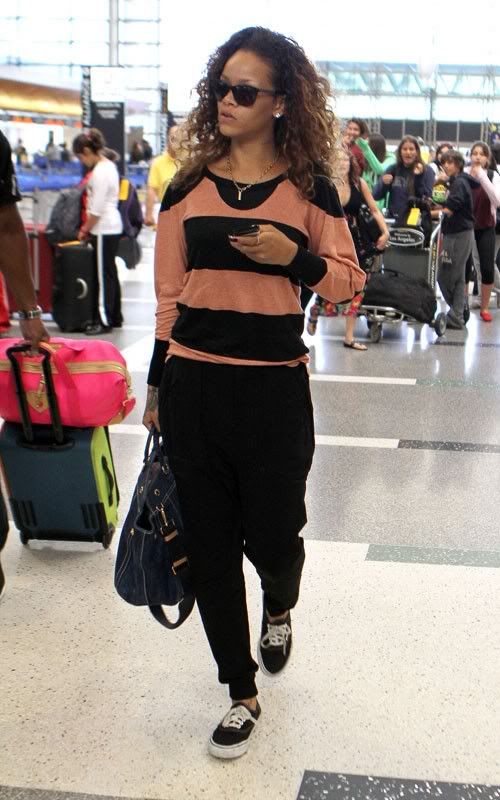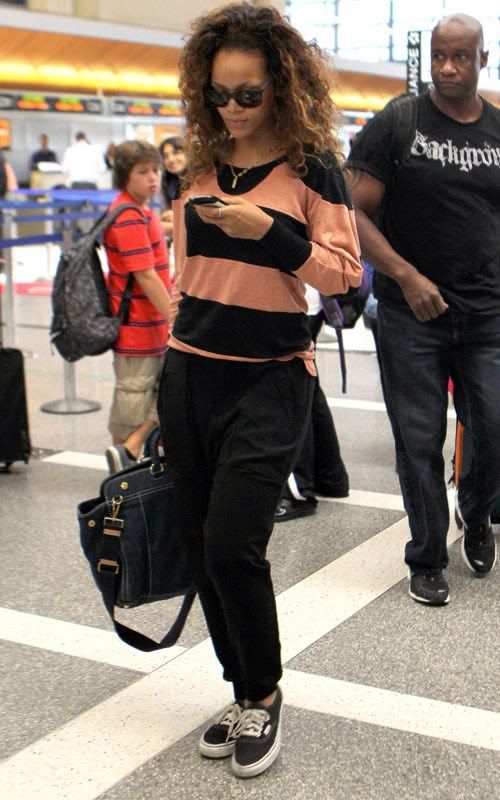 Then it's off to the Bergen Calling festival in Bergen, Norway on Wednesday before her performance at the V Festival, in the UK, later in the week.
Boo'd Up ~ Usher Raymond & Grace Miguel in NYC…
Usher Raymond side-eyed the paparazzi, as he spotted they lurking while he was having lunch with his boo Grace Miguel at 'Pastis' Restaurant in the Meatpacking District in Downtown, Manhattan.

The "OMG" crooner then decided to go into full superstar mode by rocking his shades and reading a newspaper… so (you know) no one else would recognize him.
IncogNegro…. Ladies Are you a cougar looking for a cub? What do you think of this older woman/younger man trend?
Johnny Gill Sued Over Twitter Tantrum
Remember last month when Johnny Gill went off on his record label for releasing a song he didn't approve of Yeah well Johnny's going to have to pay for that...


Ira DeWitt, producer and CEO of Notifi Records and the target of Johnny's anger after one of his songs was leaked, is suing Johnny for trashing her on Twitter.
From TMZ
According to the lawsuit, filed Thursday in L.A. County Superior Court, DeWitt claims she had nothing to do with the leak -- but Gill attacked her on Twitter anyway ... calling her "deranged" and "f**kng nuts."
DeWitt also claims Gill tweeted defamatory statements about her business ... saying her record company is a sham and that she only liked the leaked recording because she had a "hard on" for one of the song's producers.
DeWitt claims Gill has damaged her reputation -- so she's suing for unspecified damages ... AND she wants the judge to force Gill to stop trashing her on Twitter.
5
0 Cent Mad at Interscope and Threatens to Leak Dre Joint
*50 Cent is very upset right now and has threatened to do some irrational things.
The rapper, who has long delayed his fifth album, "Black Magic," is in search of a label.
After confirming a release date in November 2011, it looks like he won't be making that deadline. In a Twitter rant he bad-mouthed his label, Interscope, adding he's not going to release the album.
"Man I'm not releasing a album i can't believe Interscope is this f—ed up right now. I apologize to all my fans," he wrote. "They dropped the ball with me one time to many."
In his frustration, he claims to have leaked a single "I'm On It" and also threatened to leak Dr. Dre's new single, "Psycho."
"I LOVE DRE but I'm putting his next single psycho out tomorrow at 2:00″ the frustrated rapper continued. "Your [sic] gonna love it its a big song I just don't think it deserves a great set up sense [sic] they can't seem to get it right when it comes to me."


Then he changed his mind after calming down a bit. And came back with a more reasonable rant.
"I wouldn't leak dre's record he has done nothing but help me in my career. jimmy has always been supportive of me," 50 conceded, before urging fans to check out his leaked single. "I hate when I can't present my music the way I feel it should be but f— it check out I'm ON IT."
Sherri Shepherd and Larry Sally Just Got Married
The View co-host Sherri Shepherd married Larry Sally in Chicago! The event took place in the Fairmont Hotel. Stealing the show a little bit was Joy Behar, who married her boyfriend of 29 years two days before, but I'm sure that Sherri didn't let that stop her.
While waiting to walk down the aisle, Sherri tweeted:
and
Sherri was given away by her 6-year-old son Jeffrey and her bridesmaids included The View co-host, Elisabeth Hassleback, Niecy Nash and Community's Yvette Nicole Brown.
The Style Network plans on airing a behind-the-scene look at the wedding on September 13 on "Wedding Fabulous: Sherri Shepherd Gets Married."
The 9th Annual Ford Hoodie Awards
BET personality and actor Terrence J suffered a "wardrobe" malfunction in front of Tichina Arnold, Tisha Campbell, Steve Harvey at others at the hoodie awards in Las Vegas.
It looks like Toccara Jones got the best of Terrence J at the 9th annual Ford Hoodie Awards at the Mandalay Bay Events Center in Las Vegas, Nevada. Sorry about the t-shirt Terrence!
Before the malfunction, Terrence J looked dapper as he hit the blue carpet with Will Packer.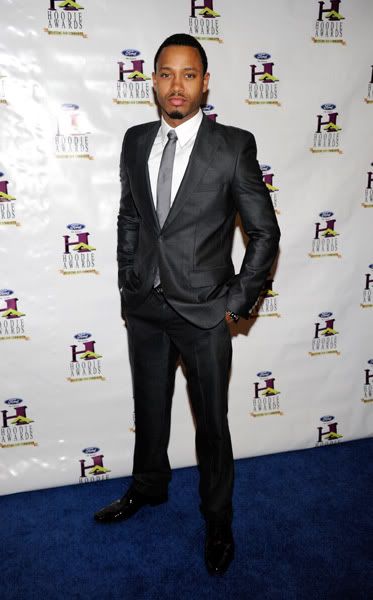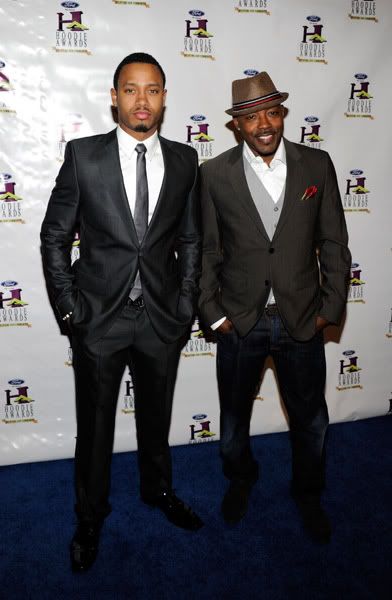 The star of "Happily Divorced", Tichina Arnold, looked great in her printed dress.
"The Ultimate Merger" star, Toccara Jones, also looked great.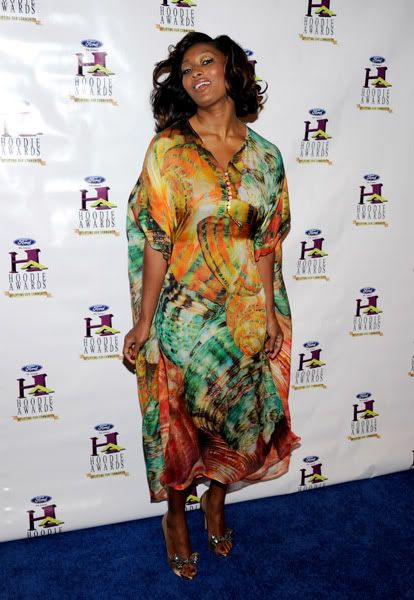 LeToya Luckett was there looking white hot....with Hill Harper in the background.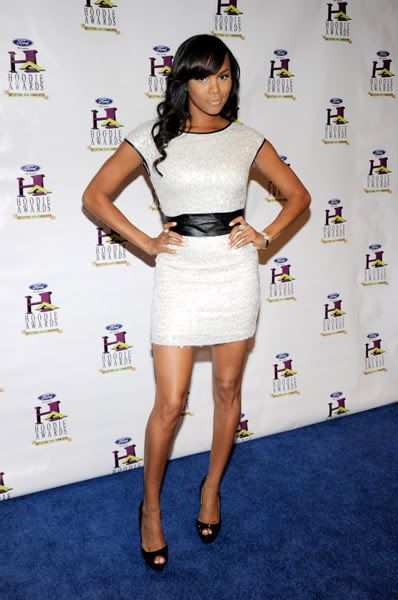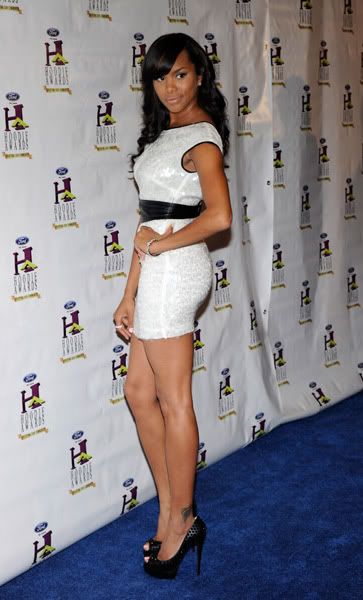 The awards were hosted (again) by comedian and author Steve Harvey...who showed that he is still in shape!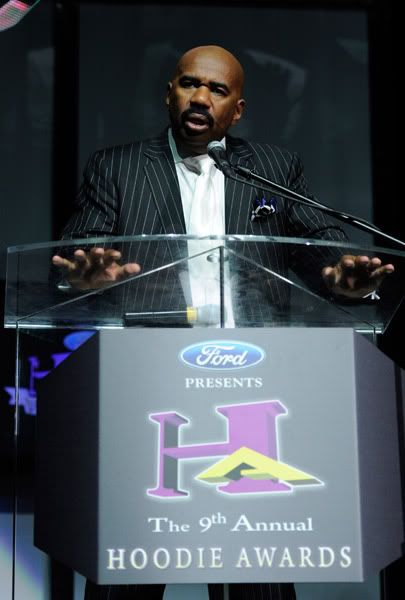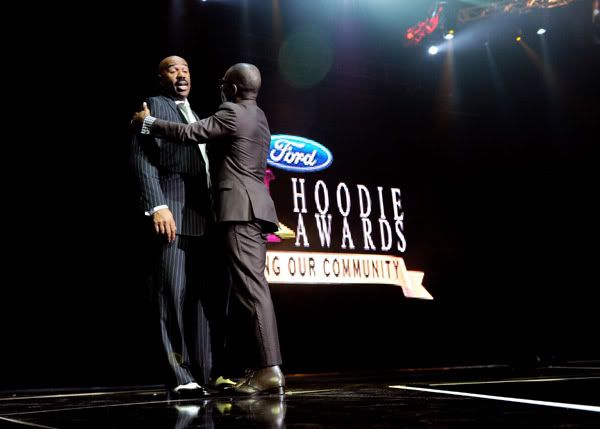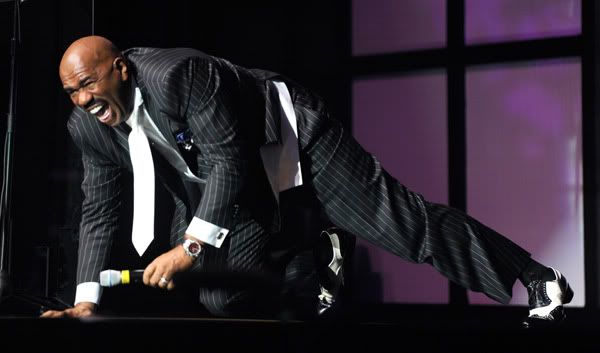 His wife Marjorie Harvey was there of course in a black evening gown.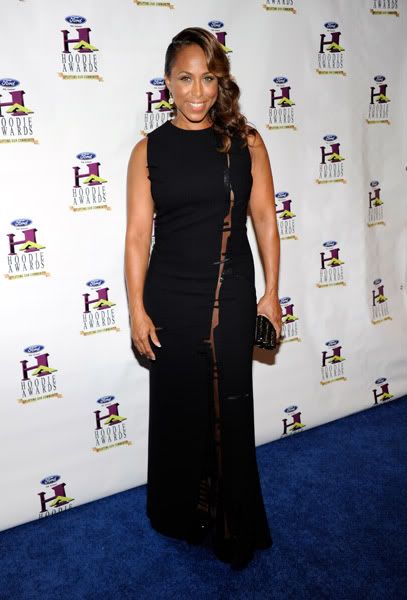 Kirk Franklin attended with his wife Tammy Collins.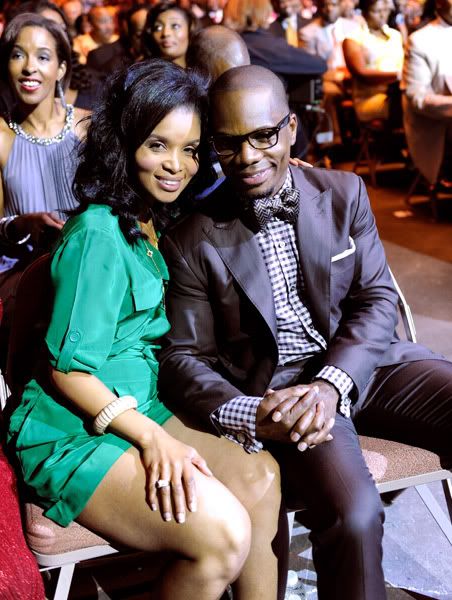 Tisha Campbell-Martin looked fab in her blue dress.
Tisha also posed with Marvin Sapp and she and Kirk presented an award together.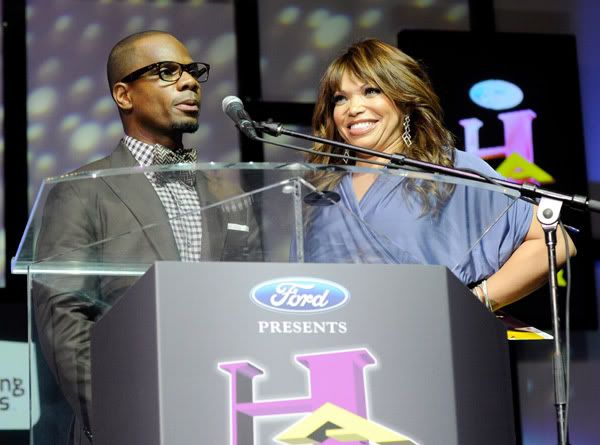 Funnyman Kevin Hart attended with his new chic.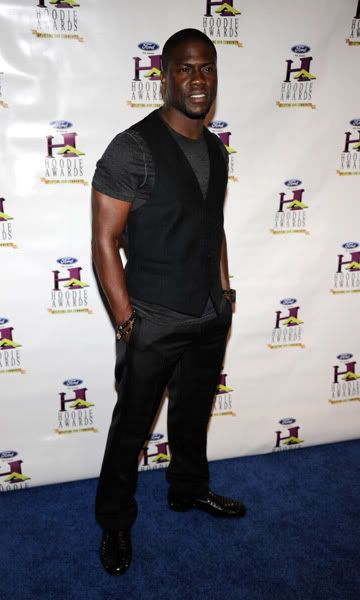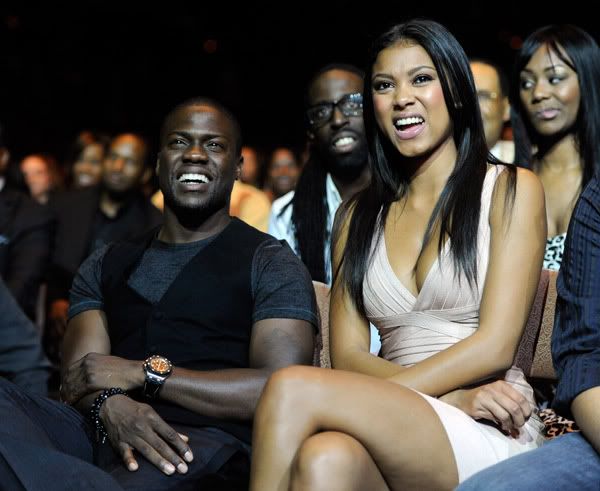 He also posed with Shawn Lollie, Multicultural Marketing Manager at Ford.
Jill Scott performed "So In Love" with Anthony Hamilton for the event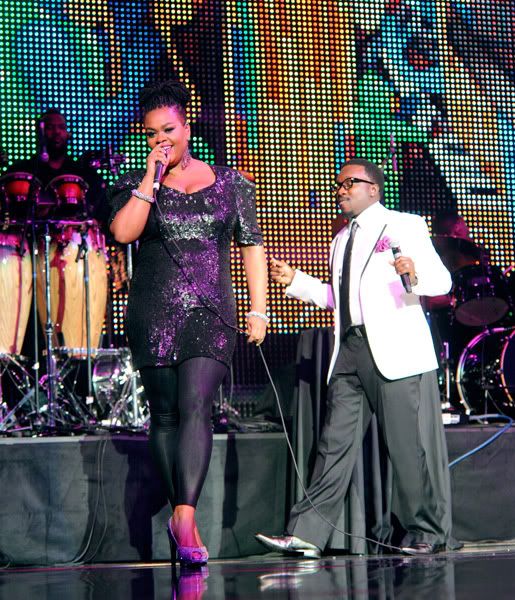 Author Hill Harper received some "assistance" to get off stage.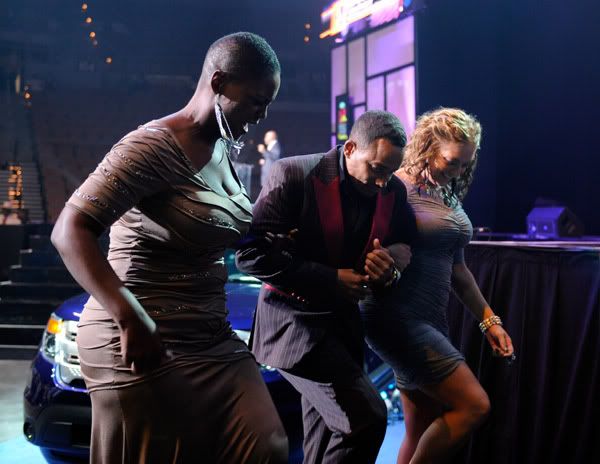 Actress Tamara Tunie was there looking younger than ever.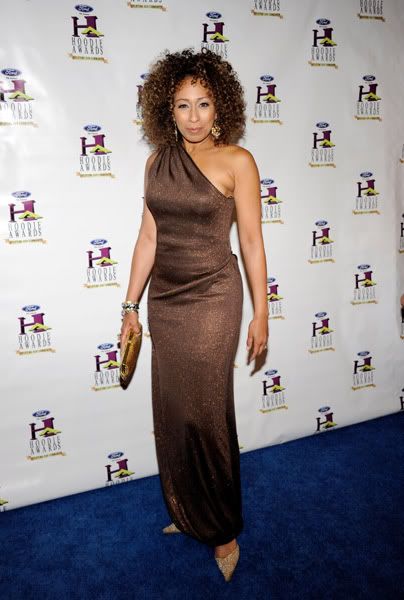 Sheryl Underwood in this red beaded gown.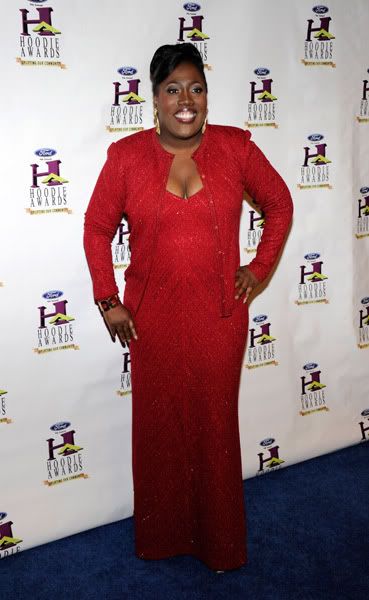 Not loving it at all...
"Authoress" Toya Wright was there.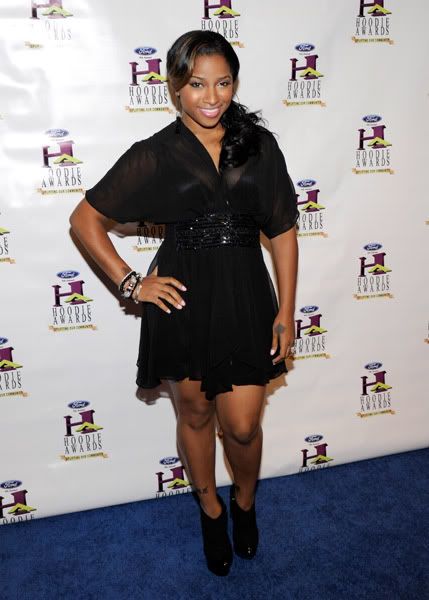 Debbi Morgan posed with Jeffrey Winston.
Actor brothers Kyle and Chris Massey were there.
Leslie Gordon posed with her husband, journalist Ed Gordon.
Steve's morning show cast Shirley Strawberry posed with George Wallace.
Sommore, Nia Long's half-sister, was there too looking beautiful.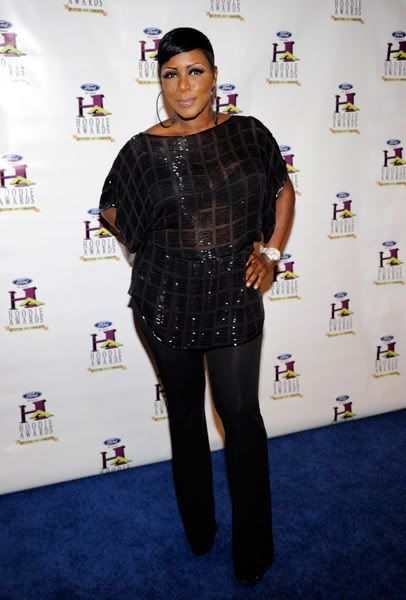 Where you been girl?!
NBA Player Kendrick Perkins Gets Drunk, Acts A Fool & Gets Arrested

*According to online reports, NBA center Kendrick Perkins was arrested early Saturday morning on charges of public drinking and disorderly conduct in his hometown of Beaumont (Texas), according to authorities there.
Perkins, 26, was taken to Jefferson County Correctional Facility at 4:17 a.m. and released four minutes later, according to a jail official who declined to identify herself, reports the Boston Globe.
Perkins, who formerly played for the Boston Celtics and now for the Oklahoma City Thunder, posted $150 for each charge, jail officials said.
Here's what went down: police were called to a club in the city after Perkins arrived with a large group of people and became belligerent, according to Beaumont Police Sergeant Mark Levy.
"He got drunk and wanted to fight everybody," Levy said.
His friends tried to calm him down and get him out of the club, but Levy said Perkins refused.
"He was his own worst enemy," Levy said.
The charges are minor, Levy said, and rise only to the level of a misdemeanor.
Atlan
ta Suburb (Jonesboro) Bans Saggin' Pants
If Soulja Boy and Bow Wow were to walk down the street with this gear on, they would likely be ticketed for "Disorderly Conduct" in the city of Jonesboro!
The Jonesboro City Council has approved an ordinance banning sagging pants, joining other Georgia cities which have already outlawed the practice….

The ban stipulates that anyone who wears pants, shorts and skirts more than three inches below their hips can be cited for "Disorderly Conduct," and, therefore, have to appear before the city's municipal judge and pay a fine. The ban comes hot on the heals of a similar one adopted last month in the City of Hampton.
Monday, officials in Jonesboro approved the ordinance in a 5-1 vote, but only after residents and councilmembers engaged in a nearly 20-minute-long debate that exposed heated, and passionate views on the topic.
"I don't think that anyone has a right to force their opinions on what constitutes decent fashion on anyone else," said Jonesboro resident, Dalton Smith.
"I would call it fashion fascists. I don't think it's necessary to legislate against this … If you vote for this ban, I know it's a very minor issue, but in the spirit, it would be like the Pledge of Allegiance we just took earlier."
But Ann Sligh, an outspoken proponent of the ban, told council members the practice should be banned because it's indecent.
"I don't care what anybody says, it IS indecent exposure. It offends me, and I know it offends other people. It has never been a problem before. It has become a problem, and we have got to do something about it.


I told you, twice sitting on my mother's porch, I saw a boy's pants fall to his knees. If it's not offensive to these folks, I don't' know what it's going to take to offend you. Surely people like us still have some rights.
Officials in the Henry County town of Hampton recently passed a similar measure outlawing sagging pants.
I personally don't like the saggin' craze BUT it is a freedom of expression.
And while there are some of you who take that sh*t way too far, I, personally, still can appreciate a lil bit of looseness to allow for your ummm…. package.
To sag or not to sag? Who's side are YOU on?
IN TROUBLE AGAIN: "That's So Raven" Star Orlando Brown Popped For DUI
Remember when "That's So Raven" star Orlando Brown went "missing" a few years ago then turned up randomly saying he was just fine? Well he's in trouble again. This time for DUI.
Not sure what's been up with Orlando these last few years after "Raven" ended. But the Disney star decided to take a drive late last night in L.A. in a car without a license plate.
Once he was pulled over for no plates, cops realized Orlando and his car reeked of alcohol. After performing a sobriety test, Orlando failed and was taken into custody.
Interestingly enough, he was pulled over right in front of his house and his PREGNANT GIRLFRIEND was in the car. Say word?
TMZ reports, "Brown was booked at 12:38 AM at the famous Hollywood station on suspicion of DUI. He posted the $15,000 bail and was released at 7:42 AM on Saturday."
Damn Eddie....
AND FINALLY FROM "THE CRAZY PEOPLE SHOPPING AT WALMART" FILES
"Ooohh, We're Half Way There"
Excuse, can I "ass" you a few questions?
BYE BYE!!!
EFREM