Beyonce Sells Out in 22 Seconds
If you wanted tickets to the first of Beyonce's 4 shows in New York I hope you already got them...
The first night of Beyoncé's scheduled "4 Intimate Nights with Beyoncé" at the Roseland Ballroom sold out in 22 seconds.
The performances will be held on August 14, 16, 18, and 19 – with the tickets for the other performances going on sale throughout today.


Jennifer Hudson GOES HAM On A Fan Who Accuses Her Of Having Lipo & A "Gay Fiance"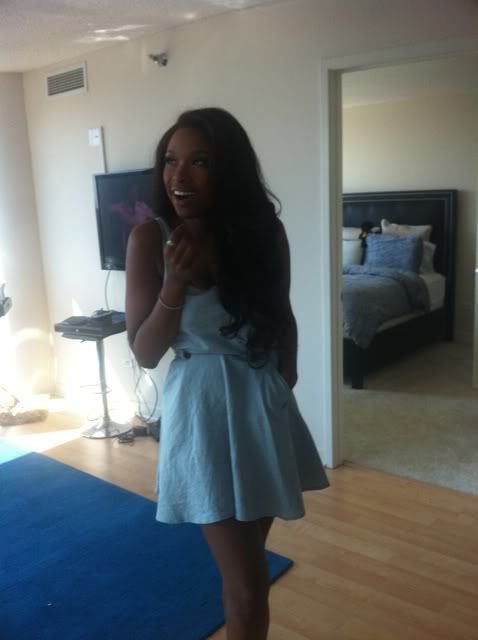 Don't tell Jennifer Hudson she got to an alleged size 0 (according to Joy Behar from "The View") simply due to liposuction. And definitely don't talk ish about her husband-to-be David Otunga. At least not on Twitter. Because chick will POP OFF.
Check out the fierce twitter fight J-Hud just had with a follower inside...
Jenny Hudson has always been a pretty much open book with her fans and followers, so when she was on a Q/A binge chatting with her followers today, one follower got under her skin with a certain question.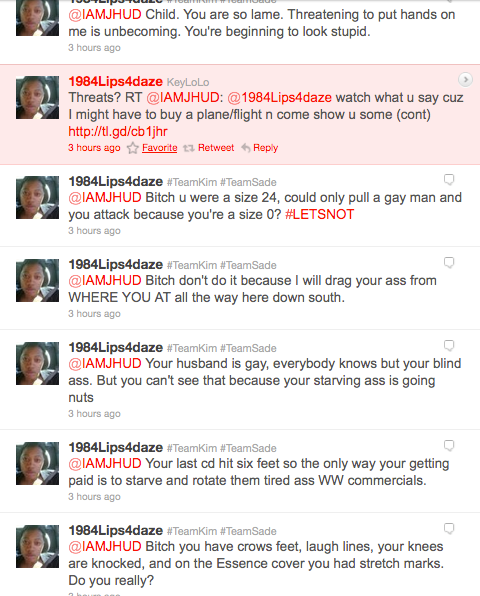 The follower asked, "Did you get surgery to assist in your weight loss? Or is it all weight watchers?"
Jenny's answer: Pls don't ask me no more dumb ass questions . If u try ww u would know u don't need any assistance . U people r so brain wash.
And after more insults/criticisms from the follower, Jen threatened to go Southside Chicago on that ass (read from bottom up):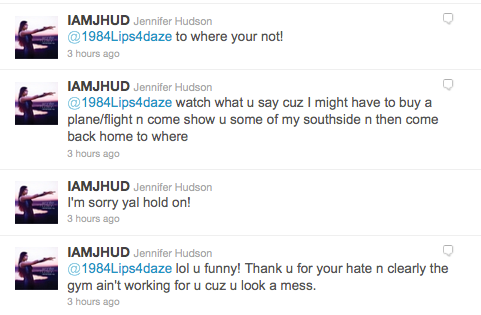 Oh, and it gets better. The follower responded calling her a malnutritioned bobble head, went off saying she could only get a gay man as a husband (even though she and David aren't yet married), amongst other things (read from bottom up):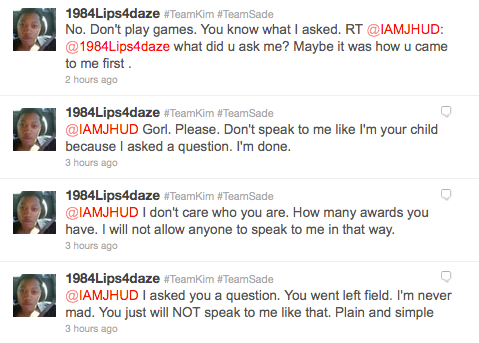 Twitter remains a celeb's worst enemy, and a bestie to a nosy chick like me.
On a happier note, J-Hud's munchkin David, Jr. just turned 2 yesterday. Here's pics from his birthday party...complete with a pony: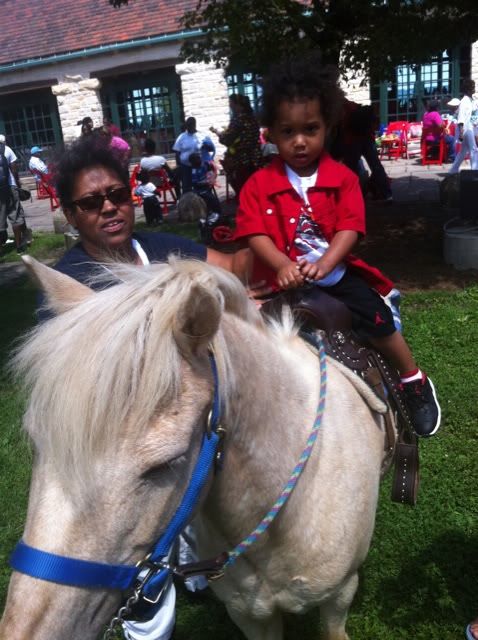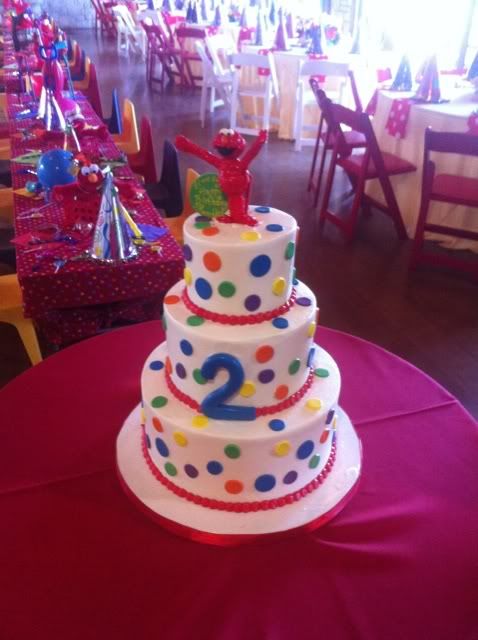 Artists Boycotting Michael Jackson Tribute?
Katherine Jackson has been sending invites asking artists to perform at a Michael Jackson tribute concert in October, but so far only one has agreed...
Mrs. Jackson invited Kanye West, Jay-Z, Bruno Mars, Chris Brown, Justin Bieber, Cee-Lo, Christina Aguilera, and Usher. So far all have declined except for Cee-Lo.
Artists aren't the only ones dissing the tribute, either. While Jermaine, Jackie and LaToya are behind the concert 100%, Randy and Janet think it's in poor taste to stage the concert before the involuntary manslaughter charges against Michael's last doctor, Conrad Murray, have been resolved, and they've both been vocal about their opinions.
Dr. Conrad Murry's trial is set to begin in September

.
'I love you daddy': Prince, Paris and Blanket's personal tributes to father Michael Jackson as they unveil his charity artwork
They may have lost their famous father more than two years ago, but Michael Jackson's children are clearly determined to keep his memory alive.
Prince, 14, Paris, 13 and nine-year-old Blanket today unveiled artwork by the singer, donated to the Children's Hospital, Los Angeles.
They were joined by their aunt LaToya and grandmother Katherine to the ceremony which saw 13 pieces of artwork containing personal tributes from the singer's children.
The pieces were all signed by the late King of Pop and included a photograph of him. Sketches included one of Mickey Mouse, a throne and a drawing of Jackson icon Peter Pan.There was also a drawing of his famous moonwalk.
His children, whose faces were once so long hidden by their protective father, seemed relaxed in the public eye.
Fast growing teenagers Prince and Paris towered above LaToya and Jackson's mother Katherine who wore a bright orange jacket.
Prince looked grown up in a all black outfit and kept a pair of sunglasses on throughout the ceremony.
Paris wore a peach coloured top under a white waistcoat, while her aunt LaToya sported a boxy white jacket over slim fitting trousers.
The works were donated by Brett Livingstone-Strong, an artist and friend of Jackson's.
'I think if Michael was here today, he would be so thrilled,' he told the assembled guests.
'I believed his talent flowed over to become an incredible artist himself. He often dreamed of having an exhibit.'
The children had written some personal messages on the paintings, with Blanket penning a note which read: 'My father's art and music always make everyone happy.'
It ended with a poignant: 'I love you daddy. The singer's sister, La Toya said she thought the art will bring joy to children at the hospital.
'You look at this, it makes you happy,' she said at the ceremony.
'They're whimsical, they're magical and there's just joy and peace.
'I know that when you see this and the kids see it, it will bring some type of joy to them, and at the same time, I know it will bring joy to my brother as well.'
If you're in Chicago……Byron Cage To Record Live Album in Chicago on August 13th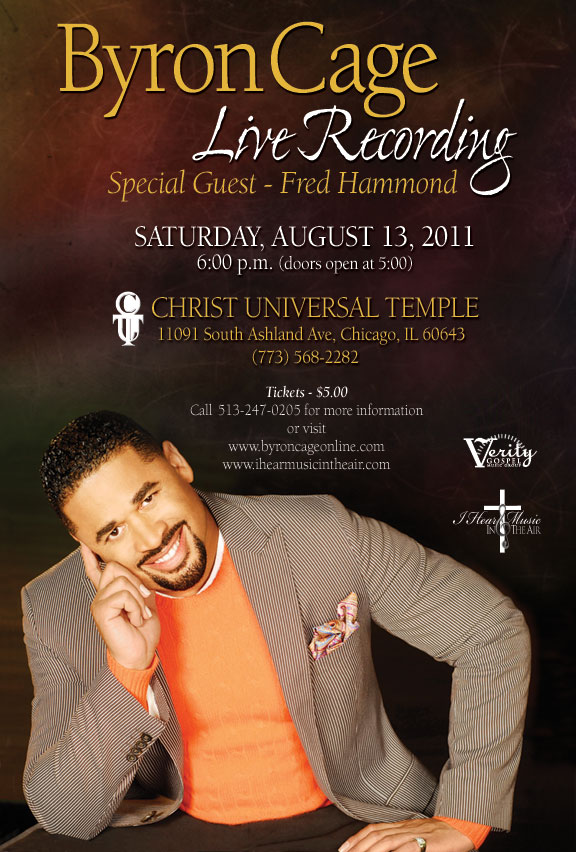 Byron Cage will be recording a new album LIVE in Chicago on Saturday, August 13th at 6:00pm (doors open at 5pm) at Christ Universal Temple.
Not much has been announced about it beyond the fact that Fred Hammond is among the artists slated to make a guest appearance. Should be good!
Tickets are just $5 and can be purchased NOW at http://byroncageliverecording.eventbrite.com/.
Christopher 'Kid' Reid Busted for Outstanding Warrant
The details are now in regarding Christopher "Kid" Reid's arrest Tuesday morning.
The outstanding warrant was tied to a drunk driving case he caught in 2010. Specifically, his blood alcohol level was twice the legal limit when he was pulled over last July, and on top of that, he didn't make his follow-up court dates.
Upon being released Tuesday evening, Reid stated that this was all just one big clerical mess-up on the part of LAPD.
Kim Kardashian's Star Studded Guest List
Kim Kardashian has added Jay Z and Beyonce to her wedding guest list.
Kim Kardashian plans on making her wedding to Kris Humphries the biggest event of the year, and RadarOnline.com has exclusively learned some of the A-list celebs she's invited to ensure it's a hit.
"I know Jennifer Lopez and Justin Bieber are invited", a source close to the wedding told RadarOnline.com.
"Will Smith and Jada will be guests, and of course Ryan Seacrest and Eva Longoria."
According to our source, the invites for the wedding went out last week and other superstars on the list included Kanye West, Jay-Z and Beyonce.
"It's going to be a really big and plush wedding," the source said.
"Kim wouldn't have it any other way!"
The wedding is scheduled for later this month in Montecito, California.
Label Whores: Rihanna in Missoni Aden Crochet Pants
Rihanna was spotted on the beach in Barbados wearing a pair of Missoni Aden Crochet pants ($737).
These multi-colored crochet fabric pants feature an elastic band waist and leg cuffs. Do you like Rihanna's look?
LeBron James is a Cheap Skate
If you wait tables for a living and happen to serve LeBron James do not expect a tip.

LeBron James isn't known for being generous with servers , but this is just plain old ridiculous…The Miami forward and his posse didn't earn much good will after they reportedly stiffed their servers during a recent trip to Las Vegas..Here's the scoop: "People at the Cosmopolitan said when Chris Paul had his bachelor party here last month, he had LeBron in and the whole gang," Clarke said. "They were comped well into the morning. The word is that they never left a tip for any night that they were out getting comped. We've heard that about LeBron, that's been common."
Jesse Says the Obama 'Excitement' is Gone
*Well, this is pretty interesting. In an interview with German mag/website, Spiegel, Jesse Jackson discusses black America's frustration with Barack Obama and the president's failure to anticipate the Republicans' tenacious will to "destroy" him. Check out some excerpts:
SPIEGEL: When was the last time you spoke to President Barack Obama?
Jackson: It has been a while.
SPIEGEL: But you were one of his early mentors in Chicago and the picture of your public tears in Chicago's Grant Park after his election victory in 2008 went around the globe. How would you describe your current feelings about his presidency?
Jackson: At that moment in Grant Park, we were finally winning, but I was reflecting on the long journey, the many years of struggle for civil rights. Obama ran the last lap of a 60-year campaign. I thought of all the bruises we endured during this campaign and I thought of Dr. Martin Luther King and wished he had been there just for 20 seconds to see how 60 years of struggle suddenly paid off. Sure, some layer of the excitement of that night is go

ne.
SPIEGEL: Is it true that even among African-Americans Obama's standing has suffered?
Jackson: We blacks were the first people embracing Obama, long before the people at expensive fundraisers were supporting him. We gave him his first love, 96 percent of blacks voted for him in 2008. Yet today we are the number one in unemployment, with 16 percent of American blacks out of work. We are number one in foreclosure, number one in short life expectancy, in loan default. Big banks steered their toxic products toward minorities and Congress did not oversee them properly because it is basically corrupted by all the money it is raising on Wall Street. So there is a lot of pain here in our community and this pain must be addressed.
SPIEGEL: During the recent negotiations on the debt ceiling Obama agreed to billion dollar cuts in public spending and received no tax increases in return from the Republicans. Is he too willing to compromise?
Jackson: I think he sometimes underestimates the force of the other side, how tenacious they are in their ideology. A few weeks ago, during the debt ceiling negotiations, Obama went golfing with John Boehner, the Republican speaker of the House. Afterwards, they said their differences are not ideological, not philosophical. Really? If Republicans say they want to cut public spending drastically, they want to cut social security and Medicare and the social safety net for poor and working families, and cater to the wealthiest Americans, then that is a different philosophy. If the Tea Party is determined to kill the New Deal and Great Society programs we won in the past, that is a different ideology. And if the right wing of the Republican party is determined to shield themselves from tax obligations or to fight the Civil War again by pushing voter suppression legislation to take away minority voting rights across the country, that is also a very different ideolo

gy.
SPIEGEL: So Obama needs go get tougher?
Jackson: He underestimates how ideological the other side is, and how determined they are to destroy him, even when their actions harm the nation's economy and millions of people. I think reconciliation is Obama's goal — but the fight with the Republicans is like a fight with pit bulls, they never let go. Even worse, now the Republicans feel they can keep pushing and he will keep giving.
According to Jawn Murray…………..
Please stay tuned for further details
Keri Hilson PARTIES IT UP In ATL During Tour Break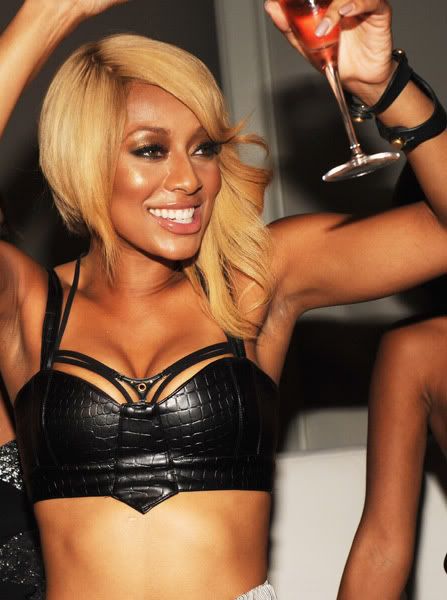 While on a break from her tour with Lil' Wayne's "I Am Still Music" show, Keri Hilson partied in ATL at Mansion. See Keri kicking it in her hometown inside....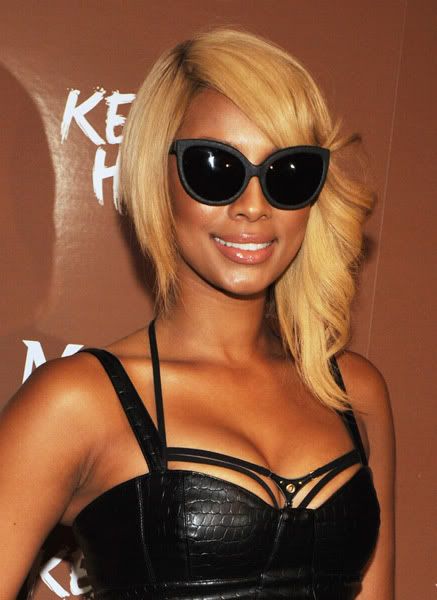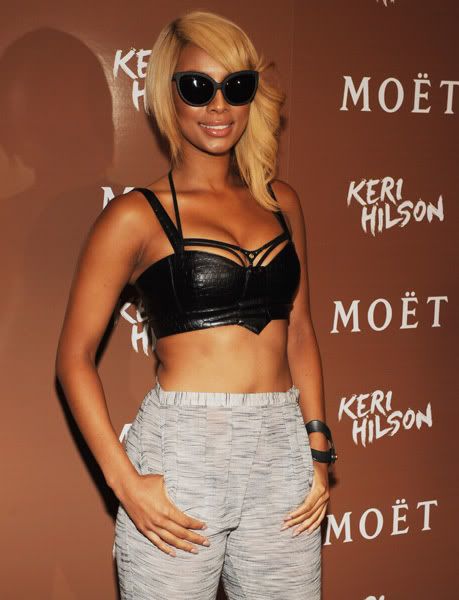 Decatur chick Keri Hilson partied at the Moët Rose Lounge at The Mansion on Peachtree. The singer looked like she was ready to take over the dance floor..or something...in a black bra, high-waisted pants and dark sunglasses.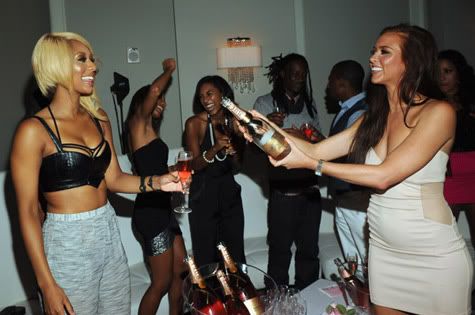 Keri recently hinted that she and Lil' Wayne work so well together that she might end up on Tha Carter IV. HMMM...
NATALIE #2????
Maryland woman goes missing in Aruban resort town - six years after Natalee Holloway vanished from same place
Six years after the disappearance of 18-year-old Natalee Holloway, yet another American tourist has vanished from Aruba while on holiday.
Thirty-five-year-old Robyn Gardner, of Frederick, Maryland, disappeared on August 2 from the Renaissance Aruba Resort & Casino in Oranjestad.
Ms Gardner was visiting the island with a man named Gary Giordano, who was reportedly detained for questioning on Friday while trying to leave the island.
Giordano, Robyn's travelling partner, denies having any involvement in her disappearance and said she disappeared in strong currents while they were snorkelling.
The statement from his lawyer states that Giordano 'emphatically denies' any wrongdoing. It says he had sought to leave Aruba on Friday because he was told he wasn't a suspect and didn't have to stay.
Police detained the 50-year-old Giordano as he attempted to leave.
Since he has been held, he has allegedly changed his story several times. According to an Aruban newspaper, Giordano and Gardner had met on an online dating site.
The woman's boyfriend of two-and-a-half years, Richard Forester, told WJLA 7 News he had a fight with Ms Gardner shortly before she left for the vacation on July 31.
'The last message I got from her was, "I love you, we'll talk and sort things out when I get back,"' Mr Forester said.
Unsolved: Natalee Holloway was 18 when she vanished on Aruba on holiday in 2005
He described Mr Giordano as a rival for Ms Gardner's affections and said he does not believe Mr Giordano's account. He has issued a public plea to help find her.
'I just don't think that she was snorkelling. I just feel in my heart that something happened at this person's hand,' he said.
'I want to let people know this is going on. She's been missing six days, and every day she's gone raises fear that she won't be coming back.'
The Aruba Herald reports Mr Giordano and Ms Gardner had been seeing one another regularly for weeks.
He reportedly bought the tickets and invited Gardner on the Caribbean trip.
Search parties continue to scour the beaches in the area in a desperate attempt to determine what happened to Ms Gardner.
While the case has not been escalated to a murder investigation, Aruban officials believe Giordano played a role in the disappearance.
Mr Forester explains: 'They said they have her computer, her iPad and I asked them a couple of hours ago when I was talking to them, have you gotten into it yet and they told me they're working on it.
'They told me they were sending the BlackBerry to the Netherlands because they were more capable of getting into it there. They told me that the FBI is involved, the Interpol is involved and I said you know I want that BlackBerry put in the FBI's hands.'
Robyn is described as 5ft 5in, weighing 120lbs with blonde hair and brown eyes. She has tattoos on her left arm, rib cage, and right bicep.
Ms Gardner's case comes six years after Natalee Holloway disappeared during a high school senior trip to the island in May 2005. Her body has never been found.
Joran Van der Sloot has long been suspected in the case, but no charges have ever been filed. He is now suspected of murdering a young woman in Peru, where he is in prison and awaiting trial.
Chris Bosh Claims He Didn't Mess over His Ex's 'B-Ball Wives' Career
*If anybody cares, Miami Heat star Chris Bosh is adamantly denying that he sabotaged his baby mama's career on "Basketball Wives." She accused him of turning the show's producers against her.
As previously reported, Bosh's ex Allison Mathis claims she had brokered a $250,000 deal with "BW" producers to appear on the show — but Bosh threatened to sue if that happened, so the producers caved … and axed Allison after she had already taped two episodes.
But now, according to TMZ, Bosh claims it's all BS — firing back with his own legal docs in Orange County, Florida … insisting it's not his fault producers decided to cut Allison from the show.
Bosh says that whatever he may or may not have said to producers … his intention was never to ruin Allison's career — he was merely "acting to protect his own economic or financial interests."
As a result, Bosh insists he shouldn't have to pay Allison squat for the entire ordeal — and wants a judge to trash her lawsuit.
Lenny Kravitz Gets WET For The August/September 2011 Issue Of UPTOWN Magazine
Lenny Kravtiz covers UPTOWN Magazine's 2011 Style issue and we have some sizzling behind-the-scenes photos and highlights from the cover story with the rock sex symbol inside....
For the August/September issue style issue of UPTOWN Magazine, Lenny Kravitz sat for a candid interview with the magazine and donned some kick-butt fashions as well.

He opened up to the mag about his childhood saying, that he was often teased in school and called "zebra" because of his Jewish father and Black mother.
"I was the kid they knew was different. They knew who my parents were and would call them Mr. Day and Mrs. Night, or they'd call me zebra."
He added that when the family moved to L.A. for his mother (Roxie Roker) to do "The Jeffersons", he was enrolled in high school but rarely attended. His friend and musician Jill Jones said,
"Lenny would move easily through all the groups. There were black kids who hung together in the cafeteria, the geeks, the Asians, surfers, the rocker kids. He hung with all of them

."
He also revealed he had a close relationship to Teena Marie.
"She would cook a lot. It was her and Penny Johnson, Rick James' little sister. They looked after me, fed me. She took me to concerts. She took care of a lot of folks. The big reason why I am here [is] because of this sister. She was for real. She was self contained, a multi-instrumentalist, a writer, producer."
In this photo he walks the streets of the Meatpacking District in a black oxford shirt, David Ruffin–style glasses, a gray blazer, and a peacoat wearing what he calls "church shoes."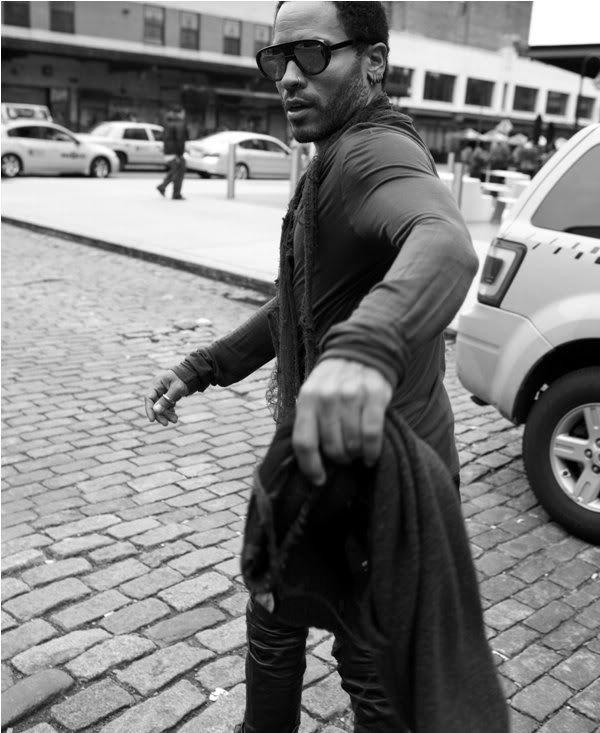 Friends describe Lenny as down to earth.

"He's cool with everybody when we walk the streets in New Orleans,"

said Trombone Shorty, who appears on Lenny's new album, Black and White America.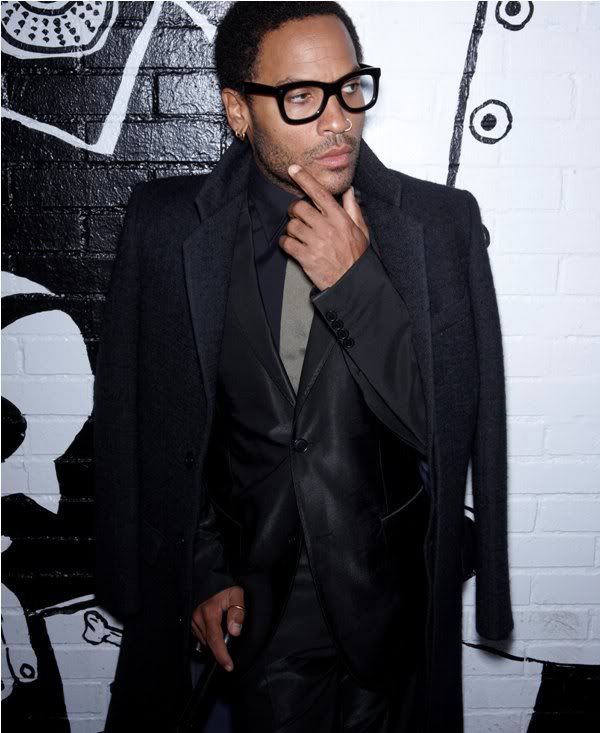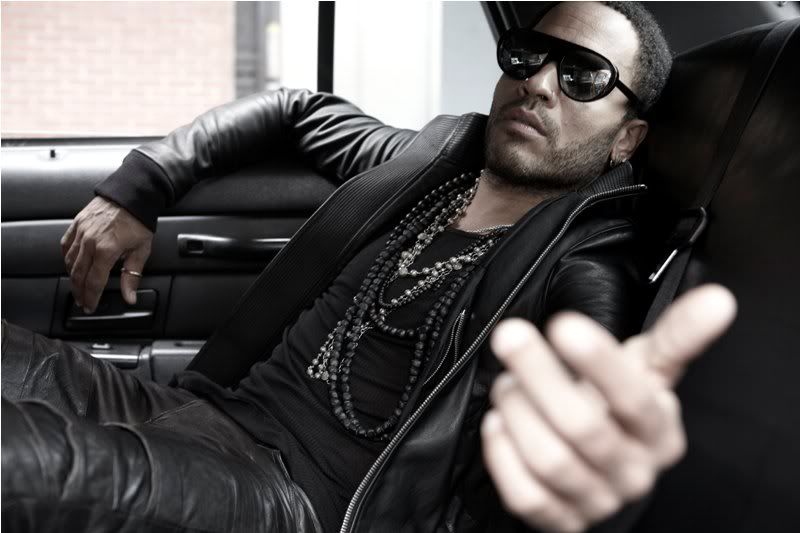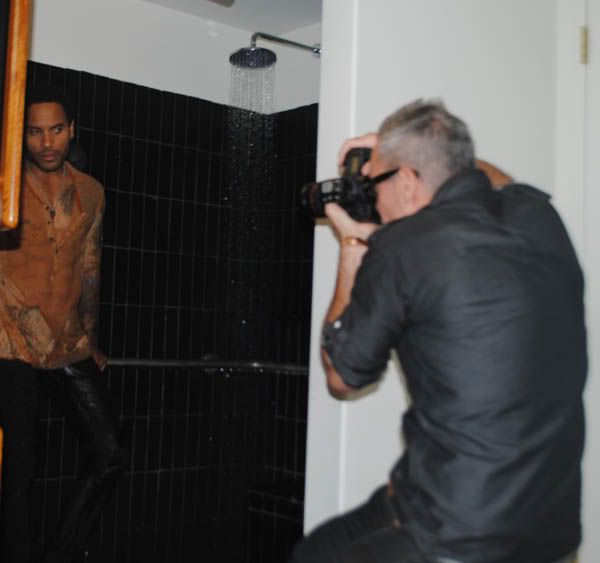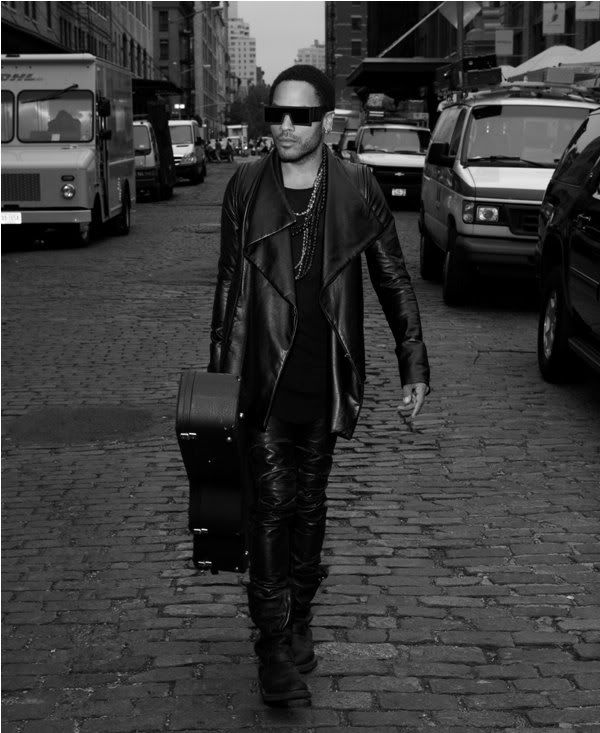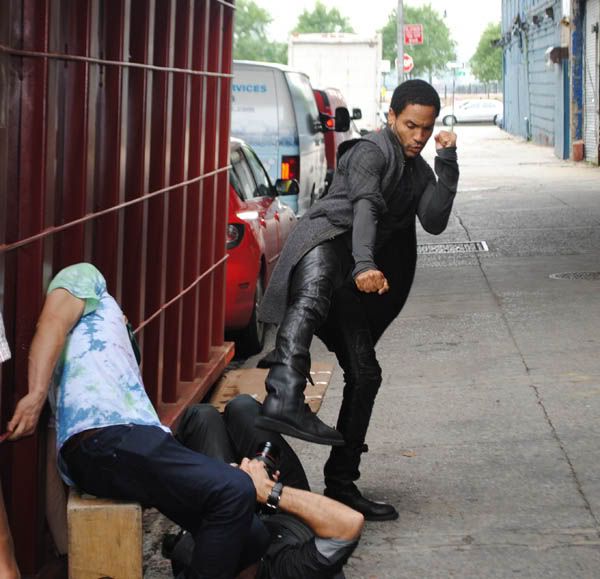 One of his fondest memories is seeing the Jackson 5 live.

"I remember all the flash bulbs going off. They sang "The Love You Save" and I lost my mind. Aretha Franklin sat next to us; she had on this white fur stole with the matching fur hat. The music just hit me."
Lenny recently signed on to play Cinna, the designer from the popular Hunger Games science fiction novels, that have been made into a film slated for a March 2012 release.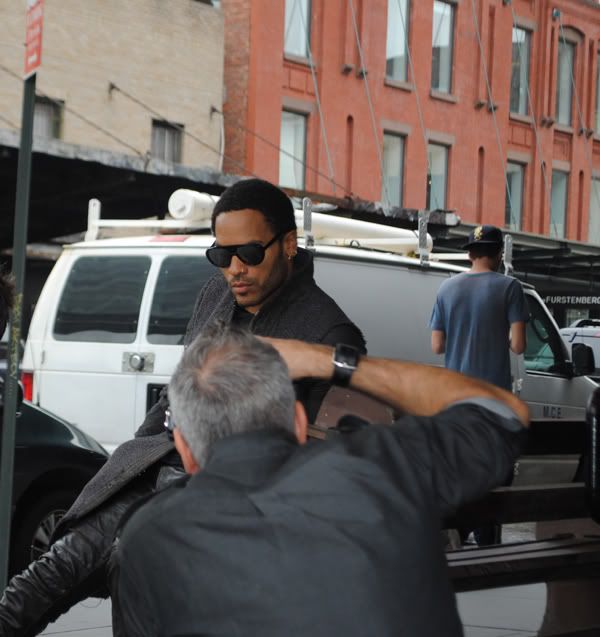 He also revealed that he designs furniture and fixtures at Kravitz Design, his own interior design company.
Zoe Saldana strips down to swimsuit for racy Flaunt magazine shoot
Since rising to fame in James Cameron's 2009 3D extravaganza Avatar, you'd have thought Zoe Saldana would have gotten used to the fame game.
But in a new interview the 33-year-old actress reveals the celebrity world still blows her mind.
Zoe is seen here posing on the cover of Flaunt magazine's three-cover August issue, looking sexy in beige-coloured swimsuit-style outfit.
The shoot was done by arty American photographer Yu Tsai and sees Zoe wearing an array of designs, by the likes of Chanel, Balmain and Lanvin.
Speaking to the magazine, Saldana said of fame: 'I work in a business where our sole purpose is to entertain.
'You're elevated into a position that you become fantasised about.
'It still blows my mind the whole concept of celebrity, you know? How people just go bananas when they see an actor, just walking down the street or whatever.'
Zoe will next be seen in the upcoming action drama Colombiana. After witnessing her parents' murder, Saldana's character grows up to be a cold-hearted assassin.
She works for her uncle as a hitman as her day job, but also engages in vigilante murders that she hopes will lead her to the gang responsible for her parents' deaths.
It is a role far removed from her tree-hugging roles as Neytiri in Avatar.
Dominic Cooper also features on the front of Flaunt's split issue publication this month, promoting his film The Devil's Double.
The third cover shows a pair of naked models, photographed by upcoming British artist Matthew Stone. The summer fashion issue also features DJ wizard, Damian Lazarus and actress Sally Hawkins.
To read more go to www.flauntmagazine.com
Really Kenan…Wedding Bells???
Just received intel that Kenan Thompson and his fiance Christina Evangeline are planning to wed in November. Good luck Kenan...
Rihanna Sending Raunchy Texts to Joe Jonas
Rihanna has been sexting Joe Jonas trying to get the squeaky clean pop singer to take a walk on the wild side.
The 'S&M' singer is reportedly pursuing the squeaky clean pop star – famed for wearing a purity ring – by sending him suggestive messages.

A source told the Daily Star newspaper: "They met when Joe did a song with Rihanna's ex Chris Brown and recently she's been bombarding him with raunchy text messages.
"She keeps laughing to her mates that she wants to take him one the wildest ride of his life."
Joe, 21, has been out with a number of beautiful women, including 'Twilight' star Ashley Greene, Demi Lovato and Taylor Swift, but recently revealed he is single and is "always looking for the right person".
Rihanna, 23, makes no secret of her sexual urges, and recently said she likes to be "dominated" in the bedroom.
She said: "I play a very dominant role in my life, in every aspect of it. And I like to feel like a lady still, at some point.
"I feel like that's the time when a guy really gets to be a man, and I get to be a woman. And if I'm being a man in the bedroom too, there's nothing really in it for me."
The 'What's My Name' hitmaker is single at the moment, but has this year been romantically linked to rapper Drake, baseball player Matt Kemp and also rumoured to have rekindled her romance with her first boyfriend Negus Sealy.
Whitney Houston Celebrates Birthday
Legendary diva Whitney Houston turned 48 yesterday!
The 'I Look To You' singer spent the day with her nearest and dearest, including daughter Bobbi Kristina who shared the shot above with followers on Twitter.
In other Houston, shooting for 'Waiting To Exhale' sequel 'Getting To Happy' is set to commence within the next few months.
Cash Kings 2011: Hip-Hop's Top Earners
Hip-Hop's Top 20 Earners
This week Jay-Z and Kanye West unveiled their long-awaited collaboration, Watch the Throne. The album's timing and title couldn't have been more appropriate—the Empire State of Mind rapper is hip-hop's top earner with $37 million in the past 12 months, claiming his fourth Cash Kings crown in five years; his partner-in-rhyme ranked third.
Fueled by the tail end of his Blueprint 3 Tour and a vast portfolio of business interests, Jay-Z barely edged second-ranked Diddy—who raked in $35 million, roughly half of that total coming from a lucrative partnership with Diageo's Ciroc vodka—but handily topped West, who earned $16 million. The duo is steaming ahead with plans for co-headlining tour starting this fall.
"Jay-Z and Kanye are hip-hop ambassadors," says Steve Stoute, chief of branding firm Translation and author of The Tanning of America. "They bring the art form around the world, and they've taken production and everything to the next level. Now they've got a chance to grow with their global audience."
The Watch The Throne rappers, whose album debuted around the world exclusively on Apple's iTunes, aren't the only ones making millions by going global. Fresh off a eight-month jail stint, Lil Wayne released a new album and performed a slew of shows from Buffalo to Vancouver, netting $15 million over the past year. That sum tied him with his mentor and label boss, Cash Money Records co-founder Birdman, for the fourth spot.
"If we ain't number one now, we'll be there soon," said Birdman while discussing his billion dollar dreams with FORBES. Farther down the list, Swizz Beatz also looked to the future: "I will be #1 next year," he wrote in an email. Wiz Khalifa—whose high earnings landed him at No. 11—seemed pleasantly surprised to learn he'd be making his Cash Kings debut. "I'm one of them?" he exclaimed. "That's what's up!"
The success of hip-hop's top earners shows just how powerful the genre has become as a commercial force. The top 20 on our list combined to earn $271 million; 13 different artists earned $10 million or more, taking home cash from live shows, recorded music, endorsements and a wide range of other entrepreneurial ventures. The top five combined to earn $118 million in 12 months.
Next on the list is a troika of grizzled veterans—Dr. Dre, Snoop Dogg and Eminem—all tied for the sixth spot at $14 million. Dre's income got a big boost from Beats by Dre, his lucrative headphone venture with Interscope chief Jimmy Iovine; Snoop cashed in on touring and endorsements from Pepsi Max, Metro PCS and others; Eminem continued to earn from his Grammy-winning album, Recovery, as well as a handful of lucrative concerts with Jay-Z at Yankee Stadium in New York and Comerica Park in Detroit.
"There are four hip-hop artists that sell hard tickets: Eminem, Jay-Z, Kanye and Lil Wayne," says Randy Phillips, chief of concert promoter AEG. "Those are the big four. In the past, it hasn't really been a live medium … Is it changing? When you look at the business Jay and Eminem did in Yankee Stadium, I think it is."
Touring was one of the many revenue streams we looked at to come up with the Cash Kings list, which charts pretax earnings for all living artists whose work is primarily classified as hip-hop or rap. The estimates also include income from record sales, digital downloads, films, merchandise sales, endorsements, books and other ventures; management, agent and attorney fees are not deducted. Earnings are calculated for the period from May 2010 to May 2011 and based on data from Pollstar, Nielsen SoundScan, the RIAA and individual record labels, as well as interviews with numerous lawyers, media buyers, managers and many of the artists themselves.
This year's list features plenty of newcomers. Besides the aforementioned Wiz Khalifa, there's Nicki Minaj, who debuts at No. 15 with $6.5 million—making her the first female rapper ever to grace the list. Another, Atlanta-based rapper-singer-songwriter B.o.B, squeaked on with $5 million. Sandwiched between Minaj and B.o.B is an additional newbie, Pitbull, who released two albums, performed 50-plus shows and inked a seven-figure endorsement deal with Kodak.
"Pitbull is great with brands," says Adam Kluger, chief of brand partnership firm The Kluger Agency. "Endorsements with hip-hop artists work because hip-hop artists typically set the most trends … It's every brand's goal to be seen in the mainstream, and hip-hop music has become mainstream music."
AND FINALLY FROM "THE CRAZY PEOPLE SHOPPING AT WALMART" FILES
All Shook Up
I've seen plenty of Elvis impersonators but I've never seen an impersonator of Peter Griffin impersonating Elvis….nice twist.
HAVE A GREAT WEEKEND ALL!!!
EFREM